Sunday, June 9, 2019
WHAT: Bee City Celebration (family-friendly, music, food, learning, face-painting, ribbon-cutting with the mayor and special presentations)
WHEN: Sunday, June 9, 2019 from 10 am to 3 pm
WHERE: Alton Baker Park
Music by Explorations in Four and The Invisible Arts Project
Food available for purchase from The Zingaro and The Irie Jamaican Kitchen food carts | Picnics are encouraged
Multiple related events in different locations (read below for details)
Download the flyer (PDF)
By coming together and celebrating the special animals that support entire ecosystems and food production, we can create a city that protects native flora and fauna and develops resilience in a constantly changing climate. The first celebration of Eugene's Bee City designation will begin with a bee survey at the Whilamut Natural Area in east Alton Baker Park, followed by a celebration with live music, food truck, and family-friendly activities to educate about Eugene's precious pollinators! This program is free and open to all.
This event is being hosted by Beyond Toxics, GloryBee, City of Eugene Parks & Open Space Division, Walama Restoration Project, The Xerces Society, and Lane County Audubon Society
Bee City Celebration, 12 pm – 3 pm, Alton Baker Park
Join us for a celebration of bees and native pollinators that support our community and help our environment and economy thrive! Live music, special presentations by our very own entomologist: Mayor Lucy Vinis, and local bee enthusiasts and food truck Zingaro will be available 12-3. (google map: parking lot at Alton Baker Park)
3rd Annual Bee Survey, 10 am – 12 pm, Whilamut Natural Area.
Walama Restoration Project, Xerces, Beyond Toxics, and Oregon Bee Project are hosting the 3rd annual survey of native bees at the Whilamut Natural Area. Join us for a morning of observing our pollinators in their natural habitat and contributing to the Oregon Bee Atlas, organized by the Oregon Bee Project. We will provide bug nets, identification guides, and naturalists to assist. All ages are welcome, no experience necessary, but we especially want to urge photographers to join us so we can upload images of our bees to the iNaturalist app. We will be meeting along Pre's Trail, north of the Knickerbocker bridge (google map: Walama Restoration Project Site). Please note this is a walk/bike access only site.
Bee Campus Bike Tour, 10 am – 12 pm, Join us for a bike tour through the University of Oregon campus, a certified Bee Campus USA. The tour will be led by the university's Bee Friendly Committee, a student organization dedicated to protecting the pollinators. We will showcase our bee-friendly initiatives accomplished this year; including our on-campus beehives, mason bee homes, and a pollinator habitat restoration site. The tour will stop by the CILOS bee survey, culminate at the Alton Baker Park bee celebration/concert. Bring your own bike, or come early to register for a free Peacehealth bike! We will meet in front of Lillis Business Complex PeaceHealth Bike Station at 13th & Kincaid. (google map: PeaceHealth bike rack near Lillis Business Complex on the UO campus)
To get a PeaceHealth bike, download the PeaceHealth Rides app or visit www.PeaceHealthRides.com. Enter promo code BeeCity19 for $12 of ride credit good on any payment plan for new or existing members.
Native Plant Tour, 11 am – 12 pm, Native Plant Nursery in Alton Baker Park, behind the community garden. The Native Plant Nursery station is interactive in that people can walk the beds with Kelsey Irvine, Eugene's fearless Native Plant Nursery Technician. This tour will help educate about our native flowering plants that support a variety of native pollinator species, check out the Pollinator Palace, ask questions and take pictures. Come prepared to learn about native flora and fauna and ask questions! (google map: Native Plant Nursery)
---
May 30, 2019 Press Release (PDF)
---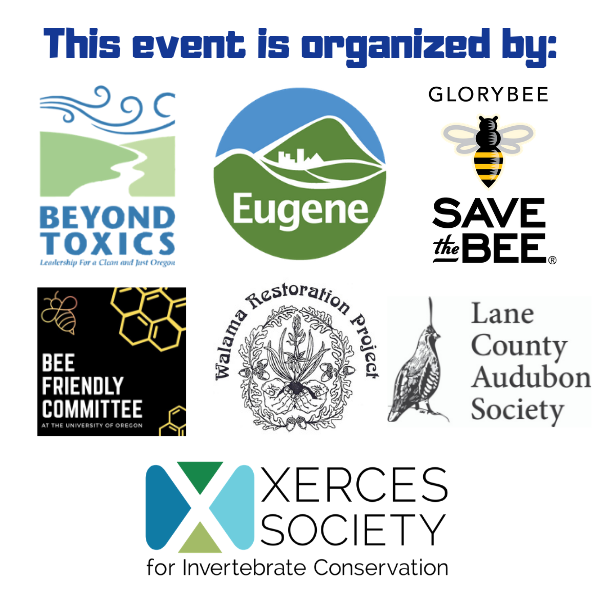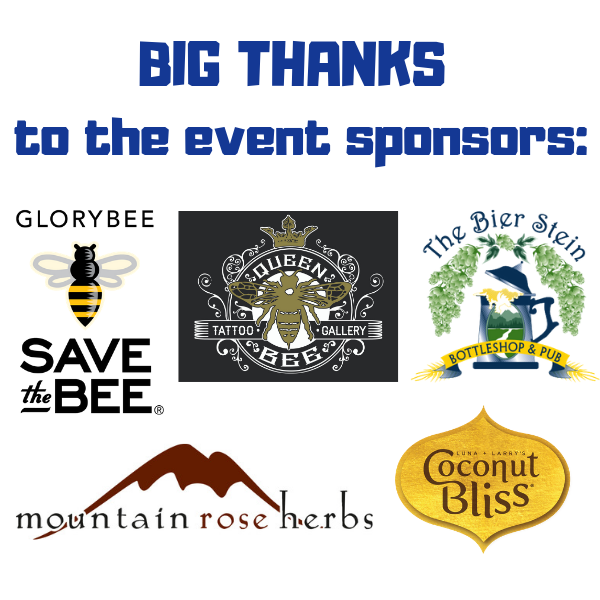 ---
Why Did Eugene Become a Bee City?
We will lose a lot more than honey if our bees are unable to cope with the changing climate and increasing demand for agricultural land. Our native pollinators significantly contribute to crop and wild plant pollination. It is imperative that we diversify and support the native pollinators that we rely on for food and lush outdoor spaces. By becoming a Bee City USA city Eugene has stepped up efforts to protect our pollinators in order to combat growing food-deserts and loss of green spaces in our communities.
What is a Bee City?
Bee City USA is a movement to support pollinator protection and ultimately reverse pollinator declines around the world. Bee City communities support collaboration and establish and maintain healthy pollinator habitat within the Bee City.
What will Bee City do?
Bee City USA efforts will maintain ongoing dialogue in urban areas to raise awareness of the role pollinators play in our communities and empower people to provide them with healthy habitat.
Where are other Bee Cities?
Ashland, Phoenix, Talent, Gold Hill, Wilsonville and West Linn have already become Bee Cities in Oregon! There are 52 Bee Cities in the USA and counting! Together we can help our pollinators thrive!
Read a sample of the resolution (PDF)
Special thanks to Glorybee for sponsorship of this important initiative.
---