Two notorious pesticides have been restricted in other states and countries around the world.
It's Oregon's turn!
TAKE ACTION TO ENACT PESTICIDE REFORM:
Senate Bill 853 – deadline to submit testimony extended until 5 pm April 1st.
If you would like help crafting your messages, please email us or call to arrange a time to confer: 541-465-8860. We are open 9 am to 5 pm or by appointment.
Prohibits the sale, purchase or use of chlorpyrifos pesticides
Requires State Department of Agriculture to place pesticide products containing neonicotinoid on list of restricted-use pesticides
Amends pesticide product registration fee provision
Reduces maximum fee for certain occupational licenses related to pesticides
---
Sample talking points:
Chlorpyrifos (pronounced: kloor-peer-uh-fos)
Chlorpyrifos, a neurotoxic pesticide that is very harmful to children, pregnant women, farm workers, wildlife and beneficial insects. The EPA was ordered by federal courts to ban this dangerous pesticide from use on food crops. Oregon should take the strongest possible action to protect farm workers, children, the safety of our food and the environment with a statewide ban on chlorpyrifos.
We can no longer wait for a dysfunctional EPA to take action. Hawaii has already banned chlorpyrifos and other states are taking action as well.
Chlorpyrifos is very harmful to farm workers and are linked to developmental disabilities in children. These are highly toxic nerve agent pesticides that can damage the developing brains of babies and children, leading to lower birth weight, reduced IQ, loss of memory, and delayed motor development.
---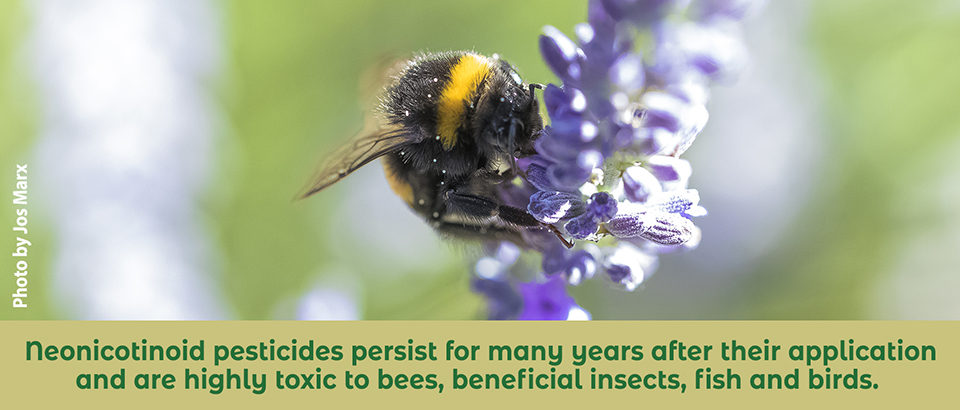 Neonicotinoids (pronounced: nee-ō-nick-ō-tin-oids)
Neonicotinoids (neonics) are a class of synthetic, neurotoxic pesticides widely used on a range of crops and ornamentals. They can persist in the environment many years after their application and are highly toxic to bees, beneficial insects, fish and birds. We urge the Oregon Legislative Assembly to add these bee-killing pesticides to Oregon's list of Restricted Use Pesticides. This step would remove neonic containing products from consumer store shelves, require training and a license to apply them and reduce their impact in urban areas.
There is mounting evidence* that neonicotinoids may be associated with congenital heart defects, neural tube defects, and autism spectrum disorder as well as being capable of disrupting normal hormone function in humans.
Neonics impact our ability to grow healthy and culturally appropriate food produced through ecological and sustainable ways, and our right to define our own food and agriculture systems.
Neonicotinoids indiscriminately kill all insects and aquatic invertebrates, a.k.a., beneficial insects that support ecosystems.
---
*Cimino, A. M., Boyles, A. L., Thayer, K. A., & Perry, M. J. (2017). Effects of neonicotinoid pesticide exposure on human health: a systematic review. Environmental health perspectives, 125(2), 155.
---
Thanks to all those supporters who came to testify on behalf of both bills on March 26th in Salem at the state capitol!
Among those who gave testimony on both pesticide reform bills…
L to R: Lynne Fessenden (from GloryBee), Lisa Arkin (Beyond Toxics Exec. Director),
Dr. Megan Horton (Mt. Sinai Medical Institute), Tyler Smith (Earthjustice),
Kristina Lefever (Beyond Toxics Board member), Dr. Bruce Lanphear (Simon Fraser)
You can still TAKE ACTION TODAY to help pass Senate Bill 853 out of committee. Deadline: Monday, April 1st @ 5 pm…Scroll down…
These are the best ways to influence legislative decision makers — in order of effectiveness:
---
Personal visits to your legislator (Don't know who represents you? Find your legislators)
Handwritten letters (please write to as many committee members as you can)
Phone calls (please call as many committee members as you can)
Emails (please write to as many committee members as you can)
Short on time? Scroll down to the bottom of the page and click on the FAST Response button to send a pre-written form (with an opportunity to add a brief personal message from you) to the entire committee: Deadline: 5 pm, Monday, April 1st.
Find your legislators on social media and post your messages there.
Share your stories with members of the Senate Committee On Environment and Natural Resources. You now have until Monday, April 1st at 5:00 pm. Please contact as many committee members as you can, but especially the committee chair.
If you send any emails, be sure to send your message to this separate email address (the whole committee at once), as this important step registers your opinion in the official record. NOTE: do not add personal information to these emails you don't want the public to see.
Senate Committee On Environment and Natural Resources
(click on name to send an email)
Chair: Senator Michael Dembrow – Phone: 503-986-1723   
Address: 900 Court St. NE, S-407, Salem, Oregon 97301
Vice-Chair: Senator Alan Olsen – Phone: 503-986-1720
Address: 900 Court St. NE, S-425, Salem, Oregon 97301
Senator Cliff Bentz – Phone: 503-986-1730
Address: 900 Court St. NE, S-403, Salem, Oregon 97301
Senator Floyd Prozanski – Phone: 503-986-1704
Address: 900 Court St. NE, S-413, Salem, Oregon 97301
Senator Arnie Roblan – Phone: 503-986-1705
Address: 900 Court St. NE, S-417, Salem, Oregon 97301
---