Beyond Toxics is proud to have been one of the first nonprofits to join GreenLane Sustainable Business Network, a membership group for businesses and other organizations interested in sustainability. In September, I volunteered to serve on GreenLane's board on behalf of Beyond Toxics. Unfortunately, as the Eugene Weekly reports in this week's paper, I will not be serving on the board despite being voted in as an alternate member at the November 8 meeting.
As EW's Kelly Kenoyer reports, Beyond Toxics and several other businesses and organizations – including our friends at Mountain Rose Herbs, Cascadia Wildlands and Oregon Wild – are resigning our memberships in response to a representative of Seneca Sawmill Company joining the board on the same slate. All of these groups made our concerns known to GreenLane board members well in advance of the vote.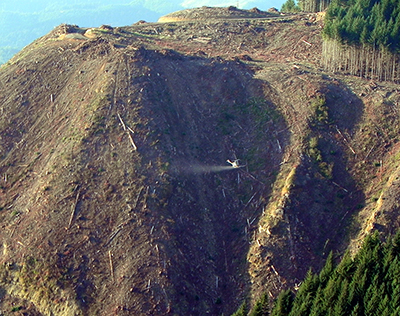 Seneca is one of the worst environmental polluters in our community. It is inappropriate for their Senior Vice President for Public Relations to sit on the policy setting board of a sustainability organization while the company is engaged in an attempt to re-brand their destructive policies as sustainable. As I told the Weekly, "(T)he truly sustainable businesses and organizations in Eugene have worked hard for years to build social capital around sustainability. Seneca is coming in to harvest that capital, to extract that capital, just like they extract forest resources — without consideration for the effects on the community and the environment as a whole."
Chief among our concerns is Seneca's aerial herbicide practices. When whistleblowing forest worker, Darryl Ivy documented the company's spraying contractor committing numerous egregious violations of the state's paltry standards for herbicide spraying – violations that sent Ivy to the hospital – Seneca didn't admit the problem or change their practices. Instead, they claim their neighbors are "comfortable" with their spraying expertise. As outlined in my letter of resignation to the GreenLane board, published below, instead of working towards a truly sustainable model of forestry, Seneca pushes to increase clear-cutting on state and federal forestland and participates in the ongoing assault against public lands. These are not the actions of a sustainability leader.
We at Beyond Toxics want to make it clear that our resignation does not reflect personally on GreenLane's current board members. Board elections of this type are not typically controversial and perhaps some did not expect the level of opposition Seneca's candidacy would generate. We understand that volunteer officers are hard to recruit. However, we believe that a full and open discussion of our concerns at the November 8 meeting would have been appropriate before voting started and would have led to a positive outcome.
Ephraim Payne,
Development and Events Manager
Read my resignation letter below:
Board of Directors
Green Lane Sustainable Business Network
1430 Willamette #181
Eugene, OR 97401
November 9, 2017
Dear Board Members,
I regret to inform the GreenLane Board that Beyond Toxics is withdrawing its membership in the organization and I am resigning my position as an alternate board member. As I stated in my email of October 31, I strongly support GreenLane's role as a catalyst for community building around the principles of sustainable business in Lane County and Beyond Toxics is proud of its early membership in the organization. I had looked forward to adding my event organizing and advocacy skills to grow GreenLane and serve the board in any capacity.
While we support the principle of inclusivity for GreenLane general membership, to be true to our mission we cannot support an aggressive polluter playing a leadership role on the board itself. Our long history with Seneca, and those of our allies in the climate and forest protection movement, shows us that the company embraces unsustainable practices at the core of its business rather than looking for sustainable solutions. Currently, Seneca is investing heavily in a rebranding campaign to cloak its environmentally harmful practices as beneficial while paying lip service to sustainability in an effort to shape its public image and we cannot remain complacent.
Not only does Seneca engage in the highly polluting practice of aerial spraying of toxic herbicides, it employs subcontractors with known histories of violating the few aerial spraying guidelines that protect Oregon forest workers. Seneca officials have gone on record denying poisoning people they employ despite video documentation and medical records affirming the harm. Their even-age, monoculture plantations of Douglas fir reduce genetic diversity and biodiversity. Their reliance on short rotation clear-cut logging increases erosion, pollutes water, adds to carbon pollution and global climate change. It is telling that they do not qualify for even the most basic forest certification.
Seneca's owners evince a clear antipathy to preserving public land ownership in the face of overwhelming public support in Oregon for our state forests. They label environmental groups they disagree with as eco-radical bullies in the press. People in their employ have been accused of assaulting protesters and causing illegal pesticide drift. They are currently pushing to increase timber harvest on public land under the false premise that logging reduces wildfire severity. Are these the actions of a sustainable business leader?
For these reasons, we cannot stand by while GreenLane is coopted to serve Seneca's public relations needs. While we would prefer to remain a member in good standing, and I would prefer to volunteer my time, we value the integrity of the community enough to call attention to the problem by our resignation.
Sincerely,
Ephraim Payne