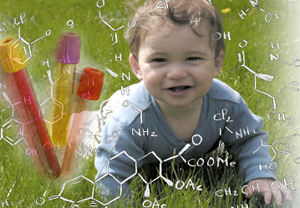 Mother Told to Accept The Fact That Her Child's Urine has Pesticides
Guest Editorial by Lisa Arkin, ED, Beyond Toxics
What if our government knew that a threat to human safety and security of home and person existed in Lane County? Would we expect them to take action to protect us?
Our state and federal government recently informed dozens of Lane County residents that poisonous pesticides have been found in their bodies.
On December 15, the Oregon Health Authority and the federal Centers for Disease Control told a mother in Lane County that test results show residues of 2,4-D, a powerful pesticide, in the urine samples drawn from her and her children (as well as dozens of other rural community members). The samples were taken as part of a recent test protocol responding to reports that families have been sickened from exposure to pesticides sprayed by helicopter over hundreds of acres of forest land. These industrial chemicals are sprayed by timber companies attempting to kill grass and brush.
What can I do?
1) Sign our petition (below) to support our statement of principles
The Oregon Pesticide Action Working Group, a project led by Beyond Toxics, has put out a Statement of Principles: The Pesticide Reform Guiding Principles (PDF file). The statement reflects many experienced grassroots voices and years of experience drawing public attention to the dangers of pesticides in our environment and in our bodies. These guiding principles are based on the values of environmental stewardship, human rights, and protection of native wildlife and habitat.
Pesticide Reform Statement of Principles
Thank you for signing our petition and helping to make a healthier world. Only your name, City and State will be shared with the governor's office. Beyond Toxics will NEVER share email addresses or other personal information with any other party for any reason.
2) Write/call government officials to take action:
3) Read more about OPAWG (Oregon Pesticide Action Working Group)
4) Join Beyond Toxics

---