NEW! 'Concerned, anxious and kind of angry': Neighbors fear J.H. Baxter & Co. plant is harmful to health by Adam Duvernay, Register-Guard, May 14, 2021 (PDF)
Read the Eugene Weekly article: J.H. Baxter's New Suits – Two lawsuits have been filed against the wood treatment plant in Eugene by Taylor Perse
~There are many ways you can get involved~
Please sign the letter to the Lane Regional Air Protection Agency (below) to call out the need for more community consultation.
YOUR STORIES ARE POWERFUL
Tell us your health story. Send us an email with a brief description of how West Eugene pollution affects you or your family and pets…or: share your pollution story via our form->>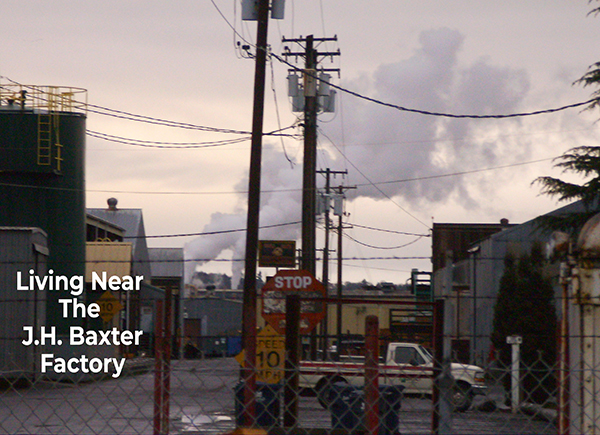 Read the stories we have gathered so far (names have been changed to protect the privacy of current and former residents of West Eugene). We are currently helping the community be Air Watchdogs for J.H. Baxter's ongoing compliance problems and agency oversight of J.H. Baxter and other companies like them.
LET'S WORK TOGETHER : Stand up for a healthy West Eugene!
Join Beyond Toxics' West Eugene Community Coalition to hold polluters accountable. This coalition works directly with state agencies to monitor polluters and clean up our air, water and soils. Call or email Arjorie, our West Eugene Environmental Justice Organizer, to learn more about how to get involved in our monthly meetings:
Arjorie Arberry-Baribeault, West Eugene Environmental Justice Community Organizer
Direct: (541) 321-6140 | Email: aab@beyondtoxics.org
Educate yourself on the environmental justice issues that affect air quality in West Eugene  
BLOGS/NEWS
Read Lisa Arkin's blog, A right to clean air.
also: Health Problems in West Eugene Warrant a Closer Look, a blog by Kylen Tromblay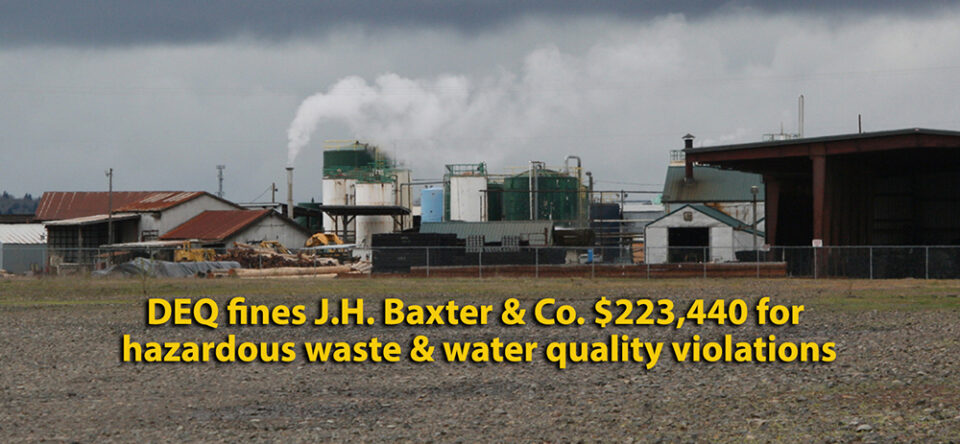 VICTORY! DEQ fines Eugene wood preserver J.H. Baxter & Co. $223,440 for hazardous waste and water quality violations (DEQ Press Release) *
J.H. Baxter Fined For Hazardous Waste and Water Quality Violations
The fines issued by DEQ amount to over $223,000 – BY TAYLOR PERSE | 03/04/2021
more background:
A Solution for Pollution
After dealing with the effects of neighborhood pollution for decades a local coalition investigates causes and solutions – BY TAYLOR PERSE | 02/18/2021
Read more about the first community meeting to discuss air quality and health in West Eugene on Jan. 25th, 2020 (see the presentation given, West Eugene Clean Air and Environmental Health Survey Preliminary Results)
also: Frontline Communities Need Air Data, a blog by Lisa Arkin
ORIGINS
Read more about the origins of the Beyond Toxics environmental justice work in West Eugene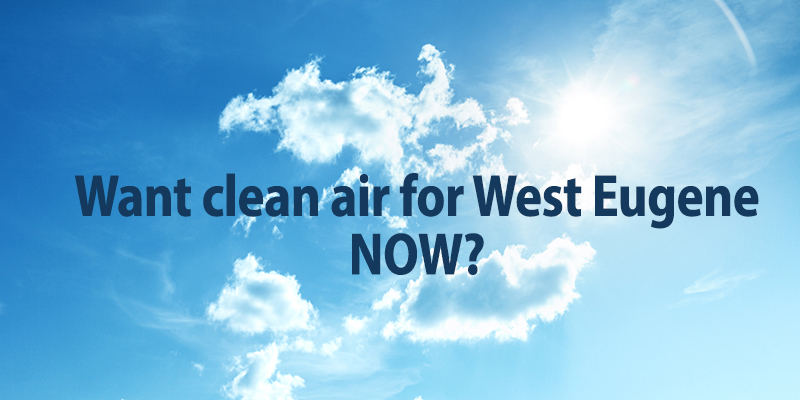 Letter to the Lane Regional Air Protection Agency and Oregon DEQ:
May 3, 2021
To:
Steve Dietrich, Executive Director, Lane Regional Air Protection Authority
Travis Knudsen, Public Affairs Manager, Lane Regional Air Protection Authority
Ali Mirzakhalili, Administrator, Air Quality Division, Oregon DEQ Keith Johnson, Cleaner Air Oregon Program Manager, Oregon DEQ
Subject: JH Baxter and Cleaner Air Oregon
The purpose of this letter is to express long-standing community concerns over JH Baxter's air, water and soil pollution and business conduct and to request early community engagement in the process by which regulatory agencies hold this facility accountable to state and federal air toxics regulations. | Read the full letter (PDF)
If you agree, please sign your name and email address below, please…
---