Climate Protection Program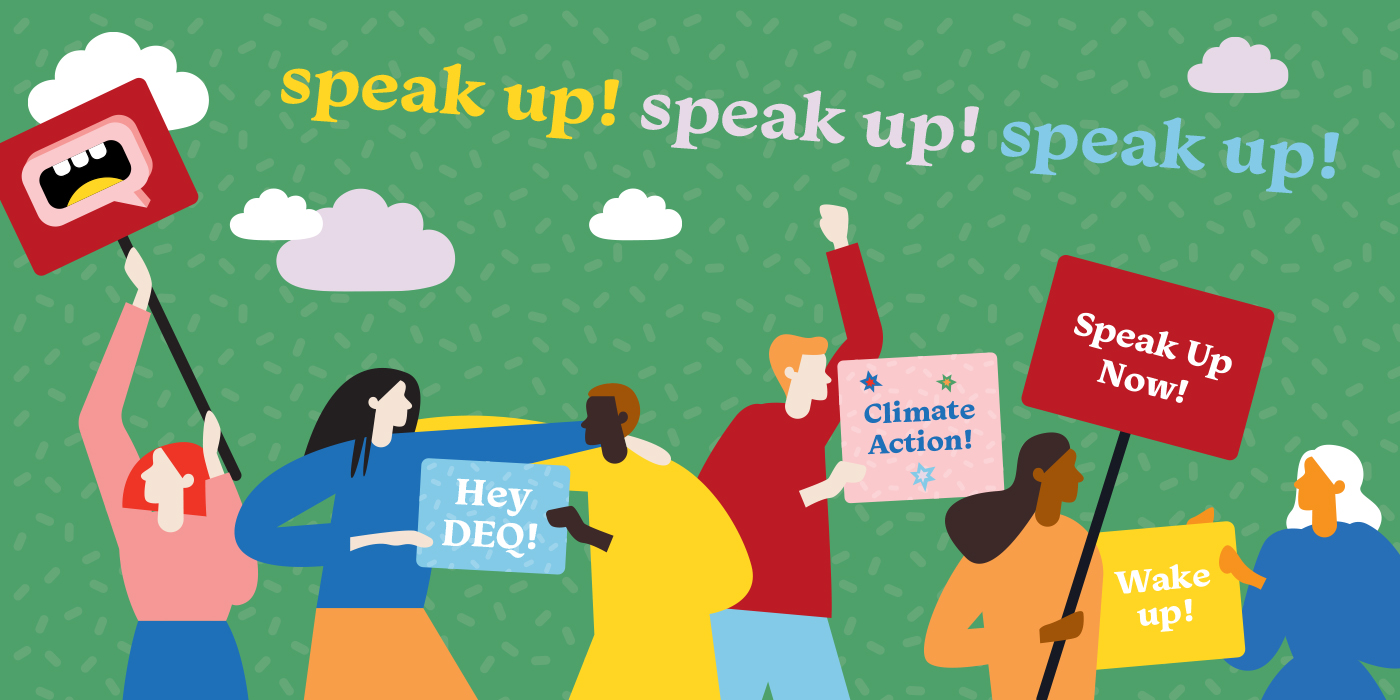 Raise your voice! Speak your mind!
Oregon is about to require a cap on carbon, but the proposed rules are very weak.
We must have ambitious, economy-wide and equitable carbon reduction policies.
We need you to tell DEQ what we, as Oregonians, expect.
Listen to the two Beyond Toxics podcasts on the Climate Protection Program!
We're at a crucial time in history to create real change and avoid the worst impacts of the climate crisis. Unfortunately, the draft Climate Protection Program from Oregon's Department of Environmental Quality (DEQ) misses the mark. Oregonians have until October 4th to send their comments and tell DEQ that the rules need to be strengthened before these rules are finalized and have the force of law.

---
There are five big policy pieces missing from the proposed rules:
Hold industrial polluters accountable
Protect "downwind" (vulnerable) communities
Regulate new greenhouse gas polluting facilities that might locate in Oregon, i.e., massive data centers
Include carbon sequestration in the Climate Protection Program rules
Verify the value and benefit of offsets
WE BELIEVE THE RULES MUST:
Hold industrial polluters accountable
The "cap" set out in the draft rules does not reduce climate pollution fast enough. We must follow the science to make sure we meet our state and nationwide GHG emissions reductions goals.
As written, the cap doesn't cover many industrial polluters. Instead, polluters can "self-identify" and devise their own plans to reduce emissions. That's a recipe for disaster! DEQ shouldn't leave big polluters free to regulate themselves.
Did you know fracked gas power plants are among Oregon's biggest polluters? The DEQ's draft rules exempt all fracked gas power plants from the Climate Protection Program. By entirely exempting fossil fuel electric power generators, DEQ is creating a huge loophole that locks in the burden of pollution communities near fracked gas power plants already have to manage.
Protect "downwind" (vulnerable) communities
BIPOC and other marginalized communities have to bear the burden of greenhouse gas emissions and their co-pollutants like smog-forming and cancer-causing VOCs. Environmental justice should be Oregon DEQ's top priority, not allowing fracked gas polluters to avoid costs and inefficiencies.
Regulate new greenhouse gas polluting facilities that might locate in Oregon, i.e., massive data centers
Include carbon sequestration in the Climate Protection Program rules
DEQ should broaden its climate actions to include carbon sequestration - capturing and storing atmospheric carbon dioxide - in addition to greenhouse gas emissions reductions. Investments in both are necessary to achieve the climate and community outcomes we seek.
DEQ should require that community climate investment (CCI) projects include the option for carbon sequestration, preferably in rural Oregon, and follow the best practices of being real, measurable, additional, persistent, verifiable, and enforceable.
Verify the value and benefit of offsets
If DEQ is going to include offsets in its climate strategy, it must commit to verifying that they'll have positive outcomes for the climate and for frontline communities.
The Community Climate Investments (CCIs) included in DEQ's program allow polluters to pay for clean energy projects in Oregon communities rather than reduce their pollution. In other words, polluters can keep polluting the communities around them instead of meeting climate pollution reduction limits.
DEQ, with input from the Equity Advisory Committee, should select which approved CCI projects get funded in what order and in what amount, rather than leaving that decision up to the regulated entities buying CCI credits.
A clear percentage of CCI investments should be guaranteed to those on the frontlines of harm from climate damage, such as low-income, rural, Tribal, and BIPOC communities.
The Climate Protection Program rules must be equitable. Communities of color, rural communities and low-income Oregonians are disproportionately affected by pollution and the climate crisis. Right now, the rules include lip service about equity but no data collection, tracking or enforcement to ensure the benefits reach impacted communities. So how will we know if the rules help or hurt? We can't depend on emitters to value public health over their bottom lines – we need our regulators to protect our health and environment.
TAKE ACTION
Send a comment to the DEQ via one of our 4 FAST RESPONSE forms (below)
We have created FAST Response Forms for each of the critical areas of concern (clicking on each link opens a new page):
You can also send your comment directly to: GHGCR2021@deq.state.or.us
Include: "Rulemaking Comment" in your subject line
To: Dept. of Environmental Quality Office of Greenhouse Gas Programs
Deadline: October 4th at 4 p.m.
---
Write a letter to the editor
Speak at a public hearing
WHAT: Public hearing #2: hosted by EQC
WHEN: Sept. 30, 2021, 4 p.m. to 7 p.m. PT
DEQ staff will present a short overview of the draft Climate Protection Program rules. Afterward, the Environmental Quality Commission will accept public comment specific to the proposal. Meeting agenda and instructions are available here.
How to join: Join via Zoom
Meeting ID: 812 5093 5766

Join by phone: 833-548-0276
Pre-register to provide comment
Pre-registration for commenting at the hearing is available, and the commission will also reserve time for same-day sign-ups.
To pre-register to present comment, please email Stephanie Caldera by 5 p.m. on Tuesday, September 28. All pre-registrations will be confirmed by email by 5 p.m. on Wednesday, September 29.
NOTE: Pre-registration for the 4:15-5 p.m. time slot is full at this time. Pre-registration is still available for the 5:45-6:30 p.m. time slot.
NOTE: Due to the limited amount of speaking time, the DEQ asks that each commenter make oral comment at only one hearing and limit their oral comment to two minutes.