1) Sign up to "Join" the event yourself from your Facebook account. First make sure you're logged on to your Facebook page. Then follow the links to the specific event you're invited to (example from the November 2013 "Night of Bliss" sponsored by Coconut Bliss) here: https://www.facebook.com/events/632932433424283/
2) As below, click on the "Join" button just under the event graphic.
3) As below, you should see your Facebook profile photo and name appear to the left, under the "Going" heading. This, of course, is proof that you are hip and popular, but don't stop there...it's time to share the joy! Click on the "Invite Friends" button to the right.
4) After clicking on the "Invite Friends" button, you'll immediately see a large window appear (as below). Proceed to add checks next to the names of groovy friends who you think would like to join you and click on the "Save" button at the bottom.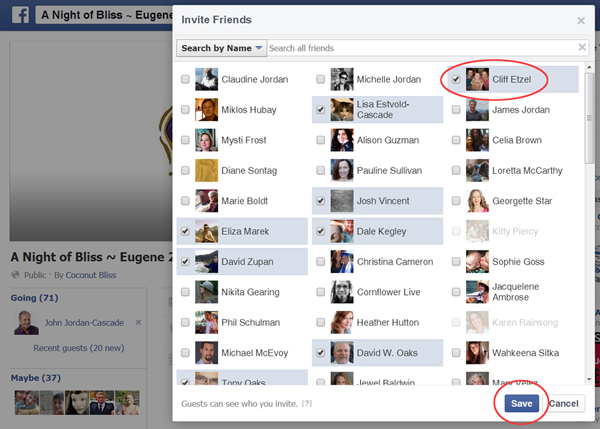 That's it. You're done for now! Don't forget to add the event to your calendar and come with your friends and/or family to have some fun. 🙂