A community education service provided by Beyond Toxics
Description
The Beyond Toxics Speaker's Bureau is a new service providing content expertise on a variety of topics related to environmental justice, pesticide protections and regenerative ecosystems to Oregon schools, businesses, government agencies and non-profits on a first come-first served basis. We may not be able to accommodate all requests.
We request a minimum of 4 weeks notice for our staff to adequately schedule your meeting/training/webinar. If there are social distancing guidelines in place, we can participate in online forums and offer zoom conferencing services. | Fill out a request form->>

If you have questions, feel free to email the Beyond Toxics Communications Manager or one of the speakers listed below directly.
———–OUR SPEAKERS———–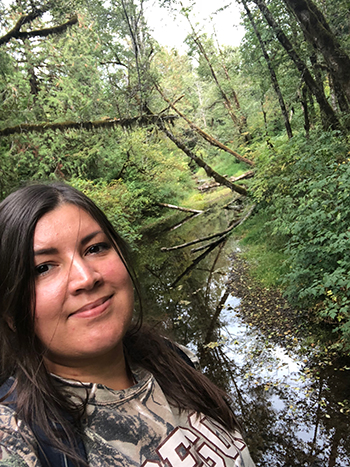 Krystal Abrams | Request this speaker
Regenerative Ecosystems and Pesticide Program Manager
Email: kabrams (at) beyondtoxics (dot) org
Krystal was raised in a Cherokee-Muscogee family in northern Florida. After graduating from a community college she embarked on a road trip across America which led her to settle in Eugene and study Environmental Sciences at the University of Oregon. During her time at the UO she collaborated with the McKenzie Watershed Council (MWC) and the McKenzie River Trust (MRT) to monitor and restore critical riparian habitat along the McKenzie River. After graduation, Krystal recruited and managed volunteers for the Walama Restoration Project, leading non-chemical environmental restoration work parties and nature hikes around the Eugene-Springfield Area. When she's not reaching out to advocate for environmental education and conservation, you can find her whipping up some speed on a nearby bike path or hiking and enjoying the great outdoors.
Areas of expertise: Regenerative Ecosystems, First Foods, Pollinator Garden, Non Toxic Oregon, Chlorpyrifos/Neonics/ACP/Crossbow
See Krystal's most recent blog (Jennifer Eisele, co-author), First Foods for Spring | MORE blogs by Krystal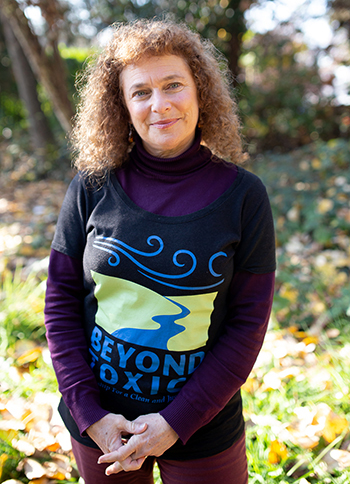 Lisa Arkin | Request this speaker
Executive Director
Email: larkin (at) beyondtoxics (dot) org
Lisa Arkin is the Executive Director of the Beyond Toxics, providing innovative policy leadership and grassroots organizing for this statewide environmental justice organization since 2007. Under her guidance, Beyond Toxics embraced the principles of diversity and equity, and adopted an anti-racist ethos to become Oregon's first environmental justice organization. Lisa is dedicated to placing human rights, racial and social justice at the forefront of all environmental protection and climate resiliency policies. Beyond Toxics organized the first Oregon Environmental Justice Bus Tour, the first set of regional environmental justice forums and is currently preparing for Oregon's inaugural Environmental Justice Pathways Summit. With her leadership, Beyond Toxics has grown to a staff of eight and two offices, including our Willamette Valley headquarters and the Southern Oregon office. Lisa has served as appointed member of a number of commissions and work groups, including Governor Brown's Cleaner Air Oregon Policy Advisory Committee, the Lane County Planning Commission and the State Pesticide Stewardship Partnership Advisory Committee.
Areas of expertise: Environmental justice, climate justice, air quality/toxics, West Eugene Community Health Project, farm and forest worker protections, resilient forestry, Oregon's Forestry Practices Act reform, pesticide reform, Non Toxic Oregon, statewide pesticide policy, Chlorpyrifos/Neonics/ACP/Crossbow, helping communities harmed by pesticide exposures, Oregon Pesticide Action Coalition, land use and environmental justice, land use and toxics.
See Lisa's most recent blog, "COVID-19 virus reveals that environmental justice is a public health issue" | MORE blogs by Lisa
Haley Case-Scott | Request this speaker
Climate Justice Grassroots Organizer
Email: hcasescott (at) beyondtoxics (dot) org
Haley Case-Scott is a member of the Confederated Tribes of Siletz Indians, and a descendant of the Klamath Tribes, Yurok Tribe, and the Sakoagan Band of Chippewa Indians. She was born and raised in the Klamath Basin, and moved to Eugene in 2014 to attend the University of Oregon. Four years later, Haley received her Bachelor of Arts Degree in Political Science with a minor in Native American Studies. Prior to working as the Climate Justice Grassroots Organizer, Haley served as a Research Assistant with the Pacific Northwest Tribal Climate Change Project and the United States Forest Service. She is dedicated to ensuring that diverse perspectives are considered and respected in the development of climate policy.
Areas of expertise: climate justice, racial justice, Just Transition, coalition building
See the video interview with Haley->>  | Read Haley's latest blog, Double Trouble – Climate Change and COVID-19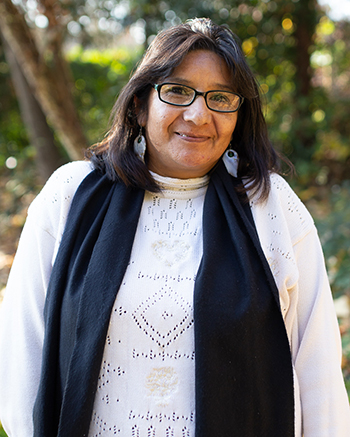 Jennifer Eisele | Request this speaker
Pesticide Projects Fellow
Email: jeisele (at) beyondtoxics (dot) org
Jennifer is our new Pesticide Projects Fellow. She brings invaluable experience to our organization based on her previous work on pesticide regulations in the Tribal Environmental Protection Program of the Shoshone Paiute Tribes of Nevada. Jennifer chose to join the Beyond Toxics team thanks to a job placement program administered by the Oregon Siletz Tribes.
Areas of expertise: Racial justice, food security, farm and forest worker protections, First Foods, pesticide reform, statewide pesticide policy, Chlorpyrifos/Neonics/ACP/Crossbow, helping communities harmed by pesticide exposures, extractive Industries
See Jennifer's most recent blog (Krystal Abrams, co-author), First Foods for Spring
Ana Molina | Request this speaker
Environmental Justice Campaign Liaison
Email: amolina (at) beyondtoxics (dot) org
Ana was born in Mexico but grew up in South Lake Tahoe when her family migrated to the US. She is first in her family to graduate from college, and recently graduated from Humboldt State University. Growing up in such a beautiful area gave her an appreciation for the environment that inspired her to pursue a degree in Environmental Science. While in school she became involved in social justice issues on campus and in Humboldt County.
Ana began to make the connections of how our social constructs affect our environment leading to environmental racism. She realized that you can't leave out whole communities when it comes to conversations about climate change and the environment when they will be the ones who are affected.
Ana has a love for both the environment and people because we are resilient, strong and imaginative and we can come up with solutions when we work collectively. On her down time Ana likes to hike, backpack, read and check out thrift stores.
Areas of expertise: Environmental justice, farm and forest worker protections, social justice, racial justice, coalition building
BLOG: Earth Week reminds us to fight for environmental justice by Ana Molina, Krystal Abrams and Mysti Frost
---
Request a Beyond Toxics Speaker for your phone call/online meeting or webinar:
---
Areas of expertise provided by our speakers:
Environmental justice, Social justice, Climate justice, Air quality/toxics, Racial justice, West Eugene Community Health Project, Food security, Just Transition, Farm and forest worker protections, Coalition building, Regenerative Ecosystems, Resilient Forestry, Oregon's Forestry Practices Act reform, First Foods, Pollinator Garden, Pesticide reform, Non Toxic Oregon, Statewide Pesticide Policy, Chlorpyrifos/Neonics/ACP/Crossbow, Helping communities harmed by pesticide exposures, Oregon Pesticide Action Coalition
---