UPDATE:
Live updates: Fire officials see progress against wildfires, get help from a change in weather (OPB)
The devastating wildfires throughout Oregon have created unprecedented hardship for many thousands of Oregonians. Hundreds of homes, businesses, and community spaces have burned. Our hearts go out to those who have suffered loss, are sheltering in community centers or facing permanent relocation. We have provided a few resources for those who wish to keep up-to-date with the threat of fire in their area and those who want to help with relief efforts (below).
See details about your area->>
WILDFIRE RELIEF FUNDS
Please find the local chapters of the Red Cross or United Way to donate to relief efforts in your area.
Contact your local chapter of Red Cross->>
United Way Fire Fund – Jackson County Fires: http://www.unitedwayofjacksoncounty.org/give/
McKenzie River Gathering Foundation – The Rogue Valley Relief Fund 
In the Rogue Valley in Southern Oregon, the Cities of Talent and Phoenix have been decimated, while parts of Medford, Ashland, and Shady Cove have also burned. Your donation will go directly to help people most impacted by these fires in the Rogue Valley. DONATE->>
United Way of Lane County's Wildfire Response Efforts:
https://www.unitedwaylane.org/wildfire-response
United Way of Lane County: UNITED WAY LAUNCHES EMERGENCY FUND FOR WILDFIRE RELIEF
https://www.kezi.com/content/news/United-Way-launches-emergency-fund-for-wildfire-relief-572368251.html
APPLY FOR FUNDS: United Way's Wildfire Response Fund
The United Way of Lane County Wildfire Fund is designed to support nonprofits and community organizations that are assisting community members who have experienced the loss of a home or business, or are otherwise impacted as a result of Lane County wildfires. | https://www.unitedwaylane.org/wildfire-fund-application
United Way Mid-Valley Wildfire Relief Fund (Salem area): DONATE
United Way opens Salem hub for evacuees near fairgrounds
United Way of the Mid-Willamette Valley has organized a one-stop "shopping" hub for people impacted by the wildfires, and it's stocked with everything from toiletries and bedding to fresh produce and toys.
The hub, 1705 Silverton Rd. NE, will be open from noon to 5 p.m. today. Hours for Saturday and Sunday are still being finalized. All donated items should be new and can be dropped off at the hub or the United Way office, 455 Bliler Ave. NE. United Way (Salem) is not accepting clothing or water at this time.
United Way of the Columbia-Willamette – four counties (Clackamas, Multnomah, Washington Counties, OR and Clark County, WA)
Wildfire Response and Recovery Fund->>

Meyer Memorial Trust is accepting donations for the fire victims: https://oregoncf.org/oregon-wildfire-relief-recovery/donate-to-support-wildfire-emergency-relief/
Unete Farm Worker Relief Fund: http://uneteoregon.org/donate/
Rogue Climate Rogue Valley Mutual Aid and Fire Support: https://www.rogueclimate.org/fire_mutual_support
WILDFIRE INFORMATION/NOTIFICATION
West Coast Wildfire and Weather Information Map
(you can zoom in to your area on the map)
Lane County (includes Eugene/Springfield)
Lane County Emergency Management
AlertMe! Sign up now to receive emergency notifications via text message, phone call or email: https://public.alertsense.com/SignUp/?regionid=1087
McKenzie/Holiday Farm Fire Information:
https://www.lanecounty.org/cms/one.aspx?pageId=17035134
Jackson County (includes Medford, Talent, Phoenix and Ashland)
Jackson County Emergency Management:
Current Events and Emergency Resources
Get alerted about emergencies: https://member.everbridge.net/1332612387832182/login
Josephine County (includes Grants Pass)
Josephine County Emergency Management
Get alerted about emergencies: https://member.everbridge.net/1332612387832182/login
Douglas County (includes Roseberg)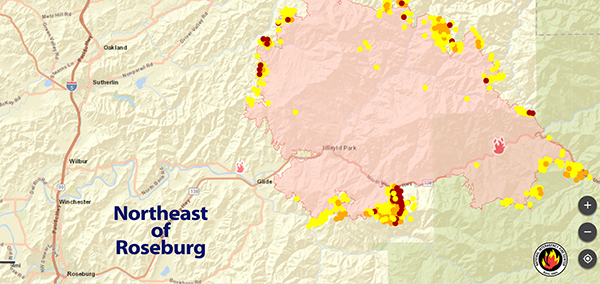 Douglas County Emergency Management
Marion County (includes Salem area)
Marion County Emergency Management
For emergency alerts, register for Everbridge alert and notifications
Metcom 9-1-1: https://member.everbridge.net/index/892807736721950#/signup
Hot Spot Map – National Wildfire Coordination Group: https://maps.nwcg.gov/sa/#/?/?/45.188/-122.5874/11
Multnomah County (includes Portland area)
Multnomah County Office of Emergency Management
September 2020 Wildfire Threat to Multnomah County
https://multco.us/air-quality-public-health-problem/september-2020-wildfire-threat-multnomah-county
Sign-up for public alerts: https://www.publicalerts.org/hazards/wildfire-2020
includes wildfire map. Map based on data from National Wildfire Coordinating Group (NWCG), US EPA AirNow, Oregon Office of Emergency Management (OEM).
Wildfire Safety and Prevention
---
Please email info@beyondtoxics.org with your suggestions to add resources.