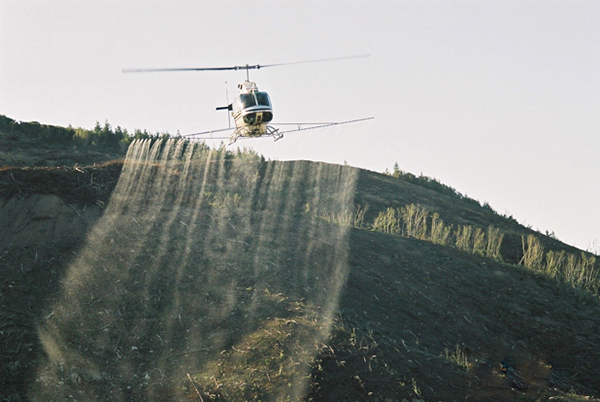 Beyond Toxics is leading the work for two bills to update Oregon's forestry practices
UPDATE OREGON'S FOREST ACTIVITY ELECTRONIC REPORTING AND NOTIFICATION SYSTEM (FERNS) [Bill Number: SB 931]
The Oregon Department of Forestry's online forest activities notification system needs improvement. This easy-to-use system can help rural residents protect themselves from aerial herbicide sprays on private industrial timber plantations. These necessary updates will include:
Notify residents 48 hours prior to herbicide sprays
Distinguish between aerial and ground sprays
Report types and amounts of pesticides used to the state regulators
Keep forestry spray records for 7 years (instead of 3 years)
PROHIBIT AERIAL HERBICIDE SPRAYING ON STATE-OWNED FOREST LANDS [Bill Number: SB 926]
Oregon law allows helicopters to spray dangerous herbicides on many thousands of acres of state forests. These forests provide drinking water to downstream communities. Aerial herbicide sprays are ultra-hazardous because herbicides can drift for miles. Our state forests and public funds should not be used to put drinking water and rural communities at risk of being exposed to herbicides.
TAKE ACTION
Please call and email members of the Senate Committee On Environment and Natural Resources
(Thank you to the people who testified on Tuesday, April 2nd on behalf of SB 931 and SB 926 at the state capitol in Salem!)
---
Senator Arnie Roblan, Democrat, District 5 – Coos Bay
Capitol Phone: 503-986-1705
Email: Sen.ArnieRoblan@oregonlegislature.gov
Senator Legislator Cliff Bentz, Republican, District 30 – Ontario
Capitol Phone: 503-986-1730
Email: Sen.CliffBentz@oregonlegislature.gov
Senator Alan Olsen, Republican, District 20 – Canby
Capitol Phone: 503-986-1720
Email: Sen.AlanOlsen@oregonlegislature.gov
Senator Floyd Prozanski, Democrat, District 4 – South Lane and North Douglas Counties
Capitol Phone: 503-986-1704
Email: Sen.FloydProzanski@OregonLegislature.gov
Please thank Senator Michael Dembrow for his support of these bills!
Capitol Phone: 503-986-1723
Email: Sen.MichaelDembrow@oregonlegislature.gov
Check links below to find contact information for your legislators:
See contact information for all of Oregon's State Senators
See contact information for all of Oregon's State Representatives in the House
Don't know who represents you? Find your legislators
---
download Advocacy for Senate Bill 931 and Senate Bill 926 (PDF)
Main Talking Points for the FERNS Notification bill (SB 931)

Today's technology makes it easy to be a good neighbor and share accurate and timely information about upcoming pesticide sprays in private and state forests. Using the Oregon Department of Forestry's existing online database (FERNS), timber companies can upload all the information required in SB 931 with ease.
The main points of the bill are:
Neighbors can receive timely 24-28 notification by email before an impending aerial or ground herbicide spray and will be informed about the type of method: aerial or ground;
State regulators collect accurate data on types and amounts of chemicals sprayed on the FERNS website within 5 days of the spray operation
Benefits of Senate Bill 931:
Advance notice to rural residents to protect loved ones
Rural Oregonians are asking that they have a chance to make sure their children and pets are indoors, and their farm animals are inside the barn, chicken coop or bee box.
Advance notice to turn off water intake for rural residents is a common courtesy
People who get their drinking water from streams and springs on industrial timber land are asking for a chance to turn off their intake for 48 hours to avoid pesticides drifting into their water supply. Nearby organic farms are asking for the opportunity to make sure their workers are not out in the field on the day of an aerial spray.
Accurate and timely notification is part of being a respectful and trusted neighbor
Oregon's timber companies use standard operating procedures to help them prepare for aerial herbicide sprays– their own Guideline documents demonstrate that they know where, when and what they will spray at least 2 weeks prior to spraying herbicides. It is entirely possible for them to notify neighbors 24-48 hours in advance of a spray. Notification should be required by statute, not on a voluntary, case-by-case basis, practiced at the whim of each timber owner. That should be an act of common decency between neighbors!
Main Talking Points for the bill to prohibit aerial spray on state forests (SB 926)
Aerial sprays were banned in federal forests more than thirty years ago! However, in the public Tillamook State Forest, the Oregon Department of Forestry has recently aerially sprayed herbicides over 10,300 acres. They have chosen aerial herbicide spraying over ground sprays in 70% of their herbicide operations. A significant number of these aerial herbicide sprays were carried out in Protected Drinking Watersheds designated by other state agencies!
Our public state forests are the places Oregonians come to camp, hike, picnic and fish. These public forests are also the source of drinking water for many Oregon towns and communities. Tell your legislator that aerial sprays don't belong in our public forests.
---
See our NEW video, "Resilient Forestry: Shady Creek" to learn the answer to the question, What does it mean to manage forests in a truly sustainable way? Dave Eisler at Shady Creek Forest in Oregon shares his thoughts about timberland management and future generations.
---
Read an overview of the Beyond Toxics 2019 Legislative Program->>
---