Oregon's loose and antiquated forestry laws allow timber companies to use helicopters to spray toxic mixtures of herbicides – including carcinogens like 2,4-D and glyphosate and the endocrine disruptor, atrazine – on our state's forests. Rural community health suffers because these dangerous industrial toxics pollute our air and drinking water. Through research, community organizing, advocating for agency rule changes, tours of demonstration resilient forests and legislation, Beyond Toxics fights to change Oregon's forestry practices. MORE->>
The timber industry leads Oregonians to believe that green tops are healthy forests. The truth is: we are being DECEIVED!
Underneath those green tops is a wasteland of skinny Douglas fir trees and dead soils. You won't find a healthy bio-diverse habitat! You won't find shelter for deer, elk, birds and other forest creatures. The rapid rate of clear-cutting dries up streams and never gives soils time to recover.
The timber industry is required to protect streams under Oregon Forest laws. What does Oregon get as a result of the industry following existing laws?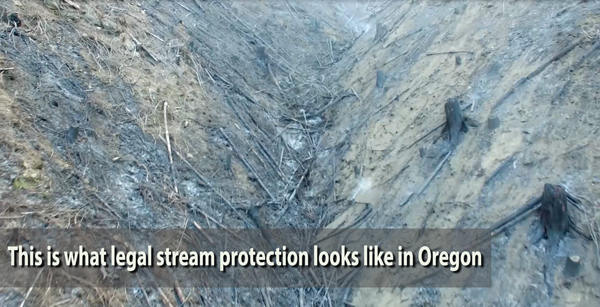 With native plants and trees gone, hillsides become unstable, and soils collapse into streams. This makes waterways uninhabitable for fish. Chemicals are used to kill native vegetation so that Douglas fir trees become a dominant mono-crop. Aerial herbicide sprays drop toxic chemicals out of the sky. These poisons blanket the entire landscape and run off into streams.
Seventy percent of Oregon communities get their drinking water from the same streams exposed to aerial sprays.
This isn't forestry
– it's just plantation farming on a giant, unsustainable scale. The timber industry is stuck in an old paradigm that disrupts ecosystems. Every 30-40 years, these fir plantations are clear-cut, sprayed with herbicides, then replanted with a single mono-crop.
There is another way…
A new generation of Oregon forest family businesses are growing … and harvesting …bio-diverse, resilient forests. A true working forest manages the natural attributes of mixed tree species for soil health, clean water, carbon storage, healthy communities…and good-paying jobs. This model represents the Oregon forest economy of the future.
What can I do?
TAKE ACTION NOW: Raise Your Voice for Oregon's Forests

---
Read more about our Forestry Pesticide Project
---
Resources
---
Won't you join us in imagining, and working for, a world beyond toxics?
Beyond Toxics is a 501(c)(3) non-profit organization and all contributions are fully tax-deductible. Please consider giving a gift of a Beyond Toxics membership to a friend or family member!