Please take a moment to raise your voice for Oregon's forests
and sign our Principles to Create Healthy, Biodiverse, Resilient Forests…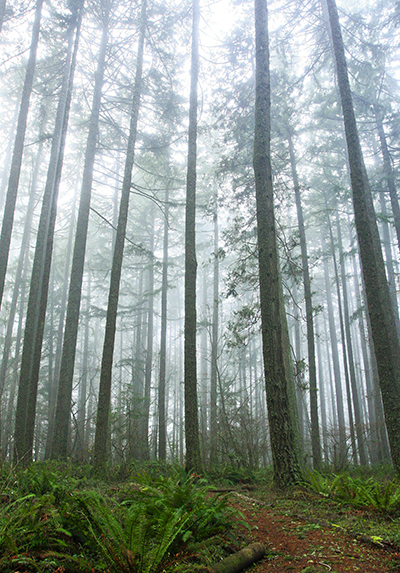 Giving the Forest Its Policy Voice (sign below)
Preamble:
Reaffirming the universality, indivisibility, interdependence and dependency of all life on Earth on a healthy biosphere and eco-system integrity;
Recognizing that Oregonians require the full legal protection of forest eco-systems upon which human and animal life depends for a healthy climate, the integrity of a balanced carbon cycle, diverse plant species, clean drinking water and living soils;
Recognizing that science confirms the threats of climate change to the Oregon's forest eco-systems and its multiple life forms, and also recognizes the ability of natural forest systems to sequester carbon in healthy soils and trees;
Recognizing that science confirms the threat of climate change to the livelihoods and well-being of present and future generations;
Recognizing that ecosystem destruction disproportionally affect innumerable living beings and systems that are intrinsically valuable in their own right and unable to defend themselves;
Recognizing that Oregonians have a right to a healthy and ecologically viable environment, and consequently recognize that harming the environment undermines our rights;
Recognizing that it is the stewardship responsibility of Oregonian residents, businesses and lawmakers to respond to the eco-system harms and damage caused by managing forest lands beyond the capacity of their biological integrity;
Deeply concerned by the continuing political failure to reach adequate commitments on forest eco-system protection and mitigation; by the dominance of the market as the primary value that influences forest policy;
The Following Principles Are Declared:
1. Guarantee forest resilience, adaptation and mitigation measures and efforts.
2. Guarantee the highest attainable standard of forest health, free from chemical degradation.
3. Establish economic incentives for forest eco-system protection, carbon storage, selective harvesting, and stream protections.
4. Oregon shall provide just treatment and workplace safety for the forest industry workforce.
5. Oregon shall respect and ensure the right to a secure, healthy and ecologically sound forest environment and to a stable climate. Accordingly, they shall adopt the administrative, legislative and other measures necessary to effectively implement the rights in this Declaration.
We Demand Responsible Action to:
1. Institute a phase-out of aerial herbicide sprays in forests, resulting in a ban on aerial herbicide sprays.
2. Transition from a model of clear-cut logging and removal of forest biomass to selective harvesting and riparian protection.
3. Establish a tax system incentivizing forest eco-system protections,carbon sequestration, and bio-diverse forest lands.
---

What can I do?
TAKE ACTION NOW: Raise Your Voice for Oregon's Forests
---
Back to Timber's Cover-Up page
Read more about our Forestry Pesticide Project