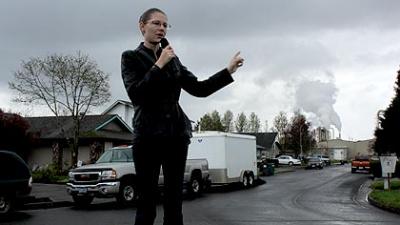 Bus tours generally take you fun places; they take you sightseeing. But a recent bus tour took Lane County participants on a trip into environmental justice — or the lack of it. Small houses cringed in front of smokestack plumes and neighborhood residents told of days the smell of chemicals have them hiding in their houses, their children stricken with asthma attacks. This isn't happening in some big dirty city in some other state. It's in west Eugene.
Lisa Arkin of Beyond Toxics led two schoolbuses packed with local residents on a tour of neighborhoods and the toxic industries that impact them. Participants included Mayor Kitty Piercy, Commissioner Rob Handy, City Councilors Andrea Ortiz and George Brown, and councilor candidate Juan Carlos Valle. Ben Duncan, chair of Gov. Kitzhaber's Environmental Justice Task Force and others representing state and federal interests attended as well.
City Councilor Pat Farr, who is running against Handy for the North Eugene commissioner's seat, was signed up but did not arrive for the event — River Road in the north Eugene district is one of the impacted areas that was toured.
Mixed in with neighborhood residents were students from the UO, as well as representatives from the Lane Regional Air Protection Agency (LRAPA), the agency that monitors and enforces air quality issues. The tour was part of a three-day wide-ranging community discussion of environmental justice that took place everywhere from a church to the UO campus.
The bus tour was a collaboration between Beyond Toxics and Centro LatinoAmericano. Many of the people who are affected by the air, water and soil pollution in West Eugene are Latino, and several spoke of the conditions they face through a translator. According to the Environmental Protection Agency, which was one of the sponsors of the tour, minority and/or low-income communities often face a disproportionate exposure to environmental harms.
Arkin says that many argue that the industries were there first, before the neighborhoods, but she points out that some of the housing was built for the people who would be working places such as the Union Pacific railyard, and some of the schools were in place before the industries were.
Arkin says the Eugene Toxics Right-to-Know reporting system shows that Bethel schoolchildren breathe approximately 72 pounds of toxic chemicals a year.
The tour included the UP railyard site and its toxic groundwater pollution; a flooded auto wrecking yard near ponds that are home to the western pond turtle; Murphy Plywood, which emanates formaldehyde, a known carcinogen; and Georgia-Pacific Chemical, a Koch Industries company that puts out 36,000 pounds of air toxics a year, according to LRAPA, to name only a few. Many of the industries were in close proximity to schools, homes and even a daycare center.
For more on the effort to bring environmental justice to west Eugene, visit BeyondToxics.org