Title: HB 2406 Toxics Free Schools 2021
Background:
Over a decade ago, Beyond Toxics published a report on egregious school pesticide poisonings, events that sent kids and teachers to emergency rooms and forced the evacuation of schools. As a result of that advocacy campaign, in 2009, the Oregon Legislature passed SB 637, The School Integrated Pest Management Act, with broad bipartisan support. SB 637 was among the nation's strongest rules to protect kids from pesticides. More than a decade later, medical studies show that pesticides can have detrimental developmental and neurological outcomes in children at very low levels.
Oregon's 10-year old law still allows highly toxic pesticides that are known or suspected carcinogens and/or linked to reproductive and/or developmental harm. It is time to update Oregon's law to protect children where they go to learn and grow. HB 2406 will modernize Oregon's School Integrated Pest Management law to require that school plans emphasize least-toxic pest management products and eliminate the use of the most highly toxic pesticides. Pesticides needed for emergencies must meet specified standards for safety.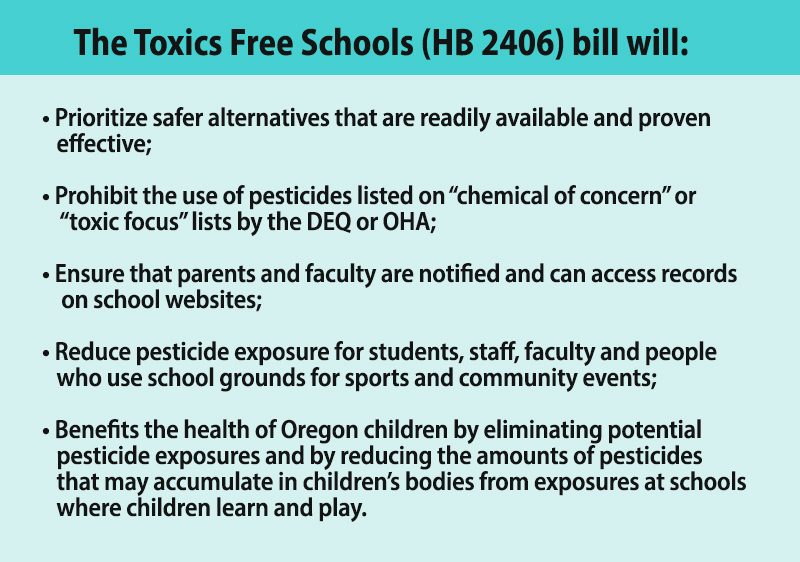 ---
Now it's time to TAKE ACTION!
Organizations can:
Individuals can:
Sign up for E-Alerts to stay up to date on the bill and ways you can support the work to pass it!
Share your story (form coming soon)
---
HB 2406 Overview (PDF)
Learn more about the current Oregon State IPM Law
Lear more on the Oregon Legislative Information Site
Stories Across Oregon
Representative Courtney Neron, the bill's Chief Sponsor, initiated this effort after witnessing pesticides sprayed at her daughter's elementary school along walls, around lamp posts, the kindergarten play area and school bus loading areas.

Representative Reardon became concerned when rodent poisons were used inside a school in his district. When concerns were raised, the school turned to nontoxic methods to eliminate rodents by sealing up holes and cracks that had allowed animals to enter the buildings.
---
Current endorsers:
NCAP, PCUN, Women Leaders in Cannabis, NAACP Eugene-Springfield
logos here
More endorsers coming soon…