Internship and Volunteer Opportunities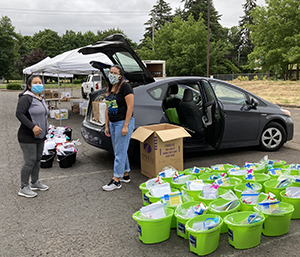 Interested in volunteering?

Please email us directly with questions:
volunteers (at) beyondtoxics (dot) org
Interested in becoming an intern?
Please email us directly with questions:
internships (at) beyondtoxics (dot) org
Fall 2019 photography intern, Emily Cook.
Photo by Krystal Abrams.
A student volunteer helps with upkeep of the Pollinator Garden in West Eugene.
What's the difference between an internship and volunteering?
The answer varies by non-profit, but for us, we require a minimum commitment of 3 hours per week for at least a 3 month period. Also, an internship is usually done through a school for credit, but we can consider other arrangements.
See more About Us
Read about our current campaigns
Read about other ways you can get involved
ABOUT US
Beyond Toxics is a statewide environmental justice organization advancing policies that ensure meaningful participation and cultivating grassroots leadership from Oregon's frontline and impacted communities. Established in 2001, we are a multicultural, inter-generational team dedicated to centering community leaders and building out the true diversity of our state's vibrant Environmental Justice movement.