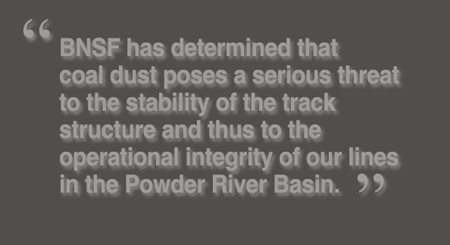 NEWS FLASHES:
NEW REPORT: Heavy Traffic Ahead – RAIL IMPACTS OF POWDER RIVER BASIN COAL TO ASIA BY WAY OF PACIFIC NORTHWEST TERMINALS  — A Report Prepared For Western Organization of Resource Councils (July 2012)
---
BNSF acknowledges that coal dust harms the stability of rail lines. Their website states:
"BNSF has determined that coal dust poses a serious threat to the stability of the track structure and thus to the operational integrity of our lines in the Powder River Basin."
---
---
VIDEO: See shocking raw footage of a coal train in transit (on YouTube) and the horrendous trail of coal dust it leaves behind!
(Read the full Coal Dust FAQs document as published on the Burlington-Northern Santa Fe Railroad web site–now gone from their site!)
Columbia RiverKeepers has an excellent article reviewing three coal train derailments in early July: near Tri-Cities (WA) area, Chicago, and Pendleton (TX). Read about the latest tragic derailment in Maryland, which killed two teens.
The most recent accident in Eastern Washington…
About 25 coal cars derailed Monday on a train heading through Mesa. No injuries were reported. The BNSF train was passing through the small town in north Franklin County when the accident happened about 6 p.m. The overturned cars spilled coal, sending up a cloud of dust, but no fire was reported, according to initial reports from witnesses.
"These crashes serve as a stark reminder that more coal trains will cause more derailments," stated Brett VandenHeuvel, Executive Director of Columbia Riverkeeper. "With the coal export proposals, our communities are threatened with 30 full coal trains everyday." | Read more
The Seattle Times documented the potential coal train impact on the Puget Sound region.