A VICTORY FOR ENVIRONMENTAL JUSTICE!
DEQ fines Eugene wood preserver J.H. Baxter & Co. $223,440 for hazardous waste and water quality violations (DEQ Press Release)
"The violation and the fine that goes with it demonstrate that the neighborhood has been telling the truth about JH Baxter for decades (yet the community had been essentially ignored by local regulatory agency). JH Baxter is a bad neighborhood and has now been caught intentionally poisoning the Bethel and Trainsong areas of Eugene. This issue is one Beyond Toxics has been assiduously working on with the community!" – Lisa Arkin, Beyond Toxics Executive Director
also…
Beyond Toxics West Eugene Community Organizer Fellow and former West Eugene resident, Arjorie Arberry-Baribeault, says, "It is baffling that this company has been allowed to get away with deceiving their neighbors in West Eugene for so long. What would they do if it were their children and family at risk? Would they allow poison to permeate their backyards? This company has been driven by greed and a total lack of respect for our community and we have been paying the price with our lives. The time for accountability has arrived."
---
Please call us (or fill out the form below) if you're suffering from the effects of pollution from the J.H. Baxter plant in West Eugene: 541-465-8860. | Read the stories we have received so far.
Read the overview from the most recent West Eugene Clean Air Community Meeting on Jan. 25th.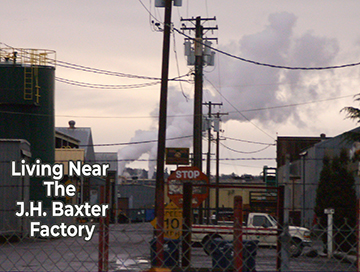 We want to hear your story. Better yet, record it on audio or in a simple video. Let us know in what way you feel most comfortable sharing your testimony/story. If writing it out is your style, please scroll down to fill out our form. You can choose to make it anonymous if you prefer.
We are currently pressuring the local media to better cover the issue of pollution in West Eugene in general, and specifically, J.H. Baxter's ongoing compliance problems and LRAPA's continuing poor oversight of J.H. Baxter and other companies like them.
We would like to see more of the local media (esp. the R-G) address pollution in West Eugene, like this one posted on KEZI-TV's web site: https://www.kezi.com/content/news/Weekend-odor-traced-back-to-Eugene-wood-processioning-plant-officials-say-law-firm-investigates-562577381.html
The issue is not simply one of J.H. Baxter's incessant polluting of West Eugene, but includes LRAPA's poor outreach to J.H. Baxter's neighbors and LRAPA's inability to create a system of receiving complaints that is well-publicized and allows easy access, especially for people whose first language is not English. In that regard, Beyond Toxics was successful in filing a civil rights complaint with the US EPA against LRAPA and just recently won a significant victory. Thanks to that ruling, the most vulnerable communities in West Eugene can now be heard. | Read the press release (PDF)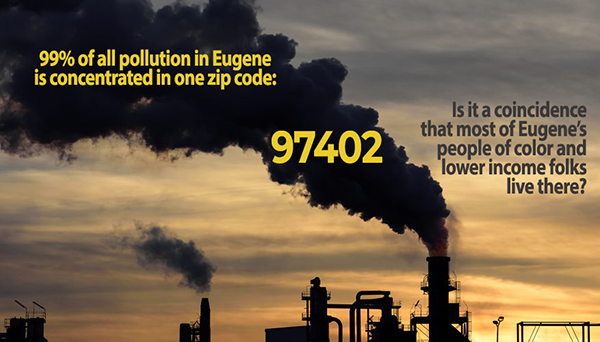 Please also reference Baxter's past fines:
https://www.registerguard.com/news/20180517/eugene-company-jh-baxter-fined-over-alleged-water-quality-violations
Eugene company J.H. Baxter fined over alleged water quality violations
By Elon Glucklich – May 2018
It is in our community's interest to ask a simple question: what is wrong with this system if J.H. Baxter does not respond to fines and clean up its act? Are they acting as a responsible corporate citizen and, if not, why not? We ask that the local news media ask these tough questions of both the business community and the agencies tasked with protecting our public health.
MORE about our environmental justice work in West Eugene->>
PRESS RELEASE – Sept. 26, 2019
Beyond Toxics and Crag Law Center Secure Improvements in Air Quality Monitoring
and Community Engagement for West Eugene
The Lane County Regional Air Protection Agency (LRAPA) has agreed to improve air quality monitoring and community engagement in West Eugene. The changes come in response to a civil rights and environmental justice complaint filed with the U.S. Environmental Protection Agency by Beyond Toxics, represented by the non-profit Crag Law Center. The complaint challenged the Lane County agency's 2013 decision to allow Seneca Sustainable Energy to increase pollution discharges from its West Eugene power plant.
The plant emits fine particulate matter and a number of hazardous air pollutants, all of which are considered highly dangerous to human health. The surrounding neighborhoods (Bethel-Danebo, Trainsong, and parts of River Road) include more people of color and low-income residents compared to other areas of Eugene, and are already overburdened with industrial pollution. Children's asthma rates in West Eugene are almost twice the state average.
Beyond Toxics' complaint alleged that LRAPA violated Title VI of the Civil Rights Act when it failed to consider disproportionate impacts on communities of color or provide avenues for meaningful community participation in its decision making. U.S. EPA's Office of Civil Rights accepted the complaint and after five years of investigation and negotiation, reached an agreement with the Lane County agency.
The agreement provides for numerous remedies that will constitute voluntary compliance by the Agency. Among them, LRAPA will establish at least four air quality monitoring stations at locations within the West Eugene area to be determined in coordination with Beyond Toxics and the local community. LRAPA will also establish methods for reporting air quality concerns in languages other than English, and make these methods available online, in person, and by phone. The air agency will also adopt clear non-discrimination procedural safeguards and place a non-discrimination coordinator on staff.
"We filed a civil rights complaint because neighbors in areas of West Eugene downwind from Seneca's biomass energy plant have repeatedly expressed concerns about LRAPA's approval of increasing amounts of air pollution and believe they have not been informed about the Agency's decision-making process, nor how they can provide public input," said Lisa Arkin, Executive Director of Beyond Toxics. "We objected to a government agency placing barriers to information access and meaningful participation in decisions impacting the health of these families."
Courtney Johnson, an attorney with Crag Law Center, said, "All community members, regardless of ethnicity, color, or national origin, have the right to have their voice heard on issues of air quality and the health of their families. By filing this complaint, we brought EPA's civil rights enforcement power to Lane County, and we're happy to see the local agency stepping up its efforts to include impacted communities in its decision-making."
FULL Press Release (PDF)
For an interview: contact…
Ana Molina, Environmental Justice Campaign Liaison,
Beyond Toxics, 541-465-8860
---
Read the overview from the most recent West Eugene Clean Air Community Meeting on Jan. 25th.