LATEST NEWS ON COAL TRAIN RESISTANCE IN THE NORTHWEST…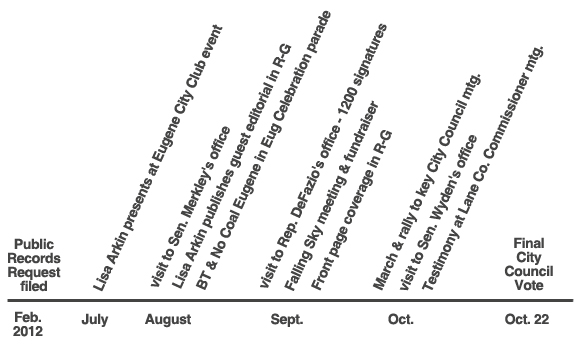 EUGENE CITY COUNCIL VOTES AGAINST COAL TRAINS!
TIMELINE OF SUCCESS (news/document links included):
February 2012: Along with the Sierra Club, Beyond Toxics files a records request with the Port of Coos Bay
July 6, 2012: Beyond Toxics Exec. Director, Lisa Arkin, presents to Eugene City Club on health risks associated with the threat of coal train shipment of coal throughout the NW. (link opens an mp3 audio file)
Aug. 2, 2012: Along with several citizens and local members of the Sierra Club, Beyond Toxics visits with staff from Sen. Merkley's office in Eugene to show support for his work towards a Programmatic Environmental Impact Statement
Aug. 25, 2012: Beyond Toxics and No Coal Eugene joined to organize an entry in the Eugene Celebration parade.
Aug. 26, 2012: Beyond Toxics Exec. Director, Lisa Arkin publishes a Guest Editorial on the coal trains issue in the Eugene Register-Guard
Sept. 5, 2012: Beyond Toxics staff and local members of Sierra Club hand over more than 1200 signatures from CREDOmobile opposing coal trains to Congressman DeFazio's office. We encouraged DeFazio to support our call for a Programmatic Environmental Impact Statement.
Sept. 7, 2012: Beyond Toxics and Falling Sky Brewing hosts a gathering of anti-coal activists to have an organizing dialogue. Afterwards, many attendees walk to the City Council meeting to offer testimony at the public forum.
Sept. 16, 2012: the Eugene Register-Guard has a feature article on the front page of their Sunday edition featuring an in-depth interview with Beyond Toxics Communications Manager, John Jordan-Cascade
Oct. 8, 2012: Beyond Toxics organizes a march and rally to Eugene City Council work session on coal trains issue
October 11, 2012: Beyond Toxics staff visits with staff from Sen. Wyden's office in Eugene to encourage support for a Programmatic Environmental Impact Statement and request a Comprehensive Health Assessment as well.
Oct. 17, 2012: Beyond Toxics staff offer important testimony (along with many other opponents!) to Lane Co. Commissioners on potential economic impacts to Lane Co. (issue was tabled by the Commissioners)
Oct. 23, 2012: Eugene City Council votes 5-3 in favor of Counselor Alan Zelenka's resolution – The R-G reported that after the vote, City Councilor Betty Taylor said, "We can't stop it, but we can certainly express an opinion. Whatever we can do to stop this, we should do. I thought we should vote on this the first time it came up," Taylor said. "Definitely we should add our voice to those people who are standing up for the environment, the health of people and common sense."
Please contact your elected leaders to let them know your gratitude or disappointment with their vote: Eugene's Mayor and City Council contact information.
See who has supported the City Council resolution…
———————————————————————

October 2012: Thanks to the Register-Guard for consistently high quality coverage of this important issue!
Jobs, environment at core of coal debate
Speakers discuss the pros and cons of shipping the fuel source through Eugene
BY EDWARD RUSSO | The Register-Guard (Oct. 9, 2012)
———————————————————————————————–
ACTION RESOURCES
---
Background on the promised-then-postponed Eugene City Council forums…
City delays vote on coal trains – Mayor Kitty Piercy and the council have been asked to hear statements from Port of Coos Bay officials By Edward Russo, Register-Guard | July 15, 2012
---
What are the risks if the Northwest becomes one of the largest coal handling region in North America? Over 150 million tons of coal is proposed for export across the Northwest and a terminal proposed in Coos Bay could bring 2 full coal trains through Eugene daily.
Learn more at www.PowerPastCoal.org
---
Stop Coal in Oregon Supporters
(Name)

John Jordan-Cascade                                       Melody Carr
Gina Thomas                                                    Joyce Gudger
Jesse Gehrke                                                    Karen Beasley
Ms Charlotte Sahnow                                        Barbara Sklar
Mark Van Ryzin                                                  Philip Smith
Laura Kemp                                                       Virginia Oram
Mary Wall                                                           Pam Wooddell
Wayne Lottinville                                                Tim Forester
Tim Kiley                                                             Diane Durrett
Polly Habliston                                                    Laura Ohanian
Robin Bloomgarden                                            Rich InLove
Madeline Smith                                                    Jan Nelson
Catherine Heising                                               Jennifer McAuley
Aaron Richards                                                   Mike Brinkley
William Ward                                                      Tim Kiley
James Clarkson                                                  Margot Fetz
Suzanne Kelley                                                   Leigh H.
Anne Hohenemser                                              Mary Wall
Paul Bodin                                                           Ei Thomas
Karuna Gatton                                                     Charlotte Sahnow
Karen Suwinski                                                   Tim Greathouse
Amy Danielson                                                    Lorri Goodman
Sharon Castle                                                      Nayma Glenn
Robert Roth                                                         Gwyneth Iredale
Juan Carlos Valle                                                Lisa Warnes
Ellen Bridges                                                      Chuck Mitchell
Dan Robinson                                                     Evelyn McConnaughey
Susan Archbald                                                   Bob Becker
Alayna Linde                                                         Sarah Mazze
---
Won't you join us in imagining, and working for, a world beyond toxics?
Beyond Toxics is a 501(c)(3) non-profit organization and all contributions are fully tax-deductible. Please consider giving a gift of a Beyond Toxics membership to a friend or family member!