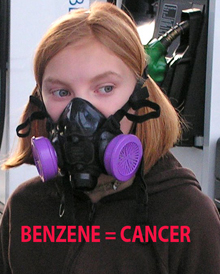 The United States Environmental Protection Agency classifies benzene as a Class A carcinogen and has concluded that Oregon's cancer risk "is dominated by the emissions of benzene." Studies show that breathing air contaminated with benzene inflicts genetic damage linked to childhood leukemia.
Recently, researchers are taking a closer look at what seems to be a direct connection between a parent's benzene exposure and the likelihood of leukemia in their offspring. Neighborhoods within two blocks of gas stations are exposed to benzene levels that increase the risk for leukemia, a cancer of the blood-making organs.
Benzene in Oregon
A recent study by the Oregon Department of Environmental Quality shows that benzene contributes almost a quarter of the cancer risk in Portland. Air monitoring equipment in Eugene shows that average ambient benzene levels are 10 times the benchmark level believed to spur cancer in humans over a lifetime of exposure, as established by National Air Toxics Assessment. The DEQ estimates that Portland residents may be exposed to as much as forty times over (40X) safety levels of benzene in ambient air.
Furthermore, benzene is one of the volatile organic compounds that play a significant part in the formation of ground-level ozone, a corrosive air pollutant that damages plants and increases the severity of climate change.
Gasoline refueling is a large source of ambient benzene concentration in Oregon's air. This is due, in part, to the fact that gasoline in the Northwest region has double the benzene content of gasoline sold in other parts of the country, and three times the amount allowed in California. The national average for benzene content is 0.97 percent to 0.62 percent by volume; however the EPA allows gasoline sold in the Northwest to contain 2.06 percent by volume.
While other states require benzene vapor controls at gas stations, Oregon has not developed such a policy. As a result Oregonians are exposed to excessive amounts of benzene from refueling activities and car exhaust.
What Beyond Toxics is Doing
Beyond Toxics' Healthy Air Oregon campaign is working at several levels to reduce the amount of benzene in our air.
At the local level, we are working with local governments, school districts, businesses, and individuals to reduce the amount of benzene released during auto idling and refueling activities. We encourage policies that limit unnecessary idling and discourage "topping-off" at gas stations. We also promote the creation of no-idle zones around schools, parks, and public places.
At the statewide level, Beyond Toxics is working to establish new public health policies to limit idling times for government agency vehicles. And the No Idling initiative has dramatically expanded the number of business partners that are helping consumers to raise awareness about the cost benefits and public health benefits of ending the practice of idling.
We've also recently won a change in Department of Environmental Quality (DEQ) rules that require the use of vapor control devices at gas stations. We worked tirelessly with gas station owners, refueling companies, auto repair shops and health organizations to spur the DEQ to implement a statewide, non-legislative rule change to require emission control devices at the time that underground gas storage tanks are being refilled.