Why is Beyond Toxics an environmental justice organization? The most vulnerable in Oregon are affected by environmental racism and injustice. Historically disenfranchised and dis-invested communities bear the brunt of chemical exposure in their homes and in their work places. Beyond Toxics strives to find solutions alongside Oregon communities for environmental justice.
West Eugene Clean Air and Environmental Health Survey Preliminary Results (as presented Jan. 25th, 2020 at Petersen Barn in West Eugene)
Our projects include…
Clean Air and Water for Healthy Communities We insist that to protect Oregon's air, land and water, policy must be framed using the lens of environmental justice. This approach ensures that all communities in Oregon, regardless of race, culture, ethnicity, geography or income, enjoy the strongest environmental protections. For example, we champion the Public's Toxics Right to Know about what chemicals and pesticides are put into the environment. Communities that have access to the science and the facts about the pollution they face can be their own best environmental justice advocates.
Worker Justice is Environmental Justice A large segment of our state's population are blue collar and manual laborers. Those who work in sawmills, forests, factories, hotels, or on farms, are at high risk for chemical exposure and a host of safety hazards. These workers deserve protection from harmful chemicals known to cause cancer, nerve damage and lung damage. | MORE->>     
Climate Justice for All Our world is continuing to feel the effects of ever-increasing temperatures. Rising sea levels, drought, crop failures, and natural disasters are likely to worsen. Beyond Toxics is fighting for Climate Justice policies that are fair to disenfranchised communities. | MORE->>        
West Eugene Industrial Corridor Environmental Justice Project Children in West Eugene's Trainsong and Bethel Community have double the asthma rate of the rest of Eugene. Due to a heavy industrial presence along Hwy 99 and West 11th, residents are often exposed to pollution from toxics hotspots. West Eugene is a place lacking in community investments. We are working on key projects to protect these vulnerable neighborhoods. | MORE->>
MORE RESOURCES
---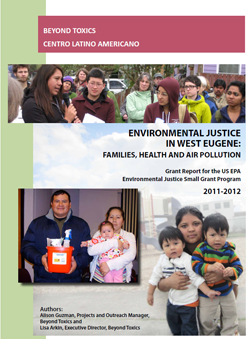 * Read the Beyond Toxics-Centro Latino Americano Report, "Environmental Justice in West Eugene: Families Health and Air Pollution"
* Brownfield Redevelopment and Community Involvement: A Case Study in the City of Eugene, Oregon (A Beyond Toxics and Centro Latino Americano Environmental Justice White Paper)
* Read about an innovative, new project initiative that encourages local gardening and food production that is sprouting from our Environmental Justice project: My Garden – West Eugene…
---
Majora Carter on the Connection Between Race, Class, Environment and Health
In close partnership with Centro Latino Americano Beyond Toxics launched the West Eugene Industrial Corridor Environmental Health Project. The project grew out of concerns expressed from neighbors in the area of West Eugene immediately downwind from a (then) proposed biomass energy plant, which is now operating and burning forest by-products. These affected neighborhoods have higher percentages of minority, elderly, disabled and poverty level residents. Furthermore, these families are disproportionally affected by higher concentrations of industrial air pollutants from surrounding industrial sources. This collaborative project received two Environmental Justice grants from the US Environmental Protection Agency (EPA); the first grant in 2010 was one of only six awarded in the entire Northwest.
Read our blogs on Environmental Justice->>
 
History
In the summer of 2010, Beyond Toxics employed five canvassers to go door-to-door to gather data about environmental health issues that concern residents. See our report to the EPA. According to preliminary results, neighbors believe that they have been exposed to cumulative multiple air pollutants and suffer health consequences because of the effect of cumulative pollution.
 
The issue
The environmental issue that we seek to address is air pollution from industrial and transportation sources in the Industrial Corridor of West Eugene, an area that is home to higher densities of low-income residents, many of whom are Latino families. According to the EPA EnviroMapper, fifty air and toxic release sites and two Superfund sites are listed within the nine square mile area of West Eugene. The Eugene-Springfield metropolitan area is located at the southern end of Oregon's Willamette Valley. The area is dubbed "the toe of the sock" because it is cupped by mountains on the south, east and west sides. Frequent air stagnations caused by topographical barriers and wind patterns result in the accumulation of local pollution and wind-borne air pollution from other larger metropolitan areas up the valley (Portland-Beaverton and Salem-Keizer).
MORE about environmental justice
Community Partners:
Active Bethel Citizens
Bethel School District
Centro LatinoAmericano
Exito Magazine
Action
Beyond Toxics, through the work of this project, is actively encouraging area residents to take part in proactive solutions they feel will improve their health. As part of our educational outreach, we are organizing several asthma awareness workshops in the West Eugene area to help residents learn of the dangers of asthma to their families and especially to children who are more vulnerable to pollution. We are collecting data, mapping relationships between air pollution sources and families with asthma and organizing community responses. (See the latest slide show )
Purpose of the project
Enhance the community's understanding of environmental pollutants. Improve the community's ability to communicate their environmental health concerns. Mobilize community and business partnerships to help minority and low-income neighborhoods reduce their exposure to toxics. This environmental justice project promises to create a new era of cooperation between environmental groups and those working for social justice in the Willamette Valley.
MORE:
---
Won't you join us in imagining, and working for, a world beyond toxics?
Beyond Toxics is a 501(c)(3) non-profit organization and all contributions are fully tax-deductible. Please consider giving a gift of a Beyond Toxics membership to a friend or family member!