BREAKING NEWS: Eugene City Council Passes No-Crude-by Rail Resolution!
January 25, 2017
Today, in a 6-2 vote, the Eugene City Council approved the No Crude by Rail oil resolution, originally proposed to the Council on November 28, 2016.
"We're so excited that Eugene City Council has taken a stance against oil trains and in favor of environmental justice. As you well know the Trainsong and Bethel communities will be the first impacted if an oil train were to derail and explode," says Joel Iboa, our Environmental Justice Manager. "Our most vulnerable residents already live in the crosshairs of heavy industrial pollution."
Read the letter Beyond Toxics sent to Eugene's Mayor and City Council. (coming soon)
———————————-
Important updates to the resolution include the following excerpted from the approved resolution:
Section2. The City Council supports the preparation of a programmatic, comprehensive, and area-wide Environmental Impact Statement to identify the cumulative effects that would result from existing and proposed oil-by-rail terminals, as well as the development and review of a comprehensive Health Impact Assessment prior to approval of any new oil transfer and storage permits by any state, regional or federal agency.
Section 3. The City Council directs the City Manager to send a letter to Senators Wyden and Merkley and Congressman DeFazio, requesting they develop legislation that requires railroad companies and/or oil companies to make public any development plans for increased rail traffic that accommodate oil transport and storage, to provide adequate notice to local communities of any plans for new or expanded rail facilities or any anticipated increases in rail traffic volume, and they submit an emergency environmental cleanup plan in case of accidental spills or train derailment. The City Manager is also directed to send the letter and resolution to Governor Kate Brown and the local state legislative delegation.
Read the entire resolution: Oil Train Resolution
—————————————————————————————–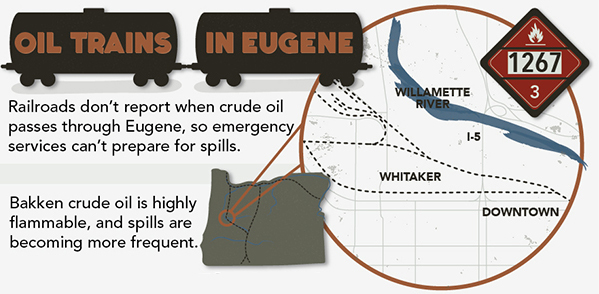 Across the Pacific Northwest, residents are talking about the growing risks from oil train traffic in their communities. The numerous derailments and fiery disasters since oil-by-rail became the go-to form of transportation for Bakken shale oil has many speaking out about concerns for public safety and health. | (Scroll down to see how you can get involved locally)
This is a joint project of 350.org-Eugene, Beyond Toxics and Sierra Club Riverkeepers. We are united to stop dangerous rail shipments of oil through Eugene. [Read Joel Iboa's blog, "Near Nightmare on Roosevelt Boulevard" on the subject]
Eugene No Crude Oil by Rail Resolution Documents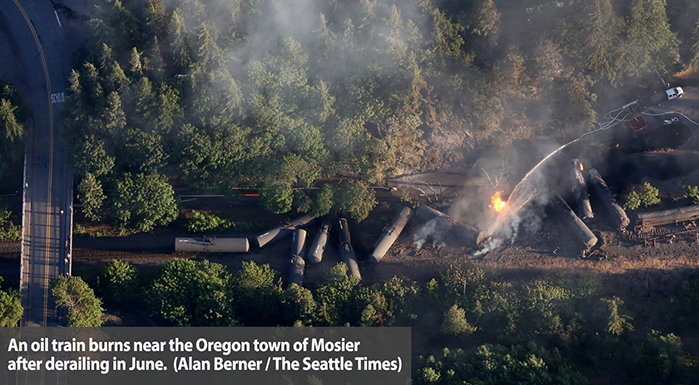 This letter was sent to Eugene's mayor and city councilors by Jim Neu on behalf of the local coalition:
Date: Sat, Dec 3, 2016
Subject: Fwd: Mosier derailment's costs adding up | The Columbian
Mayor and Council Members,
Last week, 350.Eug, Sierra Club Riverkeeper, and Beyond Toxics submitted a proposal to the mayor and council requesting the passage of a city resolution opposing crude oil shipments through Eugene. The increase of oil train derailments over the last three years, the threat of rail tank car explosions, the risk to the health and safety of the citizens of Eugene and to the health of the environment from fossil fuels prompted the resolution to be drafted.
The near disastrous September propane car derailment in Eugene and the June derailment in Mosier, Or. of a crude oil train are testament to the urgency of this issue. Attached is a follow up review of the financial and physical effects of that June derailment in the city of Mosier which could easily have been the City of Eugene.
We hope you will take a minute to read and reflect on its message.
Thank you for your time,
Jim Neu, 350.Eug
Campaign to Stop Oil Trains
———————————————
TAKE ACTION
If you would like to chime in with your support of the resolution as drafted, please send your emails to: mayorcouncilandcitymanager@ci.eugene.or.us as soon as possible!
The City Council meeting will be voting on this issue in January. Stay tuned to this page for updates or call our office and ask for Joel Iboa: 541-465-8860.
City Council meetings are held at Harris Hall in the Lane County Public Service Building: 125 E 8th Ave, Eugene, OR 97401 (google maps). Council meetings usually start at 7 PM. If you'd like to testify on the subject, you will need to sign up before that start time.
RELATED News:
Mosier derailment's costs adding up
Union Pacific estimates partial costs of near $9 million
By Lauren Dake, Columbian Political Writer (December 1, 2016)