2nd Annual Eugene Bee Survey Results (PDF)
[pjc_slideshow slide_type="2018-bee-survey"]
---
Have you ever wondered what's going on over there next to I-5 along Pre's Trail in Alton Baker Park, just north of the Knickerbocker Bike Bridge?
This 3.5-acre site in the Whilamut Natural Area (WNA) is a community-based environmental education and restoration project to rehabilitate native prairie and wetland habitat. The project involves a partnership between the Walama Restoration Project (WRP), City of Eugene, Oregon Department of Transportation, and schools in the Eugene-Springfield area.
Since 2014, WRP has organized local communities to rehabilitate this area, which has gone from a toxic landfill and staging area for the I-5 River Bridge construction work (pictured above, in 2011) to restored upland prairie, wetland prairie, and seasonal wetland habitats that host numerous native birds, pollinators, reptiles, amphibians, and over 70 species of native plants!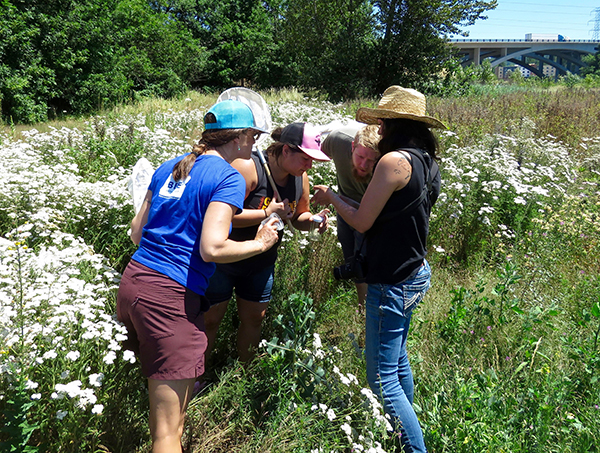 In 2017, Beyond Toxics and WRP spearheaded the first Eugene Bee Survey to determine if native bees were using the wildflowers that were planted and seeded on the site during over 3 years of restoration efforts. The survey was organized with the intent to grow our understanding of the native pollinator species present in urban parks and their foraging patterns. In 2018, citizen scientists and local experts from WRP, Beyond Toxics, Oregon Bee Project, and Mount Pisgah Arboretum made 16 distinct observations of different bee tribes, genera, and species at this site in the WNA. The results of the 2nd Annual Eugene Bee Survey are presented here, along with some fun facts about our local pollinators.
Read the full report (PDF)