This is an introduction to the ground-breaking work of groups like Beyond Toxics who are building a framework of justice and equity into environmental policies. Tom Kerns, a Beyond Toxics Board member and Director of Environment and Human Rights Advisory, is an international leader and innovator in environmental and human rights. He has written this short essay about the new international Declaration. *************
The World Needs a United Nations Declaration on Human Rights and Climate Change but does not yet have one.*
Having discovered in the fall of 2015 that the world still had no declarations, conventions or treaties of any sort that focused on the human rights implications of climate change, a group of us, thirteen scholars from seven different countries on five different continents, all members of the Global Network for the Study of Human Rights and the Environment, decided to draft one ourselves. The Draft Declaration on Human Rights and Climate Change was completed in time for distribution during the Paris climate meetings. It was later circulated in nine European, African and Asian languages to scholars, environmental lawyers and judges, indigenous community representatives and others all over the world for feedback, suggestions and proposed amendments. The result was the final Declaration in May 2016.
On International Human Rights Day in 2015, the United Nations High Commissioner on Human Rights, Zeid Ra'ad Al Hussein, stated that human-made climate change results in "devastating impacts on a wide range of internationally guaranteed human rights – the rights to food, water, sanitation, adequate housing, and health-for millions of people…."
"Human rights law," he continued, "imposes affirmative legal obligations on all states to protect human rights from climate harms, particularly the rights of persons in vulnerable situations…. We are living in an age of widespread breach of these obligations."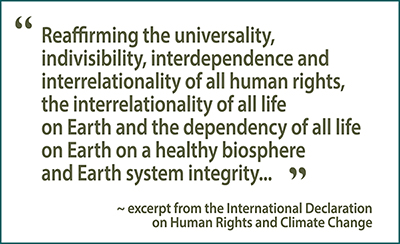 Scholars tell us that human rights standards are justified moral claims universally held by all persons vis-à-vis their governments, in order for them to lead a 'minimally decent life'. This reminds us that human rights are not lofty ideals but are, instead, basic moral minimums, a moral floor beneath which governments must not sink.
Human rights norms have a uniquely moral grounding that underpins their legal and policy force. The DHRCC addresses those moral concerns directly and in a format suitable for future inclusion in international climate and human rights law.
Human rights norms are, of course, inherently anthropocentric. They can be mistakenly seen as supporting the human tendency to view ourselves as separate from nature rather than as inherently embedded in and constituted by it. To counter that risk this Declaration includes recognition of the inherent moral worth of all living beings and of the ecosystems out of which they emerge and on which they depend.
As a board member, helping to draft the DHRCC has been a way of helping the already impressive work of Beyond Toxics connect up with congruent efforts around the world.
One final note: Good campers always leave their campsite cleaner and healthier than when they arrived. Beyond Toxics works every day to help our generation meet its moral obligation to not leave a less habitable earth for our children, for their children, and for those of many hundreds of generations to come. To meet this obligation, the rights and duties laid out in this Declaration must be recognized and respected by all of us, governments, corporations and individuals alike.
~ Tom Kerns, Ph.D., Beyond Toxics Board member
and Director of Environment and Human Rights Advisory
---
* Read the Declaration on Human Rights and Climate Change (PDF)
(Global Network for the Study of Human Rights and the Environment)
HUMAN RIGHTS DECLARATION ENDORSEMENT FORM HERE (?)
Human Rights Reports Prepared by Tom Kerns for Beyond Toxics:
Chemical Trespass and Human Rights (includes videos and written stories of chemical
trespass)