Wednesday, Sept. 18th
WHAT: Organic and Natural Lawn and Landscape Management in Oregon, Sponsored by Beyond Pesticides, Beyond Toxics, Pollinator Project Rogue Valley and the City of Talent
Featuring Chip Osborne, president of Osborne Organics, has over 25 years experience creating sustainable and healthy landscapes, and 40 years experience as a horticulturist.
WHEN: Wednesday,  September 18, 2019 from 6:30 – 8:30 pm
WHERE: Talent Community Center, 104 East Main St., Talent, OR (google map)
COST: Free and open to the public
Managing lands without toxic pesticides!
Please join us to learn a systems approach to natural turf and land management, which integrates three concepts: an understanding of the soil and natural fertility; sound management techniques; and the use of organic compatible products. All attendees will have the chance to talk to a national expert and ask questions.
Download the flyer (PDF)
---
Thursday, September 19th
Free film showing and chrolpyrifos bill legislative update
Download the poster (PDF)
WHAT: Poisoning Paradise, a new documentary
WHEN: Thursday, September 19th – gather @ 6:30 PM, film starts at 6:45 PM
WHERE: Beyond Toxics office: 120 Shelton McMurphey Blvd.,
Suite 280, Eugene, OR 97401 (google map)
COST: FREE | Snacks and beverages provided.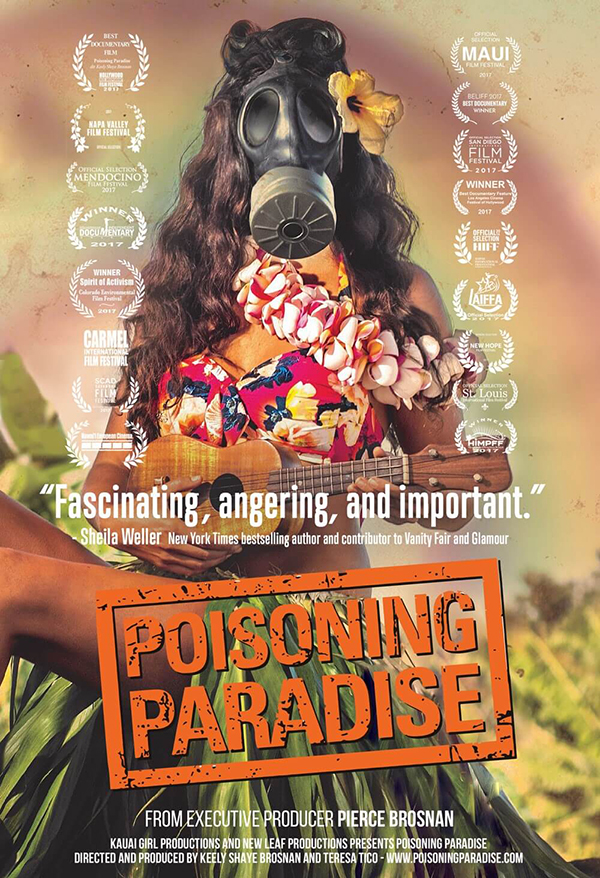 On Thursday, Sept. 19th join the Beyond Toxics team for a movie night and a discussion about plans for pesticide reform legislation during the (brief) 2020 legislative session. 
We will be showing Poisoning Paradise, the award-winning film exposing environmental injustice and GMO pesticide poisoning happening on the island of Kauai. Director: Keely Brosnan; Executive Producer: Pierce Brosnan.
Watch local activists battle political corruption, corporate bullying, and systematic concealment by the agrochemical industry. Although Kauai's plight might seem like a local issue, this debate is, in fact, raging around the world as country after country is becoming concerned about pesticides, the future of food, and sustainable farming practices.
---
SAVE THE DATE: Thursday, Sept. 26, 2019

WHAT: Beyond Toxics Membership Party
WHEN: Thursday, Sept. 26th from 5:30 to 9 PM
WHERE: WildCraft Cider Works, 232 Lincoln Street, Eugene
Cost: Free
Join us for our annual Beyond Toxics membership party. Enjoy an short film, live music and conversation about the state of our environment and our work to protect it. FREE treats from Sweet Life and Coconut Bliss. $1 per pint sold goes to Beyond Toxics.
---
Won't you join us in imagining, and working for, a world beyond toxics?
Beyond Toxics is a 501(c)(3) non-profit organization and all contributions are fully tax-deductible. Please consider giving a gift of a Beyond Toxics membership to a friend or family member!
---