Monday, Jan. 20, 2020
WHAT: Martin Luther King, Jr. March
Sponsored by NAACP Eugene-Springfield Unit, City of Eugene, 4-J School District , Lane County, University of Oregon, White Bird Clinic, Lane Transit District and Lane Community College
WHEN: Jan. 20, 2020 9 AM – 12 PM
WHERE: Gather at 9 AM, U of O PK Park (parking in the Serbu Youth Center).
March begins at 10 AM | March route: PK Park (google map) to the Shedd Institute (google map) via MLK Blvd.
Join us as we partner with the NAACP, City of Eugene, the University of Oregon, and the County, to come together in recognition of the importance of civic engagement and the benefits of affording dignity and equality for all people! 2020 will also mark the 100th anniversary of women's suffrage and we too will honor the many women doing important work today for our communities. Gathering starts at 9 am north gate of Autzen Stadium. March commences after a short kick off program featuring representatives and students from the University of Oregon. Parking available in the Serbu Youth Campus on MLK blvd.
---
Tuesday, Jan. 21, 2020

Non Toxic Southern Oregon Community Conversation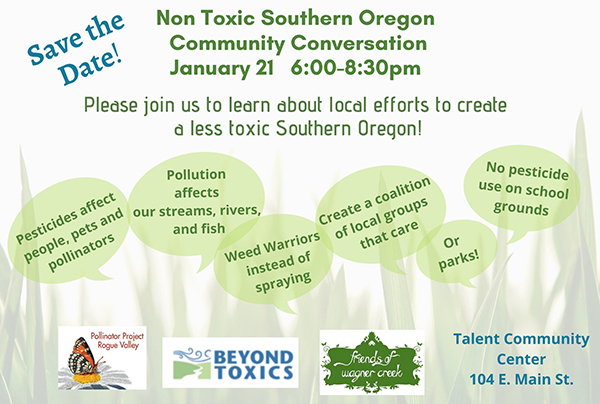 WHAT: Non Toxic Southern Oregon Community Conversation, Hosted by Hosted by Non Toxic Southern Oregon (a project of Beyond Toxics), Friends of Wagner Creek and Pollinator Project Rogue Valley
WHEN: Tuesday, January 21, 2020 at 6 PM – 8:30 PM | Doors open at 6 pm, program begins at 6:30
WHERE: Talent Community Center, 104 E. Main St., Talent, OR (google map)
COST: FREE and donations greatly appreciated!
Please join us to learn the latest in our efforts to create a less toxic Southern Oregon. Find out about our campaigns to reduce pesticide use (herbicides, insecticides) in city parks and greenspaces, on school grounds, and along county roads. We are inviting local organizations involved in these efforts to have a table to share their information and events.

Opening Blessing by Dan Wapepah.
See our event on Facebook and let us know you will be there.
---
 
Saturday, Jan. 25, 2020
West Eugene Clean Air Community Meeting

WHAT: West Eugene Clean Air Community Meeting to discuss air pollution concerns of residents of West Eugene neighborhoods. Come and share your stories with Beyond Toxics and the community!
WHEN: Saturday, January 25, 2020 from 5 -7 pm
WHERE: Petersen Barn Community Center – 870 Berntzen Rd., Eugene, OR 97402 (google map)
We have been knocking on doors every weekend asking community members to take our Environmental Health Community Survey. We finally have the results and we're ready to share them with the community.       
Join us on Saturday, January 25th from 5 – 7 pm at Petersen Barn for a gathering for residents of West Eugene. We will share with you what your neighbors have said when it comes to air pollution in the neighborhood, what their biggest health concerns are and what we can do to make our voices heard!
A FREE dinner will be served. Childcare is available with an RSVP. There will also be a kid's corner and a free drawing for a chance to win 1 of 5 Winco gift cards. 
RSVP: Simply text "Txtrsvp Results" to 313131 before January 20th and get an extra entry to the drawing. You will get a return text message with registration instructions. You can also email Ana with your name, email/phone, the number of folks who will be attending and if you will need childcare.
RELATED NEWS:
What's that Smell in West Eugene? Beyond Toxics to Host Conversation about Air Pollution – KLCC radio
and
LRAPA announces facilities it will review for pollution amid air quality concerns – Oregon Daily Emerald
---
SAVE THE DATES … April 17-19, 2020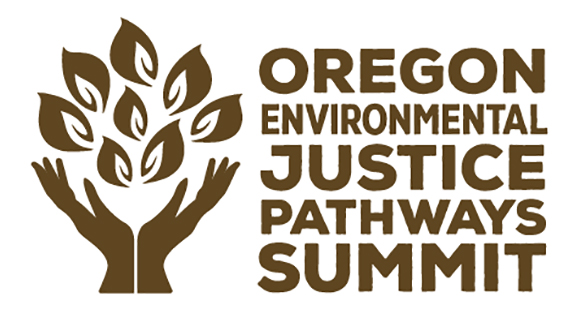 PLEASE JOIN US…
What: Environmental Justice Pathways Summit
Where: University of Oregon, Eugene, Oregon
When: April 17-19, 2020
Who: Frontline Communities, Oregon Tribes, Decision Makers, Students, Scholars.
Keynote speaker Dr. Mustafa Santiago Ali, VP of Environmental Justice at National Wildlife Federation, is a thought-leader, strategist, policymaker and activist committed to the fight for environmental justice and economic equity. Dr. Ali worked at the U.S. Environmental Protection Agency (EPA) for 24 years. At the EPA, Mustafa served as the Assistant Associate Administrator for Environmental Justice and Senior Advisor for Environmental Justice and Community Revitalization. Dr. Ali has elevated environmental justice issues and worked across federal agencies to strengthen environmental justice policies, programs and initiatives.
Find out more–>>
Register TODAY!
📣CALLING ALL YOUTH ARTISTS📣
We are now accepting artist registrations for the Environmental Justice Pathways Summit in April 2020.
---
Won't you join us in imagining, and working for, a world beyond toxics?
Beyond Toxics is a 501(c)(3) non-profit organization and all contributions are fully tax-deductible. Please consider giving a gift of a Beyond Toxics membership to a friend or family member!
---