Earth Justice Week in Eugene starts, Saturday, April 20th!
Events sponsored by Beyond Toxics and NAACP-Eugene/Springfield
(more details as they become available)
SATURDAY, April 20, 2019
Pollinator Garden Work Party
Churchill Garden
10 am – 2 PM
We are rehabilitating beneficial insect habitat in West Eugene. This project is a partnership with Huerto de la Familia to serve Latinx and underserved community members who grow food their families need in the garden behind Kennedy Middle School. This project will support creating and maintaining the Pollinator Garden at Huerto de la Familia. All community members are invited to attend work parties and educational activities. We will provide tools, gloves, instructions, and light refreshments. INSTRUCTIONS: Please wear comfortable, sturdy clothing and shoes and byo-bottle for water or coffee!
Please mark you calendars for these other 2019 dates:
May 25th, 10am-2pm; June 15th; 10am-2pm, August 17th; 10am-2pm; September 28th, 10am-2pm; October 26th, 10am-1pm
MONDAY, April 22, 2019
Environmental Justice Tree & Nature Walk
Meeting at Roosevelt Blvd & Fergus Ave
4:00 pm – 5:30 pm
Friends of Trees will lead us through the walk and Beyond Toxics will talk about how toxic-free green spaces are beneficial to communities and the health implications polluted areas have on Environmental Justice communities. Our walk will take us through wetland restoration projects.
TUESDAY, April 23, 2019
Food Justice & Seed Sovereignty Panel
University of Oregon EMU 119 | Diamond Lake Room (google map)
6:30 pm – 8:00 pm
We will hear from various groups working in food justice and how seed sovereignty ensures that their communities have access to nutritious and culturally appropriate food.
Our speakers will include:
Xavier L. Lara born in Guerrero Mexico. Has worked as a farm worker throughout the Pacific Northwest. Now a farmer he grows medicinal plants, vegetables and mushrooms all organically.
Marissa Zarate who is the Executive Director of Huerto de la Familia's who work with the Latinx community in Lane County, Oregon by providing opportunities and training in organic agriculture and business creation to families throughout the Eugene-Springfield area.
WEDNESDAY, April 24, 2019
Oregon Green New Deal: Farms & Forest
Eugene Garden Club: 1645 High St, Eugene, OR 97401 (google map)
6:30 pm – 8 pm
Come learn more about the Oregon Green New Deal and how these principles can be applied to the management of our farms and forest from a panel of invited guests who tend to the land.
Panelists to include: Janaira Ramirez (Just Transition organizer), Clay Wesson (Viticulturist for Willamette Valley Vineyards), Jason Gonzalez (Oregon Wild) and David Eisler (owner, Shady Creek Resources)
THURSDAY, April 25, 2019
Movie: Abundant Land: Soil, Seeds, and Sovereignty
Bijou Cinema: 492 E 13th Ave, Eugene, OR 97401 (google map)
7:00 pm – 8:30 pm
Abundant Land* is a one-hour documentary about a Hawaiian community on Moloka'i opposing the biotech industry's use of the island to test genetically engineered seeds. Followed by a potential Q&A. More about the film. | Buy Tickets: http://bijou-cinemas.com/?p=11196
Q&A after the film.
*Directed by Natasha Florentino
FRIDAY, April 26, 2019 
Garden Work Party and Potluck
3:00 pm – 6:00 pm
NAACP Mims House: 330 High St, Eugene, OR 97401 (google map)
Earth Justice Week will conclude with a garden work party and potluck at the NAACP. Come help us fix up the garden and get the garden ready for summer. We want to revamp the garden at the NAACP so it can be a place for gardening, pollinator habitat so our community can have access to some delicious veggies! Join us this Friday to get your hands in the soil! Please bring a delicious dish to share with everyone once our hard work is done.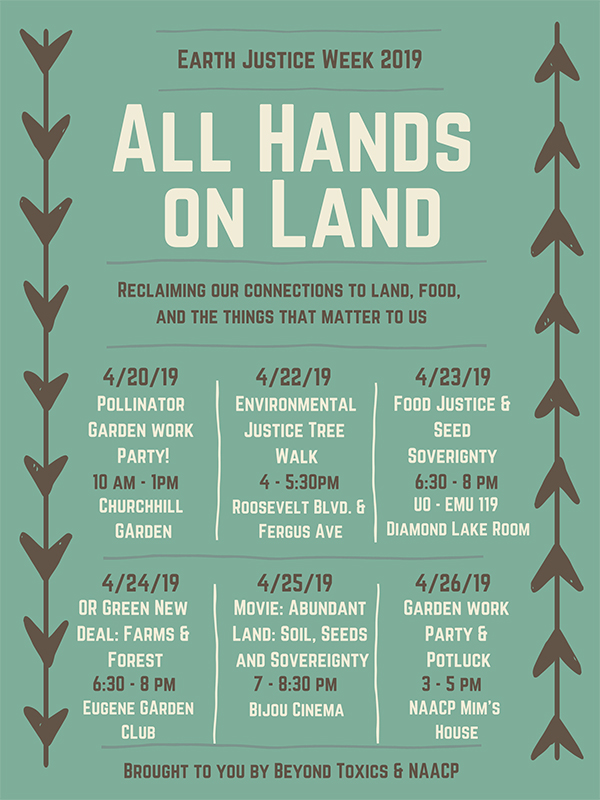 ---
Pints for Pollinators 2019
April 27, 2019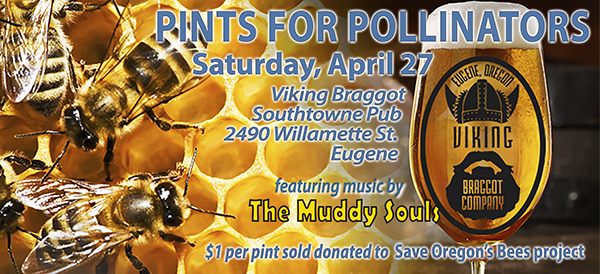 WHAT: Pints for Pollinators 2019, a benefit for the Beyond Toxics program, Save Oregon's Bees
WHEN: April 27, 2019 from 11 am – 11 pm
WHERE: Viking Braggot Southtowne Pub | 2490 Willamette St | Eugene, OR 97405 (google map)
Call Beyond Toxics for more information: 541-465-8860
MUSIC BY: The Muddy Souls – music starts at 6 pm
Food: Viking Braggot on-site kitchen, menu includes burgers,pizza, and sandwiches
Viking Braggot will donate $1 per pint to Beyond Toxics all day long
The pub will be serving a specially brewed braggot for the event featuring an infusion of Mountain Rose Herbs Pollinator Tea. Cap off Earth Week 2019 with a toast to our precious pollinator pals. Skol Bees!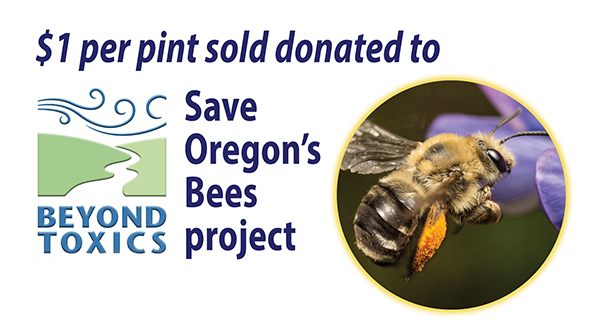 ---
Won't you join us in imagining, and working for, a world beyond toxics?
Beyond Toxics is a 501(c)(3) non-profit organization and all contributions are fully tax-deductible. Please consider giving a gift of a Beyond Toxics membership to a friend or family member!
---