May 12, 2021 – starts at 1 PM (PST)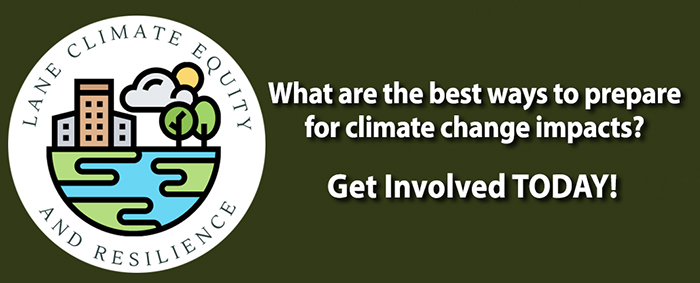 The Lane Climate and Equity And Resilience Task Force is planning to hold a virtual community forum on May 12th for folks to sign-up to learn more about the Task Force and how to get involved. | Download the flyer (PDF)
National research and local experience have shown that the impacts of climate change tend to disproportionately impact marginalized communities, such as communities of color, low-income communities, the elderly, and people experiencing disabilities. There has not been a focus on identifying community resilience or adaptation strategies. To address this, Beyond Toxics and the NAACP have developed a partnership with Lane County staff to develop a Climate Equity and Resilience Task Force.
Here is the community forum meeting registration link:
Please register in advance for this meeting
ALSO:
The Climate Equity & Resilience Task Force is launching a county wide survey to assess our communities climate concerns and priorities. Here are the survey links: 
English: https://www.surveymonkey.com/r/CERTF
Spanish: https://www.surveymonkey.com/r/CERTF2 
For more, contact: Haley Case-Scott – Climate Justice Grassroots Organizer: Phone – 541-313-8447, Email: hcasescott@beyondtoxics.org
---
To find out about planned events, be sure to sign-up for email alerts or follow us on Facebook to stay up-to-date!
---
Stay tuned to this page and our Facebook page to learn of events we have planned.

---
Won't you join us in imagining, and working for, a world beyond toxics?
Beyond Toxics is a 501(c)(3) non-profit organization and all contributions are fully tax-deductible. Please consider giving a gift of a Beyond Toxics membership to a friend or family member!
---