---
Environmental Justice & Climate Protection Program Panel
Tuesday, Sept. 21st - 6 PM PDT – 7:30 PM PDT
The Oregon Department of Environmental Quality (DEQ) is developing a new program to reduce climate pollution in Oregon called the "Climate Protection Program." This month, Oregonians have a crucial opportunity to ensure that DEQ's program prioritizes public health and our climate over the profits' of polluters.
The program currently has severe flaws, including exemptions for fracked gas power plants and loopholes for Oregon's biggest polluters. It prioritizes polluters' profits over the health and safety of communities experiencing the impacts of pollution every day.
Your voice is critical to help ensure Oregon's "Climate Protection Program" results in significant and equitable climate action.
The Environmental Justice and the Climate Protection Program Panel on Tuesday, September 21 at 6 PM. At this panel, you'll hear from environmental justice leaders from across the state about how climate pollution impacts communities, where this program falls short, and how we can all take action to demand a better program.
Panelist information will be updated soon!
Following the event will be DEQ Hearings where people can voice their concerns about how environmental justice is not addressed in the Climate Protection Program. The hearings are on:
Wednesday, September 22, 4:00PM - 7:30PM.
Thursday, September 30, 4:00PM - 7:30PM.
MORE about the Climate Protection Program->>
---
Thursday, October 21st...
7th Annual Bee Jazzy Celebration and 20th Anniversary Gala,
hosted by Mountain Rose Herbs and GloryBee!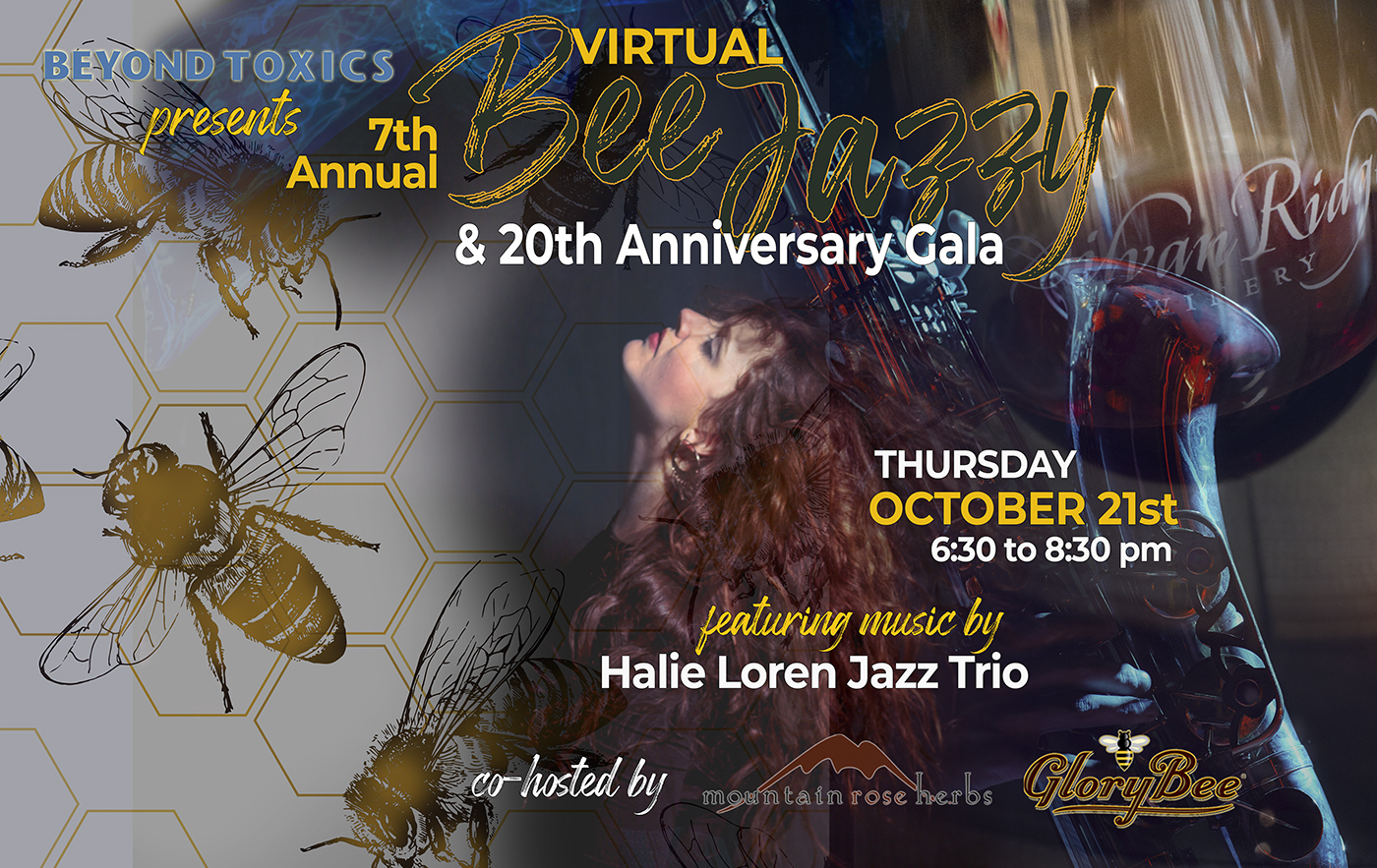 Beyond Toxics kicks off a very special 20th Anniversary Celebration this year at the 7th Annual Bee Jazzy, a benefit to Save Oregon's Bees.
COVID cases are up, but they aren't getting us down! We want to keep everyone safe so we are officially rescheduling and re-shaping this year's Bee Jazzy Celebration and 20th Anniversary Gala.
On Thursday, October 21st, starting at 6:30 p.m., the leading lady of Oregon jazz, Halie Loren and her her band members will entertain you in a Live Stream performance.
Tickets to the event will include two commemorative Bee Jazzy glasses and a bottle of wine from one of Lane County's best vintners, Silvan Ridge Winery!
Also, we have arranged for a virtual silent auction, featuring all the exciting items you've come to expect from this fun annual event! Get ready to check out the silent auction all day on October 21st, before and during the jazz concert (bidding will end at 8 pm).
If you have already purchased tickets to Bee Jazzy, we will automatically register you for this Live Stream event and follow up with you soon about when and where to pick up your wine and Bee Jazzy bag of goodies.
For all registrants: we will send you emails during the week of the event to make sure you have everything you need to celebrate with us, including a link to view the Halie Loren concert LIVE!
This gala evening is a very special event honoring 20 years of success for Beyond Toxics!
WHAT: 7th Annual Bee Jazzy Celebration & 20th Anniversary Gala
WHEN: Thursday, October 21st, 2021 from 6:30 to 8:30 PM
WHERE: Live Stream concert on YouTube (link provided via email)
MUSIC: Live stream music, featuring Halie Loren.
VISIT OUR TICKET PAGE for details->>
Questions? Feel free to call our office: 541-465-8860 or email us.
Supporters:
sponsor logos here
Sign up for Beyond Toxics e-news and action alerts!

Click on the SUBSCRIBE button above and fill in your email address to sign up.