COMING SOON…
A new Environmental Justice Pathways Webinar on The Right to Clean Air and a Healthy Work Place. Stay tuned to this page for details… 
---
The June 15th Youth Art Show webinar was a wonderful success!
See the recording on YouTube!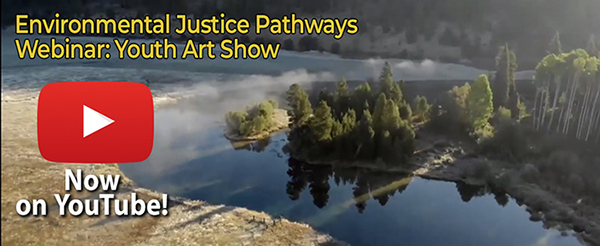 See the Environmental Justice Pathways Webinars page, featuring recordings of the last 3 webinars:  
1) The June 15th webinar, "Youth Art Show," featuring 4 youth artists leading the way in addressing environmental injustices using creative solutions to inspire positive change in their communities.
2) The May 14th webinar, "Unjust Care: Pandemics & Race," which sheds light on the racial impacts of COVID-19, noting historical patterns observed during pandemic-like situations and how communities are shaping a caring response. 
and
3) the April 17th Webinar, Historical Intersections of Race, Economy, and Environment in Oregon
and
4) a listing of related resources->>
Special thanks to our foundation partners: McKenzie River Gathering, Meyer Memorial Trust and Ceres Trust for their support!
---

THE IN-PERSON ENVIRONMENTAL JUSTICE PATHWAYS SUMMIT
HAS BEEN POSTPONED until April 9th & 10th 2021…
We are excited to announce that we have rescheduled the Environmental Justice Pathways Summit to April 9th and 10th at the University of Oregon. We are working to adapt the original schedule to the shortened summit, and will be reaching out to registrants with more information in the coming months.
WHAT: Environmental Justice Pathways Summit
Hosted Beyond Toxics and NAACP Eugene-Springfield
WHERE: University of Oregon, Eugene, Oregon
WHEN: April 9 and 10, 2021
WHO: Frontline Communities, Oregon Tribes, Decision Makers, Students, Scholars.
If you haven't heard, we are hosting a series of Environmental Justice Pathways Webinars featuring our panelists and highlighting the summit topics.
See recordings of past Environmental Justice Pathways Webinars
For any questions, email: ejpsummit@beyondtoxics.org
Keynote speaker:
Dr. Mustafa Santiago Ali
A renowned thought leader, international speaker, policy maker, community liaison, trainer, and facilitator, Dr. Mustafa Santiago Ali wears many hats, he is the Vice President of Environmental Justice, Climate & Community Revitalization for the National Wildlife Federation (NWF) and also the Founder & CEO of Revitalization Strategies. Before joining the NWF Mustafa was the Senior Vice President for the Hip Hop Caucus, a national, non-profit and non-partisan organization that connects the Hip Hop community to the civic process to build power and create positive change. | Read more about Dr. Ali
Sponsors: Meyer Memorial Trust, Center for Environmental Futures, City of Eugene, The Spring Creek Project, Confederated Tribes of Grand Ronde, Ceres Trust
---
Won't you join us in imagining, and working for, a world beyond toxics?
Beyond Toxics is a 501(c)(3) non-profit organization and all contributions are fully tax-deductible. Please consider giving a gift of a Beyond Toxics membership to a friend or family member!
---