See more about Wildfire Information and Relief Efforts->>
EUGENE ENVIRONMENTAL FILM FESTIVAL
October 2-11, 2020
The Eugene Environmental Film Festival will be live from Oct. 2nd to Oct. 11th. This year the festival is free and open to a global audience!
Beyond Toxics is a co-sponsor — as we have been from the start! Our own Haley Case-Scott will be a speaker!
Facebook event: https://www.facebook.com/events/357656941932643
List and description of the films->>
October 2020 – January 2021 online training
DUE TO FIRES IN SOUTHERN OREGON, 
THIS TRAINING HAS BEEN POSTPONED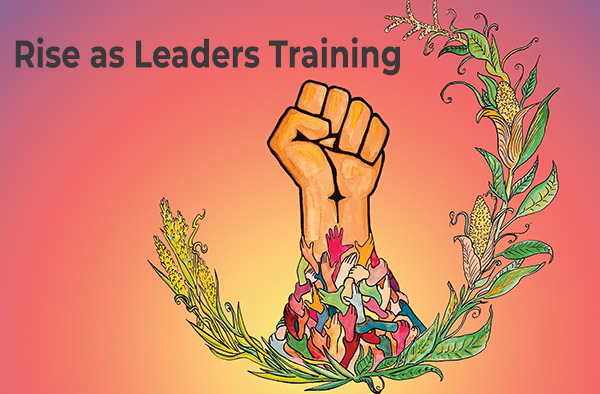 We are excited to announce our new movement-building training in Environmental and Climate Justice Leadership for Oregon. This training is called Rise as leaders: BIPOC Environmental Leadership Cohort Training, being provided by the collaborative project of LOCAL under Beyond Toxics, NAACP, and Unete. We are inviting BIPOC communities in both the Rogue and Willamette Valleys who are called to be transformative leaders for positive social change in Racial and Environmental Justice.
ABOUT THE PROGRAM
The program will consist of 8 online training modules with offline assignments centered around climate justice and organizing. There may be a potential in-person gathering in the late Winter/early Spring 2021 for select members.
The cost of the training is free to participants. A stipend is available for those who complete the training.
For more information, contact Ana Molina, Environmental Justice Campaign Liaison: amolina (at) beyondtoxics [dot] org
graphic artwork by River Hawkins
---
2020 Oregon Department of Agriculture (ODA) Chlorpyrifos
Proposed Rulemaking
Public Comment Period: August 3rd-October 1st
BACKGROUND: The ODA has proposed new rules to strengthen protections for Oregonians from chlorpyrifos pesticides. It's important to show the ODA that you care about protecting human and environmental health from chlorpyrifos exposure. See the full 2020 Chlorpyrifos proposed rules here.
See details : Take action to STOP chlorpyrifos->> | Talking Points->>
JOIN THE ODA PUBLIC HEARINGS
THERE ARE NO OTHER HEARINGS CURRENTLY SCHEDULED
Can't make the public meetings? Write your testimony and send it to the ODA…
PUBLIC COMMENT DEADLINE: OCTOBER 1st, 5:00 PM.
HOW TO SUBMIT COMMENTS: Please email your comments (in any language) during the open comment period to: chlorpyrifos-comments@oda.state.or.us
You can also mail your comments to:
Amy Bingham
Chlorpyrifos 2020 Rulemaking Comment
Directors Office
Oregon Department of Agriculture
635 Capitol St NE
Salem, OR 97301-2532
OUR RECOMMENDATIONS: 
Prohibit all uses by December 2023
Restrict all aerial sprays on all crops, not only Christmas trees, and prohibit all aerial sprays by 12/2023
Prohibit uses of granular broadcast chlorpyrifos, which will continue to poison our food and drinking water, harm farm workers, cause cancer, and impair children's neuro-development.
Immediately increase no-spray buffers for aerial and airblast sprays to 500 ft. 
Read our suggested testimony template/talking points->>

---
The Aug. 5th Right to Clean Air webinar was a great success!
See the recording on YouTube!
See the Environmental Justice Pathways Webinars page, featuring recordings of the last 4 webinars:  
1) The Aug. 5th webinar, "Right to Clean Air," featuring Ana Molina, Statewide Environmental Justice Manager for Beyond Toxics, Mary Peveto, Neighbors for Clean Air and Tony DeFalco, Executive Director of VERDE.
2) The June 15th webinar, "Youth Art Show," featuring 4 youth artists leading the way in addressing environmental injustices using creative solutions to inspire positive change in their communities.
3) The May 14th webinar, "Unjust Care: Pandemics & Race," which sheds light on the racial impacts of COVID-19, noting historical patterns observed during pandemic-like situations and how communities are shaping a caring response. 
and
4) the April 17th Webinar, Historical Intersections of Race, Economy, and Environment in Oregon
and
4) a listing of related resources->>
Special thanks to our foundation partners: McKenzie River Gathering, Meyer Memorial Trust and Ceres Trust for their support!
---

THE IN-PERSON ENVIRONMENTAL JUSTICE PATHWAYS SUMMIT
HAS BEEN POSTPONED until April 9th & 10th 2021…
We are excited to announce that we have rescheduled the Environmental Justice Pathways Summit to April 9th and 10th at the University of Oregon. We are working to adapt the original schedule to the shortened summit, and will be reaching out to registrants with more information in the coming months.
WHAT: Environmental Justice Pathways Summit
Hosted Beyond Toxics and NAACP Eugene-Springfield
WHERE: University of Oregon, Eugene, Oregon
WHEN: April 9 and 10, 2021
WHO: Frontline Communities, Oregon Tribes, Decision Makers, Students, Scholars.
If you haven't heard, we are hosting a series of Environmental Justice Pathways Webinars featuring our panelists and highlighting the summit topics.
See recordings of past Environmental Justice Pathways Webinars
For any questions, email: ejpsummit@beyondtoxics.org
Keynote speaker:
Dr. Mustafa Santiago Ali
A renowned thought leader, international speaker, policy maker, community liaison, trainer, and facilitator, Dr. Mustafa Santiago Ali wears many hats, he is the Vice President of Environmental Justice, Climate & Community Revitalization for the National Wildlife Federation (NWF) and also the Founder & CEO of Revitalization Strategies. Before joining the NWF Mustafa was the Senior Vice President for the Hip Hop Caucus, a national, non-profit and non-partisan organization that connects the Hip Hop community to the civic process to build power and create positive change. | Read more about Dr. Ali
Sponsors: Meyer Memorial Trust, Center for Environmental Futures, City of Eugene, The Spring Creek Project, Confederated Tribes of Grand Ronde, Ceres Trust
---
Won't you join us in imagining, and working for, a world beyond toxics?
Beyond Toxics is a 501(c)(3) non-profit organization and all contributions are fully tax-deductible. Please consider giving a gift of a Beyond Toxics membership to a friend or family member!
---