Saturday, Oct. 26, 2019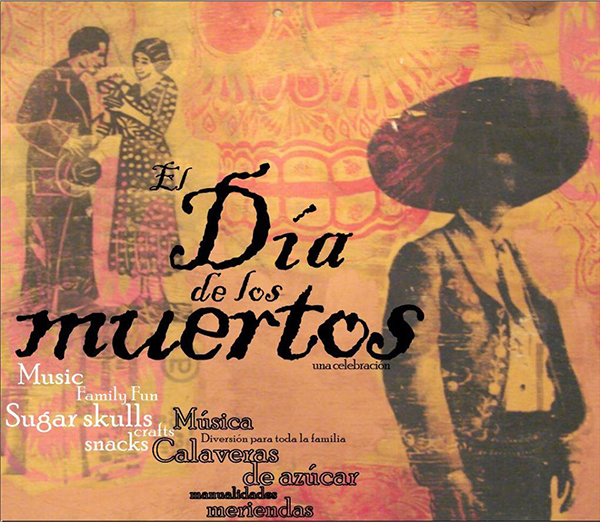 Join us at the Springfield Public Library for the creation of a community Saw-Dust Mural on October 26th in partnership with their Dia de Los Muertos Event. 
WHAT: El Dia de Los Muertos (The Day of the Dead) celebration
WHEN: Saturday, Oct. 26th – Saw dust mural begins at 10:00 AM / Library events begin at 1:00 PM
WHERE: Springfield Public Library: 225 5th St. Suite 301, Springfield, OR 97477 (google map)
The Saw Dust Mural Creation will take place before the start of the event. All are welcome to join in the creation, incorporating the images they want to see. You will also have the opportunity to add a picture of your loved ones to the Community Altar that will be located in the library and will be on display from Oct. 26th – Nov. 4th. The making of the mural will begin at 10:00 AM, with the events for the Library starting at 1:00 PM and will last until 3:30 PM.
The Dia de Los Muertos celebration will have storytelling and musical performances for entertainment, both of which will contain elements from the culture of Dia de Los Muertos. There will be an opportunity to decorate sugar skulls and create cascarones (eggshells filled with confetti). The celebration also features author Yuyi Morales who will give a presentation and hold a book signing.
Other organizations that are partnering with us for the creation of the mural and for this celebration of life are Centro Latino Americano, Huerta de la Familia, Escudo Latina, Springfield Alliance for Equity and Respect, and the Community Alliance of Lane County, with sponsorship from Joan Gray and Harris Hoffman. 
The finished Saw-Dust Mural will be on display on the day of the event and taken down at around 3:30 pm. A sawdust Mural is an ephemeral piece of art and won't be on display for very long. The community altar will be on display October 26th-November 4th at the Springfield Public Library.  Anyone who comes is welcome to bring their own ideas to incorporate into the mural as it is a community mural and we want it to include the community. We hope you can join us for this great opportunity!
---
Coming soon to a theater near you…!
Purchase Your Tickets in the USA by Oct. 28 to view this film in your community.
Find a theater near you and get your tickets today at "The Pollinators."
The Pollinators, the new documentary feature film, is a cinematic journey around the United States following migratory beekeepers and their truckloads of honey bees as they pollinate the flowers that become the fruits, nuts and vegetables we all eat. The many challenges the beekeepers and their bees face enroute reveal flaws to our simplified chemically dependent agriculture system. We talk to farmers, scientists, chefs and academics along the way to give a broad perspective about the threats to honey bees, what it means to our food security, and how we can improve it.
Reserve Tickets for the Eugene showing:
Date: Wed, Nov 6, 2019 6:30 PM
Where: Regal Valley River Center Stadium 15 & IMAX
Valley River Center, Eugene, OR, 97401
Reserve Tickets for 2 Portland showings:
1) Date: Wed, Nov 6, 2019 6:30 PM
Where: Regal Lloyd Center 10 & IMAX
Lloyd Center, Portland, OR, 97232
or
2) Date: Wed, Nov 6, 2019 6:30 PM
Where: Regal Fox Tower Stadium 10
846 SW Park Ave, Portland, OR, 97205, United States
Reserve Tickets for the Bend showing:
Date: Wed, Nov 6, 2019 6:30 PM
Where: Regal Old Mill Stadium 16 & IMAX
Old Mill District, Bend, OR, 97702, United States
See other city listings near you (organized in alphabetical order of states)–>>
---
Pre-sales of the tickets are required to ensure AMC/Regal Theatres will show this independent film in the USA. Purchase your tickets by Oct. 28th for a theater near you.
Press and Praise for The Pollinators…
"That bees are in danger is well known, but what Peter Nelson's articulate and knowledgeable documentary does is start with this fact and then expand into a careful consideration of our most large-scale problems vis-à-vis nature and food supply…" "As a beekeeper and a cinematographer, Peter Nelson captures this hidden world with an insider's knowledge and a keen eye for compositions. From stunning landscapes and night photography, to intimate close-ups of the bees themselves, the enlightening information found here is told through a seasoned storyteller's lens. "
— The Vancouver International Film Festival
"Alarmed at the breakdown of our ecosystem and threats to our food supply, and by extension, ourselves? The gorgeously shot The Pollinators not only provides a warning, but is solutions-based."
–G. Allen Johnson, The San Francisco Chronicle
"I have seen my fair share of documentary films about agriculture and agribusiness — including films about bees. Peter Nelson's The Pollinators is the most well produced, comprehensive film about bees I have seen… It seems as if people are not getting this particular message: bees go, we go. The Pollinators gets this message across to any and all who will sit down, look, and listen." — Don Schwartz, CineSOURCE magazine
"The Pollinators does an exceptional job of capturing all of the issues affecting pollinators, and uses the people most affected, and the people doing the most to reduce these issues, to explain, to show and to solve the problems our pollinators are having. A Who's Who in science, beekeeping and agriculture showing the mess we have created, and the ways to fix it. Well done." –- Kim Flottum, Beekeeping Today podcast
Twitter: @pollinatorsfilm
Instagram: @pollinatorsfilm
Facebook: @thepollinatorsfilm
Directed by Peter Nelson
Featuring: Bret Adee, Jeff Anderson, Alan Ard, Leigh-Kathryn Bonner, Zac Browning, Lucas Criswell, James Frazier, Maryann Frazier, Davey Hackenberg, Susan Kegley, Jonathan Lundgren, Sam Ramsey and David Hackenberg  
---
Won't you join us in imagining, and working for, a world beyond toxics?
Beyond Toxics is a 501(c)(3) non-profit organization and all contributions are fully tax-deductible. Please consider giving a gift of a Beyond Toxics membership to a friend or family member!
---