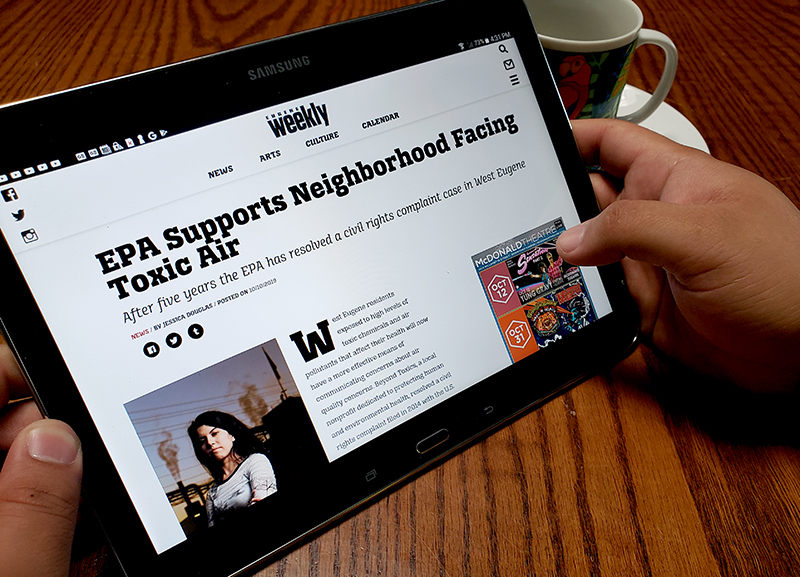 FOR THE PRESS
...to contact Beyond Toxics, please call or email:
Lisa Arkin, Executive Director: 541-543-2465 | email: larkin@beyondtoxics.org
---
Who We Are
Beyond Toxics is a statewide environmental justice organization advancing policies that ensure meaningful participation and cultivating grassroots leadership from Oregon's frontline and impacted communities. Established in 2001, we are a multicultural, inter-generational team dedicated to centering community leaders and building out the true diversity of our state's vibrant Environmental Justice movement. MORE About Us
Our Mission
Beyond Toxics provides leadership to build a community-driven environmental justice movement for a thriving and just Oregon.
We envision a society where everyone has equitable access to healthy food and clean air and water, and underserved communities are included in decision making processes that affect them. Together, we move beyond the damaging environmental practices of the past and collectively work to support and maintain ecological resilience and balance.
---
Low-income families qualify for free ductless heat pumps with IRA and local incentives, study finds
Beyond Toxics conducted a pilot study to inform community members of local and federal incentives and loan programs for upgrading electric energy appliances
Eugene, OR – Environmental Justice nonprofit Beyond Toxics published a study describing the results of a pilot project to connect low- and middle-income residents with new, low cost energy efficient appliances through the Bethel Clean Energy Project.
Through the project, a cohort of 15 Bethel neighborhood households completed a series of three workshops to learn about clean energy options. Beyond Toxics and Eugene Water and Electric Board provided information on what funding is available to support home upgrades through local and federal incentives, including the Inflation Reduction Act.
Beyond Toxics found that most low- and middle-income households would qualify for free or reduced-cost ductless heat pumps and heat pump water heaters, in addition to home weatherization. These strategies will increase energy efficiency in their Bethel-area homes. These technologies also protect residents from breathing air pollutants such as wildfire smoke and industrial pollutants from manufacturers like the now-shuttered J.H. Baxter wood preservation plant, located directly across from this neighborhood.
"I wasn't very familiar with clean energy to begin with, and I wasn't thinking about it as a renter," said a mother who participated in the BCEP cohort. "Solar energy sounds good but a heat pump is a much more effective way to tackle energy costs and efficiency."
"Because of this program, many families realized they're eligible for 100% of the rebates available," said Ajorie Arberry-Baribeault, West Eugene Community Organizer for Beyond Toxics. "Cohort members are now seriously considering making the switch to electric appliances."
"We're excited to bring some hope to these families that have faced so many challenges because of the pollution harming the neighborhood in which they live," said Lisa Arkin, Executive Director of Beyond Toxics. "We hope this project encourages families to adopt non-fossil fuels energy options and take advantage of the IRA rebates available to them."
Beyond Toxics plans to continue to assist these communities with accessing funds from the IRA and State of Oregon as they become available. Incentive programs like the Inflation Reduction Act will provide families with both the financial assistance they need to perform energy efficiency upgrades in their homes as well as reduce greenhouse gas emissions from outdated or gas appliances.
Beyond Toxics believes supporting these communities to upgrade their heating and cooling systems will lead to better health and wellness for these communities as well as reducing negative impacts on the climate.
Beyond Toxics can provide reporters with interviews and contact information for BCEP participants.
Read the full report (PDF)
Read more about the project
---
New Study: Beyond Toxics publishes results of study on indoor air pollution from gas stoves
Eugene, OR – Beyond Toxics will release findings of its study, "Seeing is Believing: Visualizing Indoor Air Pollution from Gas Stoves." The study details the results of testing 13 different homes in Eugene and Springfield for the presence of concerning levels of toxic indoor air pollution emitted by residential gas stoves.
Beyond Toxics used an industry-standard optical gas imaging camera alongside a personal air quality monitor in homes ranging in size and age to determine levels of toxic gasses accumulating in kitchens while gas stoves were in use. Air monitor results found that using one burner on low heat for under five minutes, combined with preheating an oven to 350 degrees, resulted in harmful, sometimes hazardous nitrogen dioxide (NO2) levels, plus other toxic chemicals in six of thirteen houses.
Awareness and discussion of the use and perpetuation of gas appliances in residential construction has become a hotly debated topic in Eugene and across the country in recent months. Over 90 cities have taken action to curb the expansion of natural gas infrastructure for public health and climate benefits. Beyond Toxics' report shows indoor air pollutants do increase with normal gas stove use and includes resources for those interested in switching to electric appliances.
Beyond Toxics and Fossil Free Eugene will be holding a virtual news conference to discuss the findings of this report:
WHEN: Monday, April 17 at 9:30 am
WHERE: On Zoom
We will send you an embargoed PDF of the report when you register for the news conference.
WHO: Speakers: Lisa Arkin, Executive Director of Beyond Toxics; Mason Leavitt, Beyond Toxics GIS and Spatial Data Coordinator; Moderator: Emily Matlock, Membership and Communications Coordinator, Beyond Toxics
WHAT: 10-15 minute presentation on the report and time for questions, photos and videos.
"With this study, we were able to show that using a gas stove inside your home leads to increased levels of air pollutants," said Mason Leavitt, GIS and Spatial Data Coordinator at Beyond Toxics. "We know that repeated, prolonged exposure to these toxic chemicals can lead to adverse health effects. This new report will educate the public on ways they can reduce everyday exposure in their homes, on any budget."
"Our hope is to show that by creating policies and offering incentives to go all-electric, Eugene and cities across the U.S. can move toward building a fossil-free future," said Lisa Arkin, Executive Director of Beyond Toxics. "It is critical that we move away from polluting the air in our homes with methane gas."
Find out more about the study and our campaign to build a fossil-free future.
Read the blog by Emily Matlock, Clearing the Air: Uncovering the Risks of Gas Stove Pollution
---
Medical Waste Incineration Bill Passes Senate Committee
Senate Bill 488-6, which passed out of the Senate Committee on Energy and Environment with bipartisan support, will set new standards for monitoring dioxins and heavy metals emitted to the air.
Salem, OR – Senate Bill 488 would require one of Oregon's biggest polluters to closely monitor toxic emissions and report findings to the Oregon Department of Environmental Quality. The bill's requirements apply to Covanta Marion, Oregon's only medical waste incinerator, the nation's fourth largest medical waste incinerator. An amended version of SB 488 passed out of the Senate Committee on Environment and Energy on April 4. The bill passed 3-2 along partisan lines.
Senate Bill 488 would require continuous air quality testing at the facility to monitor for high levels of toxic chemicals known to cause cancer and other ailments.
Covanta is located in Brooks, in Marion County, just north of Salem. Residents in the immediate area are impacted by toxic pollution from the incineration of untreated medical waste, which release dioxins, heavy metals, and climate-driving greenhouse gasses into the atmosphere. Not only are residents of Brooks, Woodburn, Gervais, and surrounding areas affected, but the entire mid-Willamette Valley watershed is impacted by toxic emissions.
"I served in a congregation a few miles downwind from this incinerator. Over the course of eight years, in this church with 100 members, I buried 30 people. Nearly all of them died from cancer – throat cancers, breast cancers, esophageal cancers, pancreatic cancers, prostate cancers among them," said Senator Deb Patterson, chief sponsor of the bill.
"We need to do [by passing SB 488] what we can to be sure that the air we are breathing and the water we are drinking is safe."
"The incineration of medical waste is an environmental justice issue for communities surrounding the Covanta Marion facility," said Lisa Arkin, Executive Director of Beyond Toxics. "These families face the highest risk to learning disabilities, chronic illness and cancer due to their proximity. Oregon has become a dumping ground for medical waste from other states, and we need to protect these families from corporations that are exploiting loopholes in Oregon's waste regulations and profiting from it."
Covanta Marion has operated under Oregon Department of Environmental Quality regulations as a municipal waste incinerator for decades. Municipal waste is generally less toxic than medical waste. In 2008, the U.S. Environmental Protection Agency created stricter regulations for large medical waste incinerators to address this. Covanta Marion burns over 15,000 tons of medical waste each year. That, according to the EPA's definition, would classify this facility as a large medical waste incinerator. However, due to a loophole in DEQ's regulations, Covanta has been allowed to operate under less-restrictive guidelines as a municipal waste incinerator. This bill would close that loophole.
Senate Bill 488 is supported by Beyond Toxics, Clean Air Now! Coalition, Oregon Environmental Council, Oregon Physicians for Social Responsibility, Salem 350, Oceana, Surfrider Foundation, and Pineros y Campesinos Unidos del Noroeste (PCUN). Chief Sponsors of the bill are Sen. Deb Patterson (D-10), Sen. James Manning, Jr. (D-7), and Rep. Courtney Neron (D-26). More information about the bill can be found at beyondtoxics.org.
---
For January 12, 2023 Release
Gas Utilities Attempt to Delay Clean Energy Transition
SALEM, OR. – A broad coalition of business, environmental justice, labor, intertribal, and public health organizations filed legal briefs on Wednesday pushing back on the oil and gas industry's attempt to roll back Oregon's health and climate protections. Altogether, 15 organizations joined the defense against the fossil fuel industry lawsuits attempting to stop the state's Climate Protection Program.
"With climate impacts like extreme heat, wildfires, and drought threatening the health, safety, and livelihoods of farmworkers and others on the frontlines of the climate crisis, we are counting on action from the state to reduce climate pollution and protect our communities," said Ira Cuello Martinez, Policy and Advocacy Director at PCUN, Oregon's farmworker, and Latinx union. "We are proud to join with partners in standing up against the fossil fuel industry that has for too long harmed our people and our planet."
Under the Climate Protection Program, gas utilities and oil companies, and other large Oregon emitters must reduce their greenhouse gas emissions to a safer level, achieving a 50% reduction by 2035 and 90% by 2050. NW Natural, Cascade Natural Gas, the Western States Petroleum Association, and other fossil fuel industry proponents sued the state last year in a fraught attempt to derail the program after an extensive public process showed broad support for it from across the state.
Over 7,600 comments were submitted during the 2021 rulemaking process, and more than 70% were firmly in favor of the proposed program, which went into effect last January. It is yet to be known when the Court of Appeals will make a ruling on the lengthy, expensive, and unnecessary lawsuit. In the meantime, the Climate Protection Program is moving forward.
The destruction caused by climate-fueled wildfires, droughts, and heat waves in Oregon have price tags in the billions of dollars. As the State found in its assessment of the Climate Protection Program, the failure to achieve the program's pollution reduction requirements may be higher than the state's economy can bear. The Sixth Oregon Climate Assessment, published last week by the Oregon Climate Change Research Institute, underscores the dangerous impacts climate change poses to Oregon's economy, particularly to farming and timber economies. The assessment also highlighted that Oregon's tribes and other communities on the frontlines of climate change are disproportionately harmed by climate extremes and associated negative health and economic effects.
"The gas utilities and oil industry are using the courts as a desperate, last-ditch attempt to protect their stuck-in-the-past business model that relies on climate pollution and high prices. They're claiming that climate pollution isn't actually pollution, and the state can't regulate it. That's absurd, especially when Oregonians are facing ever-extreme and devastating climate impacts," said Nora Apter, Climate Program Director for the Oregon Environmental Council. "The state has not only the legal right but the moral responsibility to rein in climate polluters. But as they have done time and time again, the gas and oil industry is wasting taxpayer dollars to fight common-sense protections. We are united in our efforts to keep Oregon on track to reduce climate pollution and protect public health and the clean energy economy."
Last September, the Oregon Court of Appeals granted Beyond Toxics, Climate Solutions, Environmental Defense Fund, Oregon Business for Climate, Oregon Environmental Council, and Natural Resources Defense Council the right to be parties to the case and help defend against the fossil fuel industry's attack. In legal briefs filed alongside the Environmental Quality Commission last week, the intervenors point out the frivolousness of the industry's arguments.
"It is imperative that the state hold firm in its progress toward growing clean energy industries that create local, high-quality jobs while improving our environment at the same time," says Tim Miller of Oregon Business for Climate, another of the original intervening groups. "We are tremendously excited that so many business interests and varied entities are joining us to defend the right for our state to do the right thing."
Joining the case this week in amicus filings were: Affiliated Tribes of Northwest Indians, Northwest Environmental Defense Center (NEDC), Pineros y Campesinos Unidos del Noroeste (PCUN), NAACP Eugene-Springfield, Verde, Community Energy Project, Rogue Climate, Oregon Public Health Association, Our Climate, Columbia Riverkeeper, Neil Kelly, SERA Architects, Indow Windows, New Seasons Market, and Friends of Family Farmers. In their filings, they point out that the state has an obligation to protect communities against the health and economic impacts of climate change and the immense benefits Oregon stands to gain by maintaining a strong Climate Protection Program.
"Without the Climate Protection Program, Oregon youth do not have a healthy future," said Grace Doleshel, Pacific Northwest Field Organizer for the youth-led organization, Our Climate. "Young people stand to benefit most from climate protections and have the most to lose if NW Natural and their industry allies succeed in rolling back the Climate Protection Program."
Oregon's clean energy leaders and advocates point out that market forces and consumer desires have shifted and are moving away from fossil fuels. They also highlight the important role of the State and the Climate Protection Program in creating economic opportunities for Oregon to become a leader in producing innovative, in-demand technologies that the entire world is seeking in the transition to a clean energy economy.
This broad group is joined by leaders in Oregon's legal community, including Crag Law Center, Willamette Law Group, Northwest Environmental Defense Center, Western Environmental Law Center, and Earthjustice, who donated time and expertise to defend the Climate Protection Program by pointing out the specious arguments made by the fossil fuel industry and their co-petitioners.
All the briefs can be read here: https://crag.org/climate-protection-plan-legal-briefs/
---
For October 11, 2022 Release
Community organizations and residents protest experimental
Eugene hydrogen blending pilot project
NW Natural's proposed hydrogen pilot targets an environmental justice community in West Eugene, despite health and safety risks
For interviews, please contact:
Dylan Plummer, Senior Campaign Representative, Sierra Club
541.531.1858, dylan.plummer@sierraclub.org
Sage Welch
615.715.6714, sage@sunstonestrategies.org
EUGENE, OR. – Local and statewide climate, community, environmental and health organizations are petitioning the Oregon Public Utility Commission to reject a proposal by NW Natural to pipe experimental hydrogen into the gas system in Eugene, citing health, safety, cost and feasibility concerns. Residents and organizations are specifically alarmed with the siting of the project in a community that is already overburdened with pollution.
"Northwest Natural's hydrogen blending project is an example of the fossil fuel industry's predatory practices of putting the most vulnerable community members at risk in favor of profit." said Teryn Yazdani the Staff Attorney and Climate Policy Manager for Beyond Toxics, who led the petition. "Forcing blended hydrogen onto residents and businesses in the Bethel community –- and not allowing them to opt out — increases their health and safety risks, while also increasing their gas rates — all while doing little to reduce climate pollution. It's all risk and no reward for Bethel residents."
Northwest Natural filed an application in August to mix hydrogen — between 5 and 10% of total gas volume — with fossil gas that would then be piped into the gas system and delivered to homes in Eugene's Bethel neighborhood. The petition notes that the project carries very high costs which will be footed by Northwest Natural customers, with minimal reductions in climate pollution, while increasing the health and safety concerns associated with transporting hydrogen in infrastructure and appliances built for fossil gas. Residents would not be able to opt out of the pilot.
Hydrogen is more susceptible to leakage than gas, and can be ignited more easily. A recent study from the United Kingdom found that if hydrogen were used in homes to replace gas, the annual predicted number of explosions would more than quadruple.
"As a physician, I'm deeply concerned about the health and safety risks associated with burning a hydrogen-methane blend in our homes — particularly for vulnerable populations and communities who already face disproportionate health burdens due to air pollution and climate change," said Dr. Melanie Plaut, a member with Oregon Physicians for Social Responsibility.
The Bethel neighborhood where the pilot would take place is a working class community where over 90% of residents are considered low-income, with a higher percentage of communities of color compared to the rest of the city. Residents live among several polluting factories and industries which accounted for 96% of all toxic emissions released in the City of Eugene in 2019. Asthma rates in the Bethel School District are almost double those of other neighborhoods in Eugene.
Physicians for Social Responsibility recently released a report recommending that local governments rule out hydrogen blending projects due to a lack of long-term studies on the risks and their use to prop up continued reliance on fossil gas, which has well-documented health impacts. A recently published review of 32 independent studies found that using hydrogen for home heating is not feasible due to technical barriers, and that this use of hydrogen would be far less efficient and more expensive than electric solutions like heat pumps and district heating.
"Study after study shows that replacing gas with clean, electric appliances is the lowest-cost, lowest-risk path to cutting pollution from homes," noted Dylan Plummer, campaign representative for the Sierra Club. "Using hydrogen for home heating is not only risky and astronomically costly - it's unnecessary. It wastes a resource we should use for hard to decarbonize sectors. Piping hydrogen into homes for heating is a terrible idea that no utility that's serious about decarbonization should be proposing."
Advocates say gas utilities are using the guise of hydrogen blending to extend the life of the gas system and fight electrification, at a major cost to consumers. All NW Natural customers would be charged a .2% increase in their gas bills to cover the costs of this pilot, which comes in addition to a proposed 42% increase in gas utility bills this Winter.
"The Bethel community has a long history of bearing the brunt of corporate greed at the expense of public health, safety, and livability. The fact is — the community cannot afford to cover the costs of this pilot - nor can they afford to be a test case for a carbon-reduction strategy that is bound to fail," concluded Yazdani.
The intervening organizations include Beyond Toxics, NAACP Eugene-Springfield, Oregon Physicians for Social Responsibility, 350 Eugene and Sierra Club, and are represented by attorneys Jan Hasselman at Earthjustice and Carra Sahler at the Green Energy Institute.
Download Press Release (PDF)
See also our Eugene Hydrogen Blending FAQ (PDF)
---
For July 27, 2022 Release
Eugene City Council moves toward all-electric policies for new residential, business construction
The Council has also set goals to decarbonize existing buildings by 2050.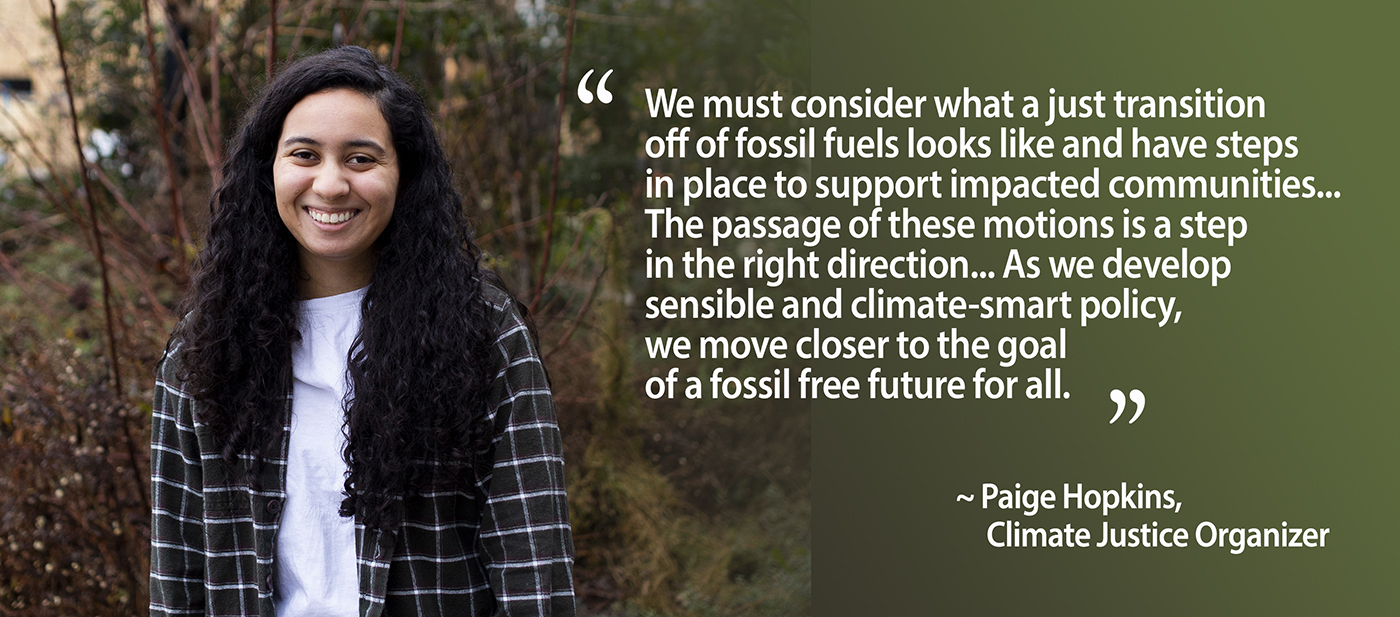 For interviews, please contact:
Lisa Arkin, Executive Director, Beyond Toxics, 541-465-8860 x804, larkin@beyondtoxics.org
Bethany Cotton, Cascadia Wildlands, 503-327-4923, bethany@cascwild.org
Danny Noonan, Breach Collective, 541-653-5795, danny@breachcollective.org
EUGENE, OR. – The Eugene City Council, on July 27, took steps to move the city away from natural gas in favor of all-electric construction. City staff will draft an ordinance requiring new residential buildings three stories or less to be 100% electric beginning June 1, 2023 and will hold a work session in fall to discuss prohibiting natural gas and all fossil fuel infrastructure in all new commercial buildings. Furthermore, the city manager was directed to bring back a revision to the Climate Action Plan to formalize the electrification of residential, and as feasible, commercial buildings by 2035, and industrial buildings by 2050.
As summers become increasingly hot and wildfires pose a greater threat to our communities each year, it is time for our leaders to act on climate change and work for climate justice for future generations of Oregonians. This is a huge accomplishment for Fossil Free Eugene and Fossil Free Lane County, a coalition of nonprofits which has been working with the city to achieve its climate goals.
City Council also directed the city manager to return to the council this fall with a proposal for engaging the public to develop a plan for the transition of buildings to becoming decarbonized, a term referring to choosing energy sources that do not emit carbon, with an emphasis on social, environmental and economic equity, especially regarding historically marginalized communities.
Beyond Toxics plays a key role within the coalition by centering equity in the work of a Fossil Free Eugene. "We must consider what a just transition off of fossil fuels looks like and have steps in place to support impacted communities, such as BIPOC, rural and low income residents," said Paige Hopkins, Climate Justice Organizer with Beyond Toxics.
"The passage of these motions is a step in the right direction as we need to take necessary action to combat the impacts of climate change," Hopkins said. "As we develop sensible and climate-smart policy, we move closer to the goal of a fossil free future for all."
Download Press Release (PDF)
---
For July 6, 2022 Release
For interviews, please contact:
Lisa Arkin, Executive Director: 541-465-8860 x804 | Email: larkin@beyondtoxics.org
EUGENE, OR. – Beyond Toxics will host a ribbon cutting ceremony on Saturday, July 9, from 11 a.m. to 12:30 p.m., for a new mural featuring the ethnobotany of local wetlands and the Kalapuya people. The event will take place at the Dr. Edwin Coleman Jr. Community Center at Westmoreland Park in Eugene. The mural, "Willamette Wetlands of the Kalapuya," was created in collaboration with the Friendly Area Neighbors Equity Action Team, Confederated Tribes of the Grand Ronde, Kalapuya descendants, City of Eugene Human Rights and Neighborhood Involvement, and City of Eugene Parks and Open Space.
The free event features speakers, music, and a tour of the wetlands. Speakers are Rayna Viles, member of the Confederated Tribe of the Siletz Indians, Mayor Lucy Vinis, Senator James Manning, Kalapuya elder and cultural consultant Esther Stutzman, Dr. David Lewis, Assistant Professor in the School of Language, Culture and Society at Oregon State University, and mural artist Susan Applegate. Additionally, The Splachta Alla Singers will perform drumming and songs of the Willamette Valley tribal people during the ceremony.
The mural illustrates a Kalapuya storyteller speaking about her people and their ancient and contemporary uses of native plants for food, medicine and spiritual observances.
"Visual representation of Kalapuya lifeways through public art is a gift to the community," said Viles, who is also a Beyond Toxics board member. "It is important that we recognize the first peoples of the region and the sustenance that the land provides through seasonal round practices. Holding a reciprocal relationship with the land has always been the way forward."
This mural is part of a larger project called the "Kalapuya Cultural Project and Wetlands Preservation" sponsored by Beyond Toxics and Friendly Area Neighbors Equity Action Team. The project includes an informational kiosk, an online resource, environmental and cultural curriculum resources, and ongoing preservation of the park wetlands to protect the significant native plants within Westmoreland Park.
Download Press Release (PDF)
---
For March 23, 2022 Release
Eugene City Councilors to Host Forum on Pollution
Councilors will Discuss 3 Proposals to Tackle Chronic Polluters Following Closure of JH Baxter Plant
For interviews, please contact:
Lisa Arkin, Executive Director: 541-465-8860 x804 | Email: larkin@beyondtoxics.org
also:
Councilor Randy Groves
RGroves@eugene-or.gov
and
Councilor Claire Syrett
Claire.m.syrett@ci.eugene.or.us
EUGENE, OR. – In order to address growing concerns about public health and industrial pollution, City Councilors Claire Syrett and Randy Groves will speak at a Community Public Forum on Tuesday, March 29th at 7 p.m. Participants will discuss three proposals that have received unanimous support from the Eugene City Council. The purpose of all three of these proposals is to reduce local industrial pollution and improve public health for the entire community.
"I am very concerned about the release of toxins in our environment and their effect on our health, safety, welfare and the environment. The J.H. Baxter dioxin contamination is just one example of outcomes we must avoid in the future," says Eugene City Councilor Randy Groves.
Councilors Syrett and Groves have organized this forum to elicit community feedback on the following proposals:
● Requiring risk bonds or liability insurance for industrial users of fossil fuel or hazardous chemicals.
● A public health overlay zone.
● Chronic toxic polluter solutions.
Councilor Syrett stated, "It is long overdue for the city to take stronger action to protect and promote our community's well-being when it comes to polluting industries." She also expressed her gratitude to "the mayor for her leadership in promoting the idea of a public health overlay zone and to my fellow councilors for their strong support for looking into this and the other regulatory measures we will be considering."
A Public Health Overlay Zone is an additional land use zoning code that applies to established residential neighborhoods and industrial zones. These types of zones are designed to ensure that future land development projects promote a healthy environment and improved quality of life for surrounding neighborhoods. The City of Eugene adopted a similar land use concept in 2017 when it annexed lands to add acres for industrial and manufacturing jobs in the Clear Lake Road area in West Eugene.
Risk Bonds are used to ensure financial responsibility for the impacts of future releases on surrounding neighborhoods and public infrastructure.
City councilors also agreed to ask the staff to determine how a local government could implement meaningful solutions to address chronic toxic polluters.
The Community Public Forum has enlisted several local experts on the topics slated for discussion, including:
● Laura Allen, Member, Eugene Sustainability Commission
● Lisa Arkin, Executive Director, Beyond Toxics
"To better address these issues Councilor Syrett and I pushed for three council work sessions," said Councilor Groves. "We must explore tools and strategies for addressing chronic toxic polluters."
Councilors are eager to receive questions and ideas from the community during the public forum.
The Community Public Forum is sponsored by Beyond Toxics, and will be held virtually on Zoom on Tuesday, March 29th at 7-8:30 p.m. Those who wish to join the event can pre-register.
Download Press Release (PDF)
---
For February 9, 2022 Release
Ecological Threats, Wildfires and Health Burdens are Top Priorities in First Local Climate Assessment in Lane County
The Climate Vulnerability Assessment reveals that Lane County residents are primarily concerned about climate impacts on respiratory health, housing availability, wildfires, and extreme heat. Nearly 70% of locals do not know how to prepare for changes.
For interviews, please contact:
Paige Hopkins, Climate Justice Organizer:
(541) 543-2454| Email: phopkins@beyondtoxics.org
Meet Panchal, Environmental Justice Statewide Projects Manager:
(541) 543-2448 |Email: mpanchal@beyondtoxics.org
EUGENE, OR. – Lane County residents have identified housing availability, health and extreme wildfires among the top concerns as the climate continues to change in dramatic and unpredictable ways. Now, the results from the First Climate Vulnerability Assessment are in (Climate Change Vulnerability Assessment - PDF). The goal of this assessment is to understand how Lane County residents are affected by climate change now and in the future.
National research and local experiences have shown that the impacts of climate change tend to disproportionately impact marginalized communities, such as communities of color, low-income communities, the elderly, and people experiencing disabilities. The report reveals that Lane County residents are primarily concerned about the following:
85% are concerned about the way climate change impacts their health. Reduced air quality and increased smoke are expected to amplify chronic respiratory problems.
63% are concerned about the way climate change threatens their safety. Increased wildfires in Oregon combined with poor forest management practices are likely to contribute to more intense wildfire seasons.
62% are concerned about the way climate change threatens housing availability as the environment becomes more inhospitable and more climate refugees, from multiple socioeconomic statuses, move to Lane County.
47% are concerned about the way climate change threatens their jobs. Specifically, people are concerned about shifts in job supply and demand due to climate change.
The Lane County Vulnerability Assessment is a report created by the 2021 Climate Equity and Resilience Task Force, a joint project of Beyond Toxics, the NAACP Eugene-Springfield, The Geos Institute and Lane County Public Works Department. The Task Force, a 16-member advisory group made up of county residents from rural and marginalized community groups, met throughout 2021 to gather input from across Lane County.

Lack of water availability is a concern, along with the potential increase in water rates associated with reduced access to water. There is a concern that poor forest management is going to lead to an increase in fire frequency and intensity. The assessment reveals a lack of hope among younger residents and all ages with increasing anxiety about the future.
"This report is a call to action that sends a clear message: We must continue to develop strategies to address these vulnerabilities to provide a strong and equitable framework for climate resilience in Lane County," said Paige Hopkins, the Climate Justice Organizer at Beyond Toxics.
The Lane County Climate Equity and Resilience Task Force is accepting new members from rural and BIPOC communities. The Task Force will host a workshop to develop equitable and resilient strategies for the next phase of the Lane County Climate Resilience Plan. A report on Climate Adaptation Strategies will be presented to County Commissioners later this year.
Those interested in more information or becoming a Task Force member may contact Beyond Toxics.
Download Press Release (PDF)
---
For January 26, 2022 Release
POLLUTER JH BAXTER SHUTTING DOWN
Discovery of dioxin contamination in the soil and intense pressure from Beyond Toxics and the West Eugene community leads to JH Baxter closing down
EUGENE, OR. – After intense public pressure and mounting evidence of dangerous levels of toxic pollution, JH Baxter, a creosote manufacturer and chronic polluter in West Eugene, announced it is closing its doors on January 31st. The company will keep a skeleton crew onsite to manage clean up requirements.
Last week, Beyond Toxics, in collaboration with the Active Bethel Community organization, sent letters to Eugene's Mayor and City Council demanding that our elected officials ask Governor Brown and the DEQ to issue a Cease and Desist order. The goal of this order was to force JH Baxter to immediately halt all actions that emitted pollution or contributed to contamination.
While many questions remain about the company's accountability for the damage they have caused in terms of health, property safety, property values and environmental quality, JH Baxter's shutdown will mean that West Eugene residents will be spared the noxious and nauseating creosote fumes that neighbors have complained to agencies about for decades. The Oregon Department of Environmental Quality assures the public that the agency will hold JH Baxter responsible for the costs of remediating the contaminated soil in residential yards and on the facility's site.
JH Baxter, a creosote manufacturer in the heart of the Bethel neighborhood, has been found culpable of burning off 1.7 million gallons of creosote waste water, violating their air and waste pollution permits and emitting dioxin that has now contaminated multiple residential and public properties. Dioxin, a highly poisonous chemical compound that is known to cause cancer and serious illnesses, was the primary chemical that poisoned soldiers and civilians during the Vietnam War because of exposure from Agent Orange.
"This recent news about the closing of JH Baxter is very rewarding after the hard work the community has put into demanding clean air!" said Arjorie Arberry-Baribeault, the West Eugene Community Organizer for Beyond Toxics. "We will gladly take this victory and continue to work towards holding them accountable for their damage. The saying is 'if you can't take the heat, get out of the kitchen.' Well, the community and our supporters have brought the heat and are going to keep cooking!"
Download Press Release (PDF)
---
For November 17, 2021 Release
Oregon Board of Forestry Approves Agency's First
Climate Change and Carbon Plan
EUGENE, OR. – The Oregon Board of Forestry approved a first-of-its-kind climate plan for the state's forest management agency, marking a transformative shift for forest management in the state.
The plan was developed in response to Executive Order 20-04, which directed state agencies to "prepare and plan for the impacts of climate change and to take actions to encourage carbon sequestration and storage." The plan envisions the Board and Department of Forestry as "national leaders in climate-smart and socially equitable forest policies that promote climate health, resilient forests and watersheds, community wellbeing, and a viable forest products industry." The plan also aims to incorporate principles of equity and environmental justice in agency decision-making, including the requirements of SCR 17 (2021).
By approving the Climate Change and Carbon Plan, the Board signals that continuing business as usual in Oregon's forests amidst changing conditions is unsustainable. Oregonians are already feeling the
weight of severe climate change impacts, including heat domes, increasing wildfires and water scarcity for personal or agricultural use. The unanimous vote of approval indicated the Board takes these
impacts seriously and acknowledges that Oregon's forests can be a powerful tool to help us take up and store carbon and adapt to climate change.
Advocates with the Oregon Climate Action Plan Coalition are celebrating the plan's approval and are committed to working with the Board, incoming State Forester Cal Mukumoto, and ODF staff to ensure
climate and equity considerations are central to all levels of the Department's decision-making. Leaders from the Oregon Climate Action Plan Coalition released the following statements:
"Transforming Oregon's forest practices will markedly improve environmental and climate justice outcomes, especially access to clean water and air," said Grace Brahler, Oregon Climate Action Plan and Policy Manager for Beyond Toxics. "The Climate Change and Carbon Plan represents a big step forward for the agency and can make our communities and forests more resilient to climate change."
"The Oregon Department of Forestry's new plan is a critical first step to positioning the state at the forefront of natural climate solutions," said Lauren Anderson, Oregon Wild's Forest Climate Policy Coordinator. "Our best near-term option to reduce the future impacts of climate change is to sequester and store more carbon in our forests. Oregon's remaining intact mature temperate rainforests store more carbon per acre than the Amazon rainforest and should be a top climate priority for the state."
More information is available on the Oregon Department of Forestry's Climate Change page. | Read the full plan.
Contacts: Co-Leads of the Oregon Climate Action Plan Coalition Forest Policy Table
● Lauren Anderson, Forest and Climate Policy Coordinator, Oregon Wild (la@oregonwild.org)
● Grace Brahler, Oregon Climate Action Plan and Policy Manager, Beyond Toxics (gbrahler@beyondtoxics.org)
Joint Press Release (PDF)
---
For April 5, 2021 Release
Two Oregon nonprofits to host Oregon's first Environmental Justice Summit
Summit to feature two nationally-renowned environmental justice advocates
EUGENE, OR. – Beyond Toxics and the NAACP Eugene/Springfield will be hosting Oregon's first Environmental Justice Pathways Summit on April 9th and 10th. The Summit will host nationally and internationally renowned environmental justice advocates and will be held in conjunction with the University of Oregon's Climate Change and Indigenous Peoples Lecture. Both events are virtual.
April 9th – Climate Change and Indigenous Peoples (CCIP) Keynote Lecture:
Sheila Watt-Cloutier, Nobel Peace Prize nominee, former President and International Chair of the Inuit Circumpolar Council. Moderated by Don Sampson, Director of the Affiliated Tribes of Northwest Indians Climate Change Program. | Photo of Ms. Watt-Cloutier (.jpg) | Read Ms. Watt-Cloutier's full bio
"The pandemic has given a pause, a time to reflect on new possibilities. It is a time to shift from apathy to empathy and see how we are all interconnected. What happens in the Arctic affects us all," says Sheila Watt Cloutier.
April 10th – EJP Summit Keynote Lecture:
Dr. Mustafa Santiago Ali, Vice President of Environmental Justice, Climate & Community Revitalization for the National Wildlife Federation and Founder & CEO of Revitalization Strategies. He is also the former Senior Advisor for Environmental Justice and Community Revitalization at the US EPA under the Bush and Obama Administrations. Moderated by Michelle J. DePass, President & CEO of Meyer Memorial Trust and founding executive director of the New York City Environmental Justice Alliance. | Photo of Dr. Ali (.jpg) or a portrait of Dr. Ali (.jpg) | Read Dr. Ali's full bio
"We can't win on climate change unless we win on environmental justice. Together, we can help vulnerable communities move from surviving to thriving," says Dr. Ali.
The Summit will also feature interactive discussions with the goal of supporting a collaborative network and crafting policy guidelines dedicated to Environmental Justice in the state of Oregon.
"Oregon's history of exclusionary and racist land-use policies has dramatically shaped the way our communities live, work, and play today," says Haley Case Scott, environmental justice organizer for both Beyond Toxics and the NAACP Eugene-Springfield. "This Summit will help expose and find solutions to the history of forced separation and dispossession between land and people that has played a significant role in the environmental and climate injustices."
For more information: ejpsummit.org.
Read the FULL Press Release (PDF)
For January 14, 2021 Release
Full Press Release (PDF)
Leading Oregon Environmental Justice Organizations Announce 2021 Legislative Agenda
Environmental justice joint resolution and land use reform bill have support of a strong group of legislators and community leaders
---
EUGENE, OR – State elected leaders are joining with Beyond Toxics and the Eugene/Springfield and Portland chapters of the National Association for the Advancement of Colored People to champion a suite of environmental justice legislation to be introduced in the upcoming session of the Oregon state legislature. | Summary of our Environmental Justice Legislative Priorities (PDF)
HB 2488, the "Equity and Climate in Land Use" bill, calls upon Oregon's Department of Land Conservation and Development to update statewide land use planning goals, in order to make equitable planning decisions for vulnerable and disadvantaged communities, and establish measurable climate targets associated with land use. LC 1894/2902, the "Environmental Justice for Oregon" Joint Resolution, calls on the state legislature to adopt a vision and set of principles for achieving environmental justice in Oregon, including recognizing the right of all people to clean air and water.
In the wake of the 2020 Oregon wildfires, and nationwide protests against systemic racism, we argue that Oregon needs a major shift in its approach to land use decisions, prioritizing the needs of impacted communities.
Representative Karin Power, who is introducing both the bill and Joint Resolution, explains:
"I'm proud to be introducing these two pieces of legislation this session, which will help equip Oregon to tackle the monumental challenges facing our State: the climate crisis and systemic racial inequities. The events of the past year put into sharp relief just how deeply intertwined these issues are. There's a growing recognition among my colleagues in the legislature that, going forward, Oregon needs a holistic reimagining of who deserves to have a say in the future of our communities. This legislation will put our State on the path to achieve this."
Lisa Arkin, Executive Director of Beyond Toxics, said: "Oregon's land use planning goals have stood the test of time in many ways, however laws that are nearly fifty years old need updating to address two of the most pressing issues of our time, climate impacts and the exclusion of those who bear the heaviest burdens of public health problems related to environmental pollution."
---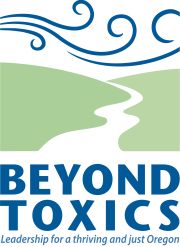 Photos of Executive Director
Lisa Arkin, Executive Director