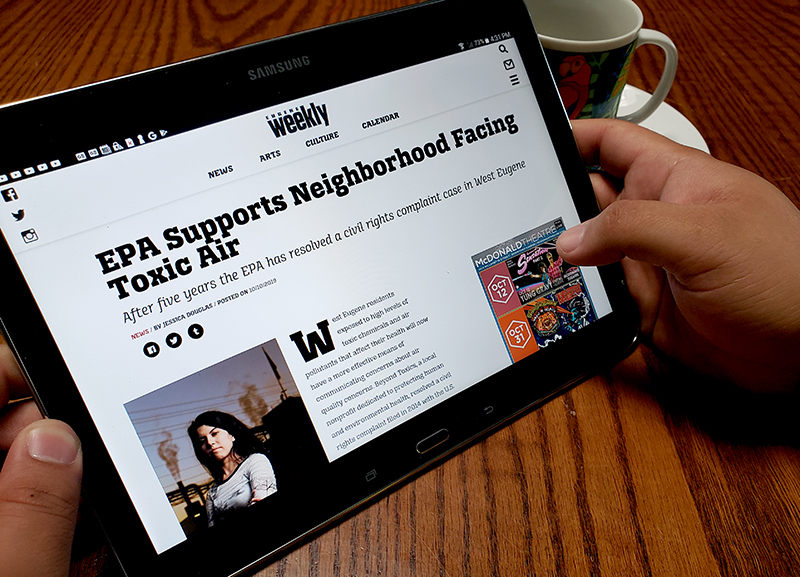 FOR THE PRESS
...to contact Beyond Toxics, please call or email:
John Jordan-Cascade, Communications Manager
Phone 541-465-8860
info@beyondtoxics.org
or
Lisa Arkin, Executive Director
---
Who We Are
Beyond Toxics is a statewide environmental justice organization advancing policies that ensure meaningful participation and cultivating grassroots leadership from Oregon's frontline and impacted communities. Established in 2001, we are a multicultural, inter-generational team dedicated to centering community leaders and building out the true diversity of our state's vibrant Environmental Justice movement. MORE About Us
The values that drive our work
We believe that everyone regardless of race, income, class, gender, and citizenship-status deserves access to resources free of exposure to harmful pollution. To enact lasting environmental justice, Beyond Toxics, along with our many members statewide, believes that communities who live and work on the margins are the real experts and should be informed and empowered in decision-making processes. Our team honors native heritages and tribal autonomy while guiding Oregonians to embrace ethical land stewardship for future generations.
MORE about Beyond Toxics
---
For October 12, 2021 Release
Local Climate Justice Organizer Hired by the White House
Oregon Native Youth Going To The White House
EUGENE, OR. – The White House Office of Science and Technology Policy has hired Haley Case-Scott, the Lane County Climate Justice Organizer working for Beyond Toxics and the NAACP Eugene-Springfield. Case- Scott will begin her job in mid-October.
In her new position as a Junior Climate Policy Advisor, Case- Scott will help support Dr. Jane Lubchenco, a Distinguished Professor at Oregon State University appointed by President Biden to the position of Deputy Director for Climate and the Environment. Lubchenco previously served as Under Secretary of Commerce and Administrator of the National Oceanic and Atmospheric Administration (NOAA) in the Obama-Biden Administration.
Case- Scott, as part of the Office of Science and Technology Policy will help with climate and environmental science efforts in the White House.
Case- Scott was hired in March 2020 to work in the Beyond Toxics office with a co-appointment at the NAACP Eugene-Springfield. During her nineteen months as a Climate Justice Organizer, she managed the Environmental Justice Pathways Summit and led to the formation of the Lane County Climate Equity and Resilience Task Force. This past year she was appointed to the Lane County Climate Advisory Committee by County Commissioner Joe Berney as a representative for his Springfield district. She was elected by other Committee members to serve as Chair during the Committee's inaugural year.
Reflecting back on her climate work over the past years, Case Scott said, "I am so grateful for the experience I have gained during my time with Beyond Toxics and the NAACP, and I am excited to continue learning sound solutions to address climate change."
Case- Scott is a member of the Confederated Tribes of Siletz Indians, and a descendant of the Klamath Tribes, Yurok Tribe, and the Sakaogan Band of Chippewa Indians. She was born and raised in the Klamath Basin, and moved to Eugene in 2014 to attend the University of Oregon. She received her
Bachelor of Arts Degree in Political Science with a minor in Native American Studies. Prior to her work with Beyond Toxics and NAACP, Haley served as a Research Assistant with the Pacific Northwest Tribal Climate Change Project and the United States Forest Service.
"I know that Haley will continue her dedicated work to ensure that diverse perspectives are considered and respected in the development of climate policy," said Lisa Arkin, Executive Director of Beyond Toxics and her direct supervisor. "She has managed a number of ground-breaking projects for us including the inaugural Oregon Environmental Justice Pathways Summit. Haley had a unique role as a co-employee of both Beyond Toxics and the NAACP," said Arkin. "The groundwork Haley put in place will ensure we stay strongly focused on climate solutions and grassroots advocacy for our local communities."
"We at the NAACP are more than happy to see Haley's talent and potential being tapped by the administration at this critical time. We wish Haley all the best!" said Eric Richardson, Executive Director Eugene/Springfield NAACP.
Download the Press Release (PDF)
Portrait of Haley Case-Scott (.jpg)
---
For April 5, 2021 Release
Two Oregon nonprofits to host Oregon's first Environmental Justice Summit
Summit to feature two nationally-renowned environmental justice advocates
EUGENE, OR. – Beyond Toxics and the NAACP Eugene/Springfield will be hosting Oregon's first Environmental Justice Pathways Summit on April 9th and 10th. The Summit will host nationally and internationally renowned environmental justice advocates and will be held in conjunction with the University of Oregon's Climate Change and Indigenous Peoples Lecture. Both events are virtual.
April 9th – Climate Change and Indigenous Peoples (CCIP) Keynote Lecture:
Sheila Watt-Cloutier, Nobel Peace Prize nominee, former President and International Chair of the Inuit Circumpolar Council. Moderated by Don Sampson, Director of the Affiliated Tribes of Northwest Indians Climate Change Program. | Photo of Ms. Watt-Cloutier (.jpg) | Read Ms. Watt-Cloutier's full bio
"The pandemic has given a pause, a time to reflect on new possibilities. It is a time to shift from apathy to empathy and see how we are all interconnected. What happens in the Arctic affects us all," says Sheila Watt Cloutier.
April 10th – EJP Summit Keynote Lecture:
Dr. Mustafa Santiago Ali, Vice President of Environmental Justice, Climate & Community Revitalization for the National Wildlife Federation and Founder & CEO of Revitalization Strategies. He is also the former Senior Advisor for Environmental Justice and Community Revitalization at the US EPA under the Bush and Obama Administrations. Moderated by Michelle J. DePass, President & CEO of Meyer Memorial Trust and founding executive director of the New York City Environmental Justice Alliance. | Photo of Dr. Ali (.jpg) or a portrait of Dr. Ali (.jpg) | Read Dr. Ali's full bio
"We can't win on climate change unless we win on environmental justice. Together, we can help vulnerable communities move from surviving to thriving," says Dr. Ali.
The Summit will also feature interactive discussions with the goal of supporting a collaborative network and crafting policy guidelines dedicated to Environmental Justice in the state of Oregon.
"Oregon's history of exclusionary and racist land-use policies has dramatically shaped the way our communities live, work, and play today," says Haley Case Scott, environmental justice organizer for both Beyond Toxics and the NAACP Eugene-Springfield. "This Summit will help expose and find solutions to the history of forced separation and dispossession between land and people that has played a significant role in the environmental and climate injustices."
For more information: ejpsummit.org.
Read the FULL Press Release (PDF)
---
Jan. 14th Virtual Press Conference, followed by Q&A
SPEAKERS: Senator James Manning, Representative Karin Power, Sharon Gary-Smith of the Portland NAACP and a representative of the Lane County Chapter of the NAACP, and others. Introduction to the legislation, followed by a Q&A session afterward.
January 14, 2021
Full Press Release (PDF)
Leading Oregon Environmental Justice Organizations Announce 2021 Legislative Agenda
Environmental justice joint resolution and land use reform bill have support of a strong group of legislators and community leaders
---
EUGENE, OR – State elected leaders are joining with Beyond Toxics and the Eugene/Springfield and Portland chapters of the National Association for the Advancement of Colored People to champion a suite of environmental justice legislation to be introduced in the upcoming session of the Oregon state legislature. | Summary of our Environmental Justice Legislative Priorities (PDF)
HB 2488, the "Equity and Climate in Land Use" bill, calls upon Oregon's Department of Land Conservation and Development to update statewide land use planning goals, in order to make equitable planning decisions for vulnerable and disadvantaged communities, and establish measurable climate targets associated with land use. LC 1894/2902, the "Environmental Justice for Oregon" Joint Resolution, calls on the state legislature to adopt a vision and set of principles for achieving environmental justice in Oregon, including recognizing the right of all people to clean air and water.
In the wake of the 2020 Oregon wildfires, and nationwide protests against systemic racism, we argue that Oregon needs a major shift in its approach to land use decisions, prioritizing the needs of impacted communities.
Representative Karin Power, who is introducing both the bill and Joint Resolution, explains:
"I'm proud to be introducing these two pieces of legislation this session, which will help equip Oregon to tackle the monumental challenges facing our State: the climate crisis and systemic racial inequities. The events of the past year put into sharp relief just how deeply intertwined these issues are. There's a growing recognition among my colleagues in the legislature that, going forward, Oregon needs a holistic reimagining of who deserves to have a say in the future of our communities. This legislation will put our State on the path to achieve this."
Lisa Arkin, Executive Director of Beyond Toxics, said: "Oregon's land use planning goals have stood the test of time in many ways, however laws that are nearly fifty years old need updating to address two of the most pressing issues of our time, climate impacts and the exclusion of those who bear the heaviest burdens of public health problems related to environmental pollution."
---