Bethel Clean Energy Project Feasibility Study
Bethel Clean Energy Project Feasibility Study
Helping Low-Income Households in an Environmental Justice Community Access Community Resources to Lower Greenhouse Gas Emissions and Save Money.
FULL REPORT (PDF) | Executive Summary (below)
Report Authors
Lisa Arkin and Zach Mulholland
Beyond Toxics Project Team
Arjorie Arberry-Baribeault, Paige Hopkins, Alyssa Rueda, Lisa Arkin and Zach Mulholland
A changing climate, aging home heating systems and appliances, and ongoing exposure to harmful industrial and wildfire air pollution is creating extreme stress for frontline communities and is putting their physical and mental health, resilience and financial stability at risk. An environmental justice neighborhood in West Eugene, Oregon, is facing a wide range of these threats as a result of historically poor land use planning and lack of infrastructure investments from the local government.
In early 2023, Beyond Toxics conceptualized a project to support a section of the Bethel neighborhood, a working class, low-income and diverse neighborhood in West Eugene. We formed a cohort of households and facilitated community conversations about what residents need to survive a changing climate and dangerous contamination from nearby industrial polluters. After receiving a small project start-up grant from VertueLab, we launched The Bethel Clean Energy Project in March 2023 as a new demonstration project to achieve climate equity, improved health and no/low-cost access to clean energy systems.
The primary activities of the project were to engage an impacted community in decision making about how they want to create their own climate resilience and environmental health. Our objective was to help households develop an individualized work plan to install electric heating and cooling technologies, weatherization and air filtration systems to achieve highly desired environmental, health and climate benefits. An overarching project goal was to help this community face these challenges by providing education and pathways to obtain efficient and sustainable energy technology. Investing in home improvement and energy upgrades elevates positivity in a neighborhood beset by increasing risks of extreme weather events and prolonged exposures to polluted air. A project output is this feasibility report, which describes how the Bethel Clean Energy Project can serve as an energy equity model for other communities to pursue.
Our key project elements were to use our long history of grassroots work in the Bethel community to conduct a survey in the impacted neighborhood, select 15 participants, hold three workshops on electrification systems and technology and help participants obtain a home energy score from the local utility to guide their implementation plans.
See the full Executive Summary on page 4 of the Full Report (PDF)
This project was funded by a 2023 Community Capacity Grant for Climate Solution Deployment Projects in Oregon Frontline Communities grant from VertueLab.
Beyond Toxics wishes to express our gratitude to partners who helped make this project possible. We appreciate receiving the start-up grant funding provided by Vertuelab. Gratitude goes out to our local publicly-owned utility, the Eugene Water and Electric Board, for their assistance to create educational content and for providing Home Energy Scores for project participants. We sincerely appreciate the Active Bethel Active Community Neighborhood Association, our community partners for sharing event planning, community advocacy, and a common vision of a vibrant and healthy Bethel. Special thanks to DS Consulting for consultation and encouragement. Also, we look forward to growing our partnerships to engage, educate and empower Oregonians living in impacted communities to obtain clean, renewable, electric systems for their homes without incurring a financial burden.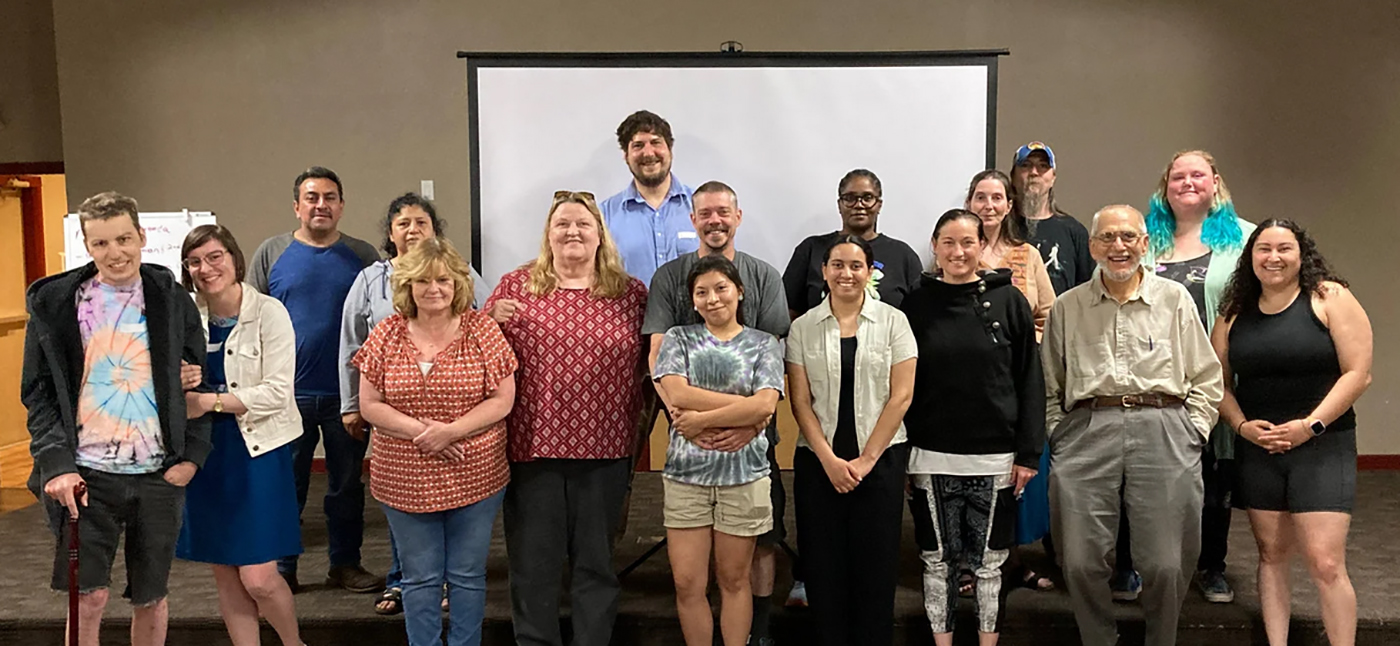 Bethel Clean Energy Spring 2023 Cohort
About the Bethel Clean Energy Project
Beyond Toxics designed the Bethel Clean Energy Project to create opportunities for positive outcomes for a neighborhood shocked to learn that regulatory agencies have discovered dioxin contamination throughout the J.H. Baxter industrial site and in the yards of the homes north of the facility. The residents are also devastated to learn that the Oregon Health Authority determined that young children in the neighborhood have higher risks of cancer and reproductive organ damage from contact with dioxin-contaminated dirt. The EPA has announced the agency will seek funding from the federal Superfund Program to undertake the cleanup of the J.H. Baxter industrial site and the nearby residential neighborhood. Both the EPA and the Oregon DEQ will undertake the massive soil cleanup project requiring hundreds of tons of contaminated dirt to be removed from private residential properties and replaced by clean dirt.
Learn more about the Bethel Clean Energy Project
and
Building a Fossil-Free Future