West Eugene Community Health
Polluting industries surround homes, schools and parks in West Eugene, causing disproportionate health impacts in nearby neighborhoods.
In West Eugene, 550,000 pounds of toxic emissions were released in 2019. This pollution - emitted in the 97402 zip code area - accounted for 96% of all the emissions released in the City of Eugene that year, and every year. Polluted air in West Eugene persists due to outdated zoning laws, housing built near pollution and weak air regulations. Air pollution is linked to heart ailments, lung disease, asthma attacks, cancer, and an overall reduction in life expectancy. These conditions have become the lived experience of the West Eugene community.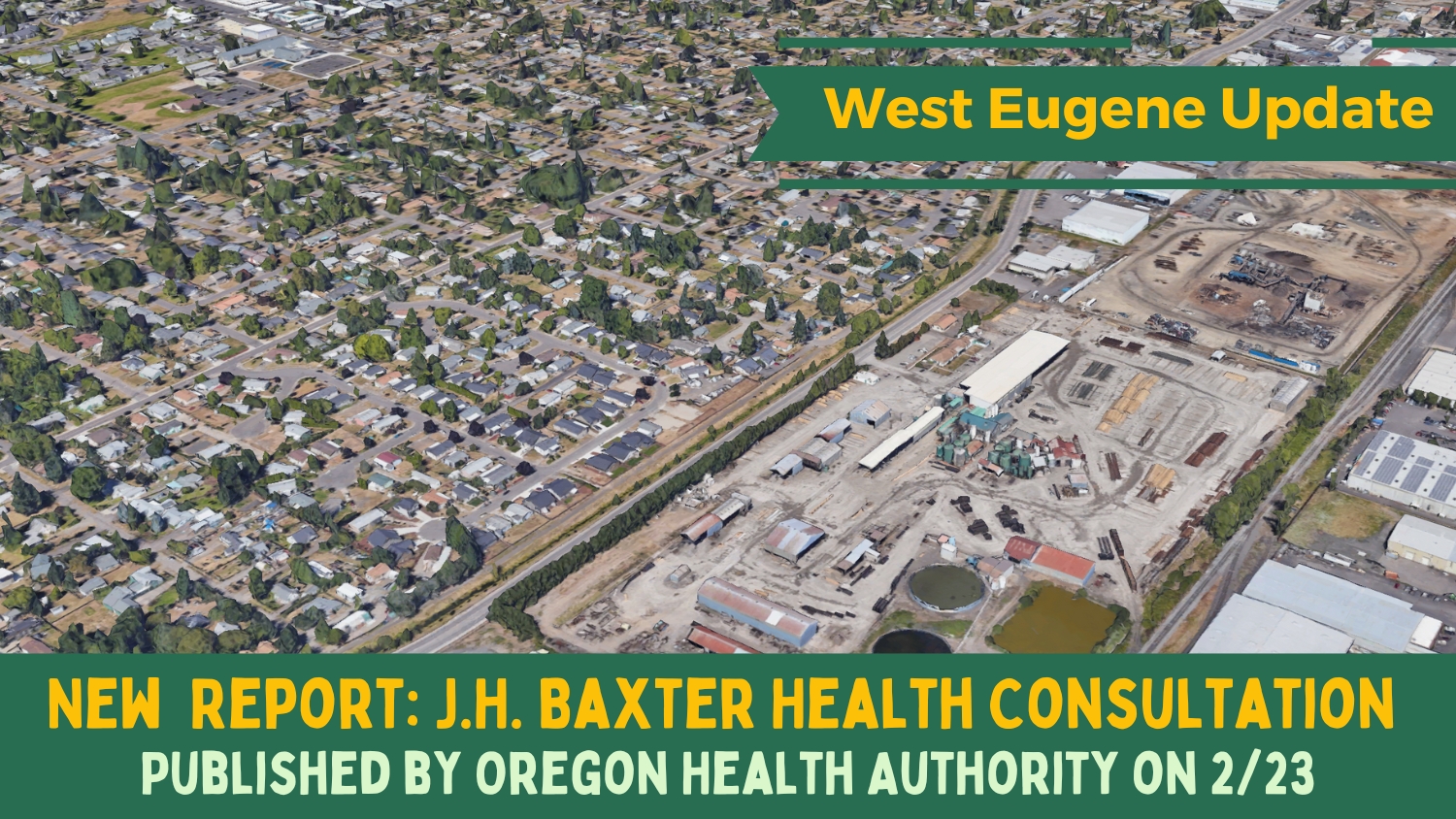 Read the latest Beyond Toxics Report, Seeing is Believing: Visualizing Indoor Air Pollution from Gas Stoves (PDF)
Health Consultation Initial and Public Comment Release
J.H. BAXTER NEIGHBORHOOD INVESTIGATION - EUGENE, OREGON
Prepared by Environmental Health Assessment Program, Oregon Health Authority
SUMMARY: J.H. Baxter Health Consultation - Summary Factsheet (Updated Feb. 2023)
---
2022 J.H. Baxter Fact Sheet (PDF)
2022 West Eugene Air Quality Study (PDF), published by Beyond Toxics and Oregon State University (PDF) | Authors: OSU: Diana Rohlman, PhD; Beyond Toxics: Lisa Arkin, Exec. Director and Arjorie Arberry-Baribeault, West Eugene Community Organizer
Residential PAH Exposures Near a Wood Preservation Facility in West Eugene (PDF)
By Diana Rohlman, Arjorie Arberry-Baribeault, Lisa Arkin, Lane Tidwell, Kim A. Anderson
Pacific Northwest Center for Translational Environmental Health Research - Oregon State University
2021 West Eugene Cancer Analysis - Oregon Health Authority (PDF)
---
Victories
POLLUTER JH BAXTER SHUTTING DOWN: Discovery of dioxin-contaminatED soil and intense pressure from Beyond Toxics and the West Eugene community leads to JH Baxter closing down.
Initiated the Clear Lake Overlay Zone, a model local land use law that lifts up environmental justice, climate protection, and places restrictions on new heavy industry.
Played a pivotal role in the adoption of Oregon's Cleaner Air Oregon air quality regulations.
Led the way to stop legislation seeking to give tax credits to carbon polluters and waste incinerators.
Introduced toxics emissions reporting requirements that were adopted by the Oregon Department of Environmental Quality.
Successfully filed a complaint under the US EPA Civil Rights Office that required the local air regulatory agency to adopt environmental justice practices.
Filed complaints that forced industrial polluters to clean up hazardous waste dump sites, stop surface water pollution and mitigate vapors from groundwater plumes.
"
Injustice anywhere is a threat to justice everywhere.
"