Read more about our proposed climate and environmental justice legislation for Oregon's 2021 legislative sessions->>
RECENT related videos:
A Forestry Heritage  (YouTube)
Environmental and climate injustices have disproportionately impacted those who contribute the least to the problem. We know that the costs of and benefits in mitigating the impacts of climate change are not equally distributed. We must uplift and prioritize experiences like Rosarios' and those most impacted by environmental and climate injustices. Now is the time to pave a path towards equitable solutions that not only steward the land but also support people's health and economic well-being.
Carbon Storage for Climate Health (YouTube)
Terrestrial carbon storage is a vital ecosystem service for our planet that naturally results from the interactions between plants, atmosphere and soils. The way we manage our forests can lead to carbon loss or improved storage. Restoration Forester, Rick Herson, stands out from other Oregon foresters because he is actively contributing to bigger stores of carbon over time. Rick is working to rebuild soil organic matter – resulting in both carbon sequestration and improved health for surrounding watersheds for future generations.
---
Read our most recent blogs on climate justice
Breathing life into our leaders of color
By Bianca Ballará on October 1, 2020
Double Trouble – Climate Change and COVID-19
By Haley Case-Scott on April 21, 2020
Tribal Climate Resilience in the Pacific Northwest
By Krystal Abrams on September 6, 2019
---

Governor Brown: "I've heard it loud and clear from our young people in Oregon: climate action is crucial and urgent. If we adults don't take action right away, it is the next generation that will pay the price. We owe it to them to do our part to ensure that the globe they inherit is on a better trajectory than the one it's on today."
---
Ana Molina, Environmental Justice Campaign Liaison; Pablo Alvarez, former Environmental Justice Community Organizer and Sydney Sampson, Youth Council Volunteer with the Eugene-Springfield chapter of the NAACP attended the It Takes Roots Solidarity to Solutions Week between September 8-14, 2018
QUOTES from Ana and Pablo from their trip to the Solidarity to Solutions (Sol 2 Sol) Summit in San Francisco, spotlighting front line community solutions to the interlinked economic, democratic and climate crises currently threatening humanity:
"The planet should not be sold! It is loved and protected. Solutions for climate change should come from front line communities that are most impacted across the globe. Solutions will come from people who can shut it down. At the end of the day, climate justice is a life or death struggle for many." – Ana Molina, Environmental Justice Campaign Liaison (see Spanish translation below*)
"Being in San Francisco for the Sol2Sol summit has made me think critically about the solutions to our global climate crisis. Although I do not have all the answers, one thing I certainly know is that those solutions are with the people, with the front line communities who have been fighting this struggle on a daily basis. Any solution that does not involve them is a false solution." – Pablo Alvarez, Environmental Justice Community Organizer
The week of actions are intended to be a parallel to the Global Climate Action Summit (GCAS) currently being planned by California Governor Jerry Brown and global business leaders, where market-based schemes will be promoted as the ONLY response to climate change. We know that continuing down this path will only lead to greater devastation for our communities.
——————————————
* "La tierra no se vende, se ama y se defiende! Las soluciones para el crises de clima vendrá de nuestras comunidades. Cualquier otra solucion es una solucion falta que no resuelva el cambio climatico. Al fin del dia la Justicia Climático es una lucha de vida a muerte." – Ana Molina, Environmental Justice Campaign Liaison, Beyond Toxics
In the news:
Rise for Climate: Tens of Thousands March in San Francisco Calling for Fossil-Free World – Democracy Now! – SEPTEMBER 10, 2018
One Year Later – Hurricane Maria Death Toll Revised to Nearly 3,000
Puerto Rico's new Hurricane Maria death toll is 46 times higher than the government's previous count
---
Endorse the Declaration:
I am…
Why We're Involved
Climate change is a defining human rights issue at the intersection of environmental justice, racial justice, consumption and greed and natural resource protection.
---
On Feb. 12th, in a 7-1 vote in favor, Eugene, Oregon became the 2nd city in the world to endorse the International Declaration on Human Rights and Climate Change (and the first city over 100,000!).
The Declaration foregrounds human rights while simultaneously protecting the rights of living systems from climate harms. In moving forward with support from many other groups, we are combining new thinking and existing international human rights law.
Special thanks goes to Community Alliance of Lane County (CALC) and Sierra Club-Many Rivers Group for attending the City Council hearing and speaking in favor of the Declaration on Feb. 12th! Also, we recognize and appreciate the tremendous support offered by the NAACP Eugene Springfield Oregon and 350-Eugene in this effort!
————————————————————–
Clean Energy Jobs Rally in Salem (produced by Ephraim Payne, Beyond Toxics Development and Events Manager)
Beyond Toxics has joined with a major network of international human rights advocates for a call-to-action for governments around the world. The guiding principles for this call-to-action are expressed in a Declaration on Human Rights and Climate Change. The Declaration was drafted by the GNHRE*, the largest network of human and environmental rights scholars in the world. Combining new thinking and existing international human rights law, the Declaration presents foregrounds human rights while simultaneously protecting the rights of living systems from climate harms.
List of internationally-known individuals and NGOs that have endorsed the Declaration
For us, supporting the Declaration is joining in a clarion call to governments to transform the climate debate and address the human rights implications of climate change. Our vision is for cities across Oregon and our state governor to be the first in the United States to adopt the Declaration on Human Rights and Climate Change.
Three Reasons Why We Support This Declaration
The Top 3 Reasons Beyond Toxics urges you to be among the first to join Oregon's grassroots movement to adopt the Declaration are:
1) It affirms the universality, interdependence of all human rights and the dependency of all life on Earth on a healthy biosphere and Earth system integrity.
2) It recognizes that climate change, caused by human industrial and consumer activities, disproportionately affects indigenous peoples, working class communities, woman and children, the vulnerable small island communities and future innumerable living beings and systems.
3) It requires that all human beings have the right to active, free, and meaningful participation in planning and decision-making activities, particularly including the rights of indigenous peoples, women and other under-represented groups to equality of meaningful participation. This includes the right for processes to be free of domination by powerful economic actors. This includes the rights of indigenous peoples to participate in the protection of their rights to their lands, territories, natural resources, tenure rights and cultural heritage.
Read the Declaration on Human Rights and Climate Change (PDF) – (Global Network for the Study of Human Rights and the Environment)
Other Resources on Human Rights and Climate Change
Take Action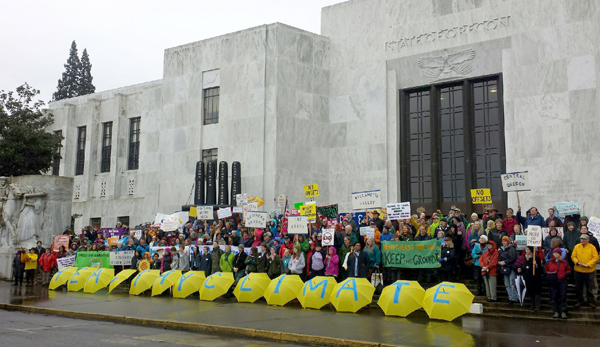 Beyond Toxics and NAACP Eugene-Springfield are partners in the work to promote climate justice through the principles expressed in the Declaration.
MORE on GNHRE (Global Network for the Study of Human Rights and the Environment)
Will you endorse the new Declaration on Human Rights & Climate Change? Fill out one of the forms below to register your support TODAY!
Endorsers of our Human Rights Declaration:
Organization/Businesses:

Eugene-Springfield NAACP
350.org Eugene
Our Revolution, Lane County
Integration Network
NatureLee Inspired
Eugene Saturday Market
Cascades Raptor Center
Huerto de la Familia
Maple Microdevelopment
MEChA, University of Oregon Chapter
Grupo De Accion Directa del
Condado de Lane (GLAD)
Cornucopia Restaurants
Centro Latino Americano
Mountain Rose Herbs
Friends of Trees
City of Eugene Human Rights
Commission
Eastside Portland Air Coalition
(EPAC)
Showing Up for Racial Justice
(SURJ)
City of Eugene Sustainability
Commission
Community Alliance of Lane County
UO Coalition Against Environmental
Racism
350.org Deschutes
UO Native American Student Union
(NASU)
Oregon Wild
Sierra Club – Many Rivers Group
Cascadia Wildlands
Oregon Physicians for Social
Responsibility
Garden Fever, Portland

Individual Endorsers:

Susan Heath
Derrick Hindery
Marilyn Price
Robin Bloomgarden
Samuel Ault
James Barber
Marsha Barr
David Saul
Katie Geiser
Ken Neubeck
Carter McKenzie
Mary Sharon Moore
Maddie O'Callin
Alison Guzman
Megan Johns
Kathryn Guske
Mary Morrison
Lin Woodrich
Ken Neubeck
Malvina Holloway
Steve Aydelott
Jen Wassermiller
Pamela Erwin
Yolanda Gómez
Jack Cooper
siochai
Tia Hatton
Susanne Boling
Scott Cooper
---
* About The Global Network for the Study of Human Rights and the Environment
The GNHRE was founded to pursue human and environmental justice through excellence in research, policy-making and practice. The GNHRE is composed of scholars from a range of disciplines including philosophy, ethno-ecology, human rights and environmental law and is dedicated to the transformation of thought and action in the face of the greatest challenges of the 21st century predicament—including climate change. The GNHRE is currently the largest international network of thinkers, researchers, policy-makers, opinion-formers and community activists in its field. The GNHRE constantly forges new conversations and relationships. It produces and exchanges thought leadership from world-leading scholars, bringing together top level research with insights drawn from community-embedded experience and praxis at the interface between human rights and the environment all over the world.
"The Declaration is statement by scholars across the world that our current approach to climate change is utterly inadequate in the face of this existential threat. Climate change is arguably the greatest human rights issue of all, and we call on every government to stand up as leaders in order to avert disaster—and to do so by questioning the 'taken-for-granted of the current framework of priorities." – Anna Grear, Professor of Law and Theory at Cardiff Law School UK, and the founder and director of GNHRE
MORE:
Permanent Peoples' Tribunal Session on the Human Rights Impacts of Fracking Works On Human Rights, Fracking and Climate Change
---
Beyond Toxics is a 501(c)(3) non-profit organization and all contributions are fully tax-deductible. Please consider giving a gift of a Beyond Toxics membership to a friend or family member!