Toxic Exposure from Gas Appliances
Analyzing Toxic Gas Exposure from Gas Appliances
and What You Can Do About It
The problem of gas stove pollution and how we gathered our imagery
Environmental and public health concerns related to indoor air quality are escalating due to the wide range of pollutants people are exposed to every day in the air we breathe and the consumer products we use. Additionally, we are experiencing unprecedented changes in social lifestyles. People typically spend 80% of their time indoors, and with more people working from home and drastic changes in public health, weather and wildfires keeping adults and children indoors, indoor air quality now has a greater impact on people's health.
Our new report, Seeing is Believing: Visualizing Indoor Air Pollution from Gas Stoves, focuses on a study of indoor gas cooking appliances and their emissions in residential housing. Beyond Toxics conducted a pilot study in Eugene and Springfield, two mid-sized cities in Oregon, during the first week of February 2023. The purpose of the study is to use a Forward-Looking InfraRed (FLIR) camera with optical gas imaging capabilities (pictured to the left) to visualize how methane, hydrocarbons and other toxic air pollutants caused by imcomplete combustion are released into homes during the first few minutes after turning on gas stoves.
---
---
Take action to reduce the risks of gas stove pollution
Recommendations
Replace gas cooking and heating equipment with high efficiency electric systems as they near time for replacement or when the equipment breaks down. You can make use of federal incentives from the Inflation Reduction Act and local governments and utilities to lower the cost. If you or anyone in your household has or is prone to respiratory diseases such as asthma or chronic bronchitis, you will want to replace your gas stove sooner if possible and/or increase ventilation.
Money from the government is available to help people switch from gas to electric
The Inflation Reduction Act (IRA) has rebates of up to $14,000 available for low and moderate income households to help electrify home heating systems, increase insulation, and lower power bills, including an $840 rebate available to switch gas stoves to an all-electric alternative. For home heating systems, the IRA has incentives for heat pumps to heat and cool the air and incentives for heat pump water heaters to heat water. Heat pumps and heat pump water heaters are super energy efficient, which makes them cheaper to run than gas or traditional electric heating systems. You can save a lot of money on energy bills. The IRA also includes rebates for a new electric panel and wiring to install electric appliances, such as adding 240 V outlets that high energy appliances like electric stoves and clothes dryers use.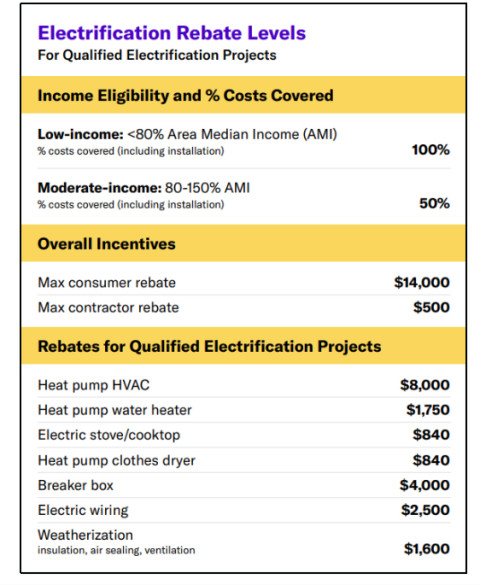 Consider induction cooking when switching from gas
When upgrading from gas to electric cooking systems, consider trying an induction oven or cooktop. New induction ovens and cooktops boil water in half the time of traditional gas and electric cooktops by using magnets to heat the pot or pan while using less energy. Induction cooktops are also available as countertop units that use a traditional wall outlet, so they don't need a 240 V outlet and you don't need to get rid of your existing gas stoves. These countertop units are relatively inexpensive and can be used to supplement or replace gas cooking (without the need of eliminating the old appliance) while also being faster than gas or other electric cooktops.
Some induction oven manufacturers are exploring adding batteries so the units can operate on 120 V outlets so that retrofitting kitchens with 240 V outlets is not necessary and so they can operate when power is out, but those are not yet commercially available.
The Inflation Reduction Act provides an $840 rebate for homes to switch out gas stoves for electric ones that can be used for induction or traditional electric cooking appliances. It may be possible to get the appliance for free for low-income households.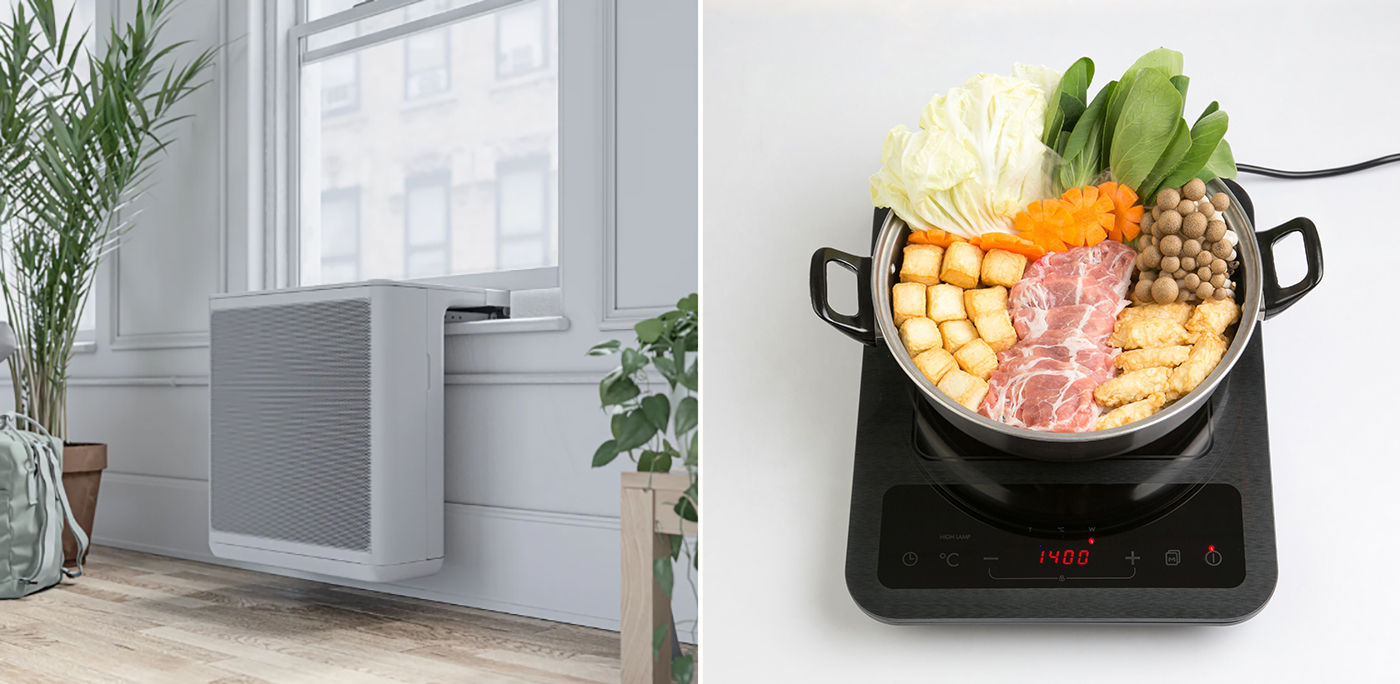 Pictured: Window Heat Pump (left) and a Countertop Induction Cooktop (right)
For renters who may be concerned about gas stove pollution
If you are a renter concerned about not being able to take an induction cooking unit or a new heat pump with you when you move or needing to get permission from the landlord for wiring or appliance improvements, there are all-electric alternatives you can take with you when you move and don't require any new wiring. For cooking, there are new countertop induction cooktops that run on a traditional wall outlet and can be used without needing to replace your current gas stove. This allows you to take it with you when you leave your rental unit. There are also new heat pumps available for heating and cooling that can fit in a window and run off of a traditional outlet, so you can take the units with you when you move. (https://www.gradientcomfort.com/).
Interested in learning more about how to combine local and federal incentives for maximum benefit? Look for Beyond Toxic's upcoming report on how local and federal incentives can be combined to electrify low-income and moderate-income households. We'll show you how whole home retrofits can be completed for free for low-income households and for no upfront costs for moderate income households in some cases.
Seeing is Believing - Visualizing Indoor Air Pollution from Gas Stoves
See the full VIDEO of the press conference below: