Kalapuya Cultural Project and Wetlands Preservation
We recognize the first peoples of the region and the sustenance that the land provides through seasonal round practices.
"Willamette Wetlands of the Kalapuya," is a mural created by a collaboration of Beyond Toxics, Friendly Area Neighbors Equity Action Team, Confederated Tribes of the Grand Ronde, Kalapuya descendants, City of Eugene's Human Rights and Neighborhood Involvement, and City of Eugene Parks and Open Space. The mural illustrates a Kalapuya storyteller speaking of her people and their ancient and contemporary uses of native plants for food, medicine and spiritual observances through the annual seasonal round in the traditional manner still practiced today.
The mural is located on the east wall of the Dr. Edwin Coleman Jr. Community Center that houses the Boys & Girls Club of Emerald Valley. The building was renamed for Dr. Coleman in honor of his life and legacy as a University of Oregon professor, musician, and strong advocate for civil and human rights. These prior murals, sponsored by Friendly Area Neighbors Equity Action Team and the City of Eugene, feature visual statements on inclusion and social justice. This newest mural on the Coleman Center reaches back into history to commemorate the Kalapuya presence on this land prior to European pioneers.
This mural is part of a larger project called the "Kalapuya Cultural Project and Wetlands Preservation" sponsored by Beyond Toxics and Friendly Area Neighbors Equity Action Team. The project includes an informational kiosk, this web resource, environmental and cultural curriculum resources, and ongoing enhancement of the park wetlands to preserve and expand the presence of the significant native plants within these sites.
The mural features these wetland plants considered important to the Kalapuya people thoughout past and present times:
Camas – (in Kalapuya it is 'Andip'). Latin, Camasia quamash and Camasia leichtlinii;
Biscuit root – (in Kalapuya it is 'Alu't'.) Latin, Lomatium nudicaule;
Cut-leaf microseris or commonly called Silver Puffs. Latin, Microseria laciniata, no Kalapuya word is known;
Willamette Valley gumweed. Latin, Grindelia integrifolia, no Kalapuya word is known;
Idaho blue-eyed grass or in Latin, Sisyrinchium, no Kalapuya word is known.
The creative team includes:
Susan Applegate, Mural Designer, Artist and Painter
Esther Stutzman, Kalapuya Descendent and Project Consultant
Esteban Camacho Steffensen, Muralist
Pam Wooddell, Painter
Nancy Bray, Friendly Area Neighbors Equity Action Team Chairperson
Jennifer Eisele, Beyond Toxics Pesticides Project Manager
Lisa Arkin, Beyond Toxics Executive Director
Gabrielle Bird, Wetlands Plants Artist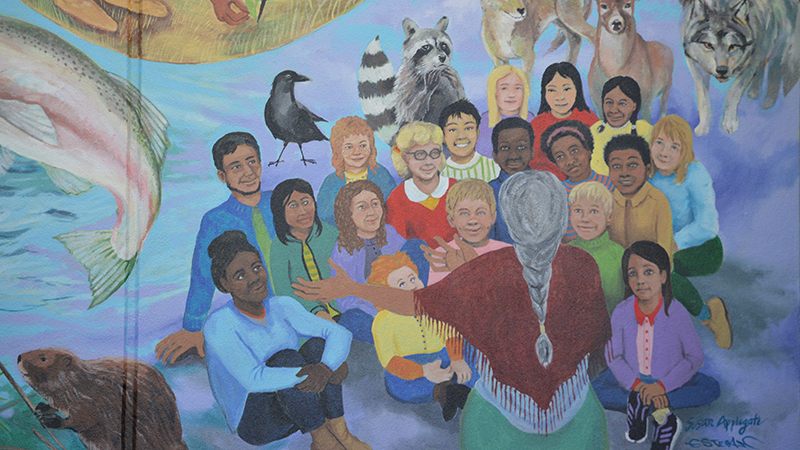 The Willamette Valley was once an open landscape, home to vast communities of flowering plants. A mosaic of species carpeted the lower elevations according to soil type and moisture retention. The braiding, meandering, flows of the Willamette River created significant wetlands that provided natural flood control and a resource-rich environment. The wet prairie landscape in Eugene's Westmoreland Park is a small but important remnant. Some of the plants that provided food and medicine for the indigenous Kalapuya tribes are present in this park.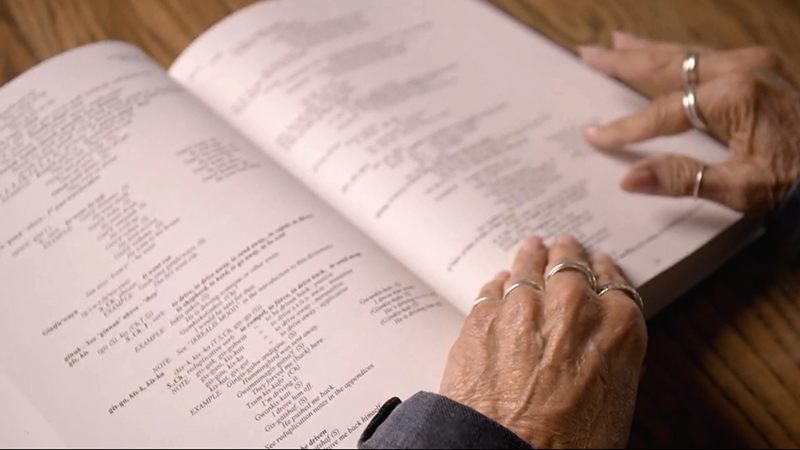 Explore more resources about the history of the Kalapuya and their language and culture, as well as the latest related news about the mural and activists who made it happen.
---
NEWS
Local artist paints a mural in Eugene, celebrating the Kalapuya people
NIKA BARTOO-SMITH The News-Review Aug 31, 2022
Eugene Mural Brings New Attention to Native Oregon Plants
By Lily Bohlke, Producer
'Sign of inclusivity': Eugene leaders remark on new Kalapuya mural
by Kierstin Lindkvist and KVAL.com Staff Saturday, July 9th 2022
Kalapuya Mural dedication to be held at Westmoreland Park
By Aubrey L Bulkeley, KLCC
July 8, 2022
OPB Story: "Kalapuya's relationship to native plants focus of new mural" by Brian Bull
The 64 ft. Kalapuya Culture mural painted on the east side of the Dr. Edwin Coleman Jr. Center Community Center depicts a seasonal round, an annual cycle of storytelling, gathering plants for their roots, seeds and fibers and celebrating the gifts of nature through ceremony. The mural is located adjacent to rare prairie wetlands that have survived in Eugene's Westmoreland Park (known for its disc golf course).
Susan Applegate's Spectacular Kalapuya Lifeways Mural Unveiled at Westmoreland Community Center
By Sandy Brown Jensen, Viz City, KLCC's arts review program
June 28, 2022
---
* The project is supported by grants from the City of Eugene Office of Human Rights and Neighborhoods, Gray Family Fund and Spirit Mountain Community Fund.
Thank you to our co-collaborators and partners in this project:
Beyond Toxics (project lead), Friendly Area Neighborhood Equity Action Team, City of Eugene Parks and Open Space, the Confederated Tribes of Grand Ronde, and the Boys & Girls Club of Emerald Valley.
Thanks also to our business sponsors:
Rainbow Valley Design & Construction, Café Mam, WildCraft Cider Works, GloryBee, Farmers Union Coffee Roasters, Garden Fever!
---