Why We Do The Work,
a new podcast featuring the Beyond Toxics West Eugene Organizer, Arjorie Arberry-Baribeault
Tune In
Why We Do The Work is a new podcast that focuses on childhood cancer and environmental pollution. In the first three podcasts, we talk about friendship, families and struggling with the reality of childhood cancer. These conversations will include discussion around cancer and the hardships that ensue. Trigger warning: cancer, traumatic experiences.
Hosted by Arjorie Arberry-Baribeault, West Eugene Community Organizer
UPDATE: For the hearing impaired, transcripts are now available for all currenbt episodes: 1 through 11.
Also available on apple, google and amazon podcasts!
Apple
Spotify
Google
Amazon.com
Audible

These are the podcasts available:
Can We Get a Breath of Fresh Air?
This month we discuss the impacts of "natural" gas stoves on indoor air quality and some of the projects we are working on to help local communities transition away from fossil fuel dependance! Guest speakers: Mason Leavitt and Alyssa Rueda. Host: Arjorie Arberry-Baribeault. Trigger Warning: Cancer, Sickness.
The Unbreakable Bond: Two Friends Reflect on Childhood Cancer
This month we revisit the conversation about battling childhood cancer and it's aftermath. Two best friends support eachother while helping their kids battle childhood cancer and what comes after.
Air Busters: Can we get a breath of fresh air?
The Beyond Toxics Air Quality Team discusses what drives us to fight for climate justice and environmental justice at a state level and what the work looks like in real life. Guests: Paige Hopkins and Meet Panchal.
Working For Environmental Justice
An intimate conversation with Beyond Toxics Executive Director, Lisa Arkin. We discuss what environmental justice means to us and what inspires us to keep fighting against social injustices and environmental degradation.
Mapping Pollution
It's time to look at the big picture of pollution. GIS and Spatial Data Analyst, Mason Leavitt, joins the conversation to help us visualize how communities are burdened by pollution and how we can use maps to better understand and address environmental justice issues.
Arjorie explores the growing cancer cluster around Kashmere Gardens and reflects on how the impacted communities have risen up to demand accountability from big polluters.
A conversation with Oregon environmental justice lawyers Teryn Yazdani, Staff Attorney and Climate Policy Manager with Beyond Toxics and Rebeka Dawit, Associate Attorney with Crag Law Center.
In this episode, we discuss some common issues that arise during cancer diagnoses and treatment. Our guest, Leann, shares some of her experiences becoming a medical practitioner and learning how to be an stronger health care advocate for family and friends. | Trigger: Cancer, Death
This episode addresses what it was like to raise siblings while supporting our children during their cancer treatment. We explore what the siblings had to go through and some of the ways we were challenged as parents along the way. | Trigger warning: childhood cancer, chemotherapy, sickness & illness, trauma.
This episode addresses what it was like to learn about our children's cancer diagnosis and some of the realities our families faced while moving through it. | Trigger warning: childhood cancer, chemotherapy, sickness & illness, trauma.
Conversations between two life-long best friends. We reflect on our friendship, families, and when we learned that our kids had cancer. | Trigger warning: childhood cancer, sickness & illness, trauma, grieving.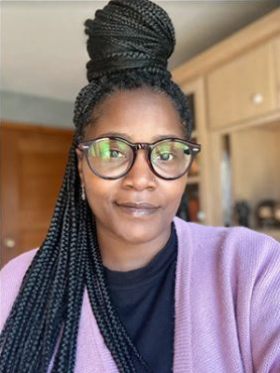 "My goal for 'Why We Do The Work' is to have a vulnerable space for families (and friends) who are looking for comfort in knowing someone understands what they are going through. A connection of the heart is a welcome remedy for those dark times. I hope this podcast reaches folks who are searching for a soft place to land."
- Podcast host, Arjorie Arberry-Baribeault, West Eugene Community Organizer