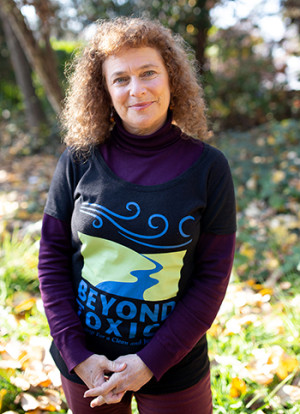 LISA ARKIN
Lisa is the Executive Director of the Beyond Toxics. She has provided innovative policy leadership and grassroots organizing for this statewide environmental justice organization since 2007. Under her guidance, Beyond Toxics embraced the principles of diversity and equity, and adopted an anti-racist ethos to become Oregon's first environmental justice organization. Lisa is dedicated to placing human rights, racial and social justice at the forefront of all environmental protection and climate resiliency policies. Beyond Toxics organized the first Oregon Environmental Justice Bus Tour, the first set of regional environmental justice forums and is currently preparing for Oregon's inaugural Environmental Justice Pathways Summit. With her leadership, Beyond Toxics has grown to a staff of eight and two offices, including our Willamette Valley headquarters and the Southern Oregon office. Lisa has served as appointed member of a number of commissions and work groups, including Governor Brown's Cleaner Air Oregon Policy Advisory Committee, the Lane County Planning Commission and the State Pesticide Stewardship Partnership Advisory Committee.
Lisa's areas of expertise: Environmental justice, climate justice, air quality/toxics, West Eugene Community Health Project, farm and forest worker protections, resilient forestry, Oregon's Forestry Practices Act reform, pesticide reform, Non Toxic Oregon, statewide pesticide policy, Chlorpyrifos/Neonics/ACP/Crossbow, helping communities harmed by pesticide exposures, Oregon Pesticide Action Coalition, land use and environmental justice, land use and toxics.
See Lisa's most recent blog, "Climat-o-cides" | MORE blogs by Lisa
Executive Director
Email: larkin@beyondtoxics.org
Phone: 541-465-8860 x804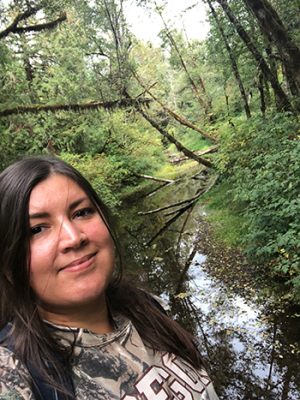 KRYSTAL ABRAMS
Krystal Abrams was raised in a Cherokee-Muscogee family in northern Florida. After graduating from a community college she embarked on a road trip across America which led her to settle in Eugene and study Environmental Sciences at the University of Oregon. During her time at the UO she collaborated with the McKenzie Watershed Council (MWC) and the McKenzie River Trust (MRT) to monitor and restore critical riparian habitat along the McKenzie River. After graduation, Krystal recruited and managed volunteers for the Walama Restoration Project, leading non-chemical environmental restoration work parties and nature hikes around the Eugene-Springfield Area. When she's not reaching out to advocate for environmental education and conservation, you can find her whipping up some speed on a nearby bike path or hiking and enjoying the great outdoors.
Areas of expertise: Regenerative Ecosystems, First Foods, Pollinator Garden, Non Toxic Oregon, Chlorpyrifos/Neonics/ACP/Crossbow
See Krystal's most recent blog (Jennifer Eisele, co-author), First Foods for Spring | MORE blogs by Krystal
ARJORIE ARBERRY-BARIBEAULT
Arjorie Arberry-Baribeault was born in Turkey where her father was stationed in the Air Force. She moved to West Eugene in 1993 to raise a family. After having children, Arjorie studied at The College of Cosmetology in Klamath Falls and became a licensed cosmetologist. Arjorie became interested in pollution in her neighborhood after her 13-year old daughter was diagnosed with Hodgkin's Lymphoma in 2019. After researching the air, water, and soils in the West Eugene area, she discovered the work of Beyond Toxics. Arjorie says, "Joining the environmental justice team at Beyond Toxics gives me the ability to help be a voice for West Eugene's community. My passion is to speak up for those individuals who have not been heard. My goal with Beyond Toxics is to help and serve as an example for the West Eugene Community, because I am one of those families harmed by the poor air quality in Eugene."
ERIC BURDETTE
Eric Burdette (he/him/his) joined the team at Beyond Toxics after completing his graduate studies at the University of Oregon. Acutely aware of how environmental issues can affect all aspects of daily life after over a decade of living in a developing country in Southeast Asia, Eric was drawn to Beyond Toxics to help advance environmental protections in Oregon and the region. In his free time, Eric can be found outdoors hiking, running, cycling, and relaxing by a river in the summer.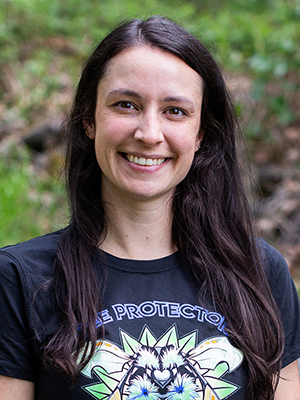 GRACE BRAHLER
Grace Brahler studied environmental science as an undergraduate and earned a law degree with a concentration in environmental and natural resources from the University of Oregon School of Law. As a law student, Grace served as a co-director for the 2019 Public Interest Environmental Law Conference and worked for Lincoln County, the Oregon Clean Water Action Project, and the Environmental and Natural Resources Law Center. Having recently worked with the Oregon Water Futures Project under Dr. Alaí Reyes-Santos, Grace focuses on water law and policy with a desire to promote just management and encourage culturally-mindful climate resiliency. When she's not researching and writing about water, you'll find Grace hiking to the nearest water source or throwing a frisbee to her dog Brutus.
Areas of expertise: environmental and natural resources law; environmental policy; water quality, quantity & justice; climate change mitigation & adaptation.
See Grace's most recent blog, Oregon Department of Forestry's "Social License" for Aerial Spray Has Expired | MORE blogs by Grace

EMILY COOK
Emily Cook graduated in June 2021 with a B.S. in Environmental Science and a B.S. in Spatial Data Science at the University of Oregon. With extensive experience as a freelance photographer, including wedding photography, she brings a wealth of skill and a keen eye to Beyond Toxics this fall. Emily's interests include gaining a foundation in natural and social sciences and political studies, to pursue a future in environmental justice-related fields.
JENNIFER EISELE
Jennifer Eisele brings invaluable experience to our organization based on her previous work on pesticide regulations in the Tribal Environmental Protection Program of the Shoshone Paiute Tribes of Nevada.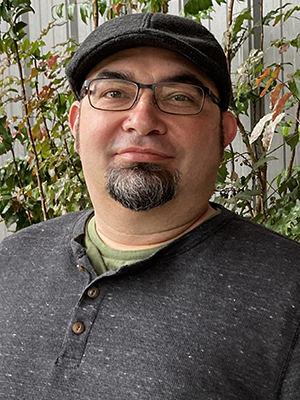 CHARLES HALLER
Charles Haller has extensive experience working for nonprofit organizations, from international youth development in Europe to working for his Tribe, the Confederated Tribes of Grand Ronde. A Kalapuya Tribal member concerned about land and water rights, combined with a past experience working on environmental issues in non-industrialized countries, his passion and dedication for environmental justice brought him to Beyond Toxics. He holds University of Oregon Bachelor's of Arts degree in International Studies and two Masters of Arts degrees, one in Nonprofit Management and one in Public Administration.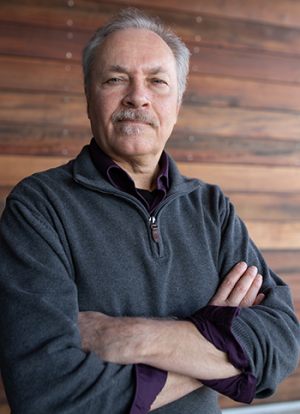 JOHN JORDAN-CASCADE
John Jordan-Cascade has served as the Communications Manager for Beyond Toxics since April 2009. He has an extensive background as a web and graphics designer and video producer. John has also worked on numerous political campaigns, is a long-time activist for the environment and a supporter of a wide variety of peace, social justice and human rights campaigns.
Read John's blogs: Bees by the Numbers and The economics of exporting coal through Oregon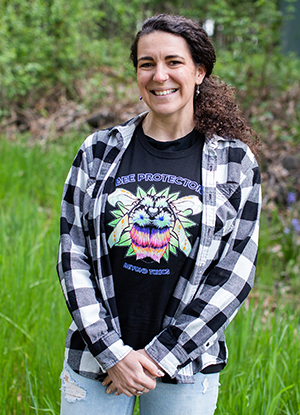 WENDY MINTEY
As a lifelong resident of the Pacific Northwest, Wendy Mintey has focused her education and career on regenerative agriculture and land stewardship. Over the last 15 years, she has dedicated her professional life to serving Oregon communities in a variety of capacities ranging from community relations to agricultural compliance – advocating sustainability for both the land and those that inhabit it at every opportunity. As a founding board member of a local non-profit, relationship manager for a global feminist network and children's garden club instructor, Wendy thrives in empowering those around her through education and connection. When she's not advocating for her community, she can be found playing recreational sports, exploring nearby wildlands or cooking up farm fresh confections.
EPHRAIM PAYNE
A former environmental reporter and editor of the Veneta, Oregon-based West Lane News, Ephraim Payne brings valuable fundraising and event organizing experience to Beyond Toxics. Most recently the Development and Communications Director for BRING Recycling, Ephraim has worked with and volunteered for local nonprofits ranging from International Stove Solutions (Instove) and the Long Tom Watershed Council (LTWC) to the McKenzie River Trust (MRT). A graduate of the University of Oregon's School of Journalism and Communications, he earned a Graduate Certificate in Nonprofit Management from the UO in 2014. When not out in the community building the personal relationships and community partnerships vital to ensuring environmental protection for all Oregon communities, you might find him exploring the Cascades with his family or at home in his woodshop working on an endless variety of DIY home improvement projects.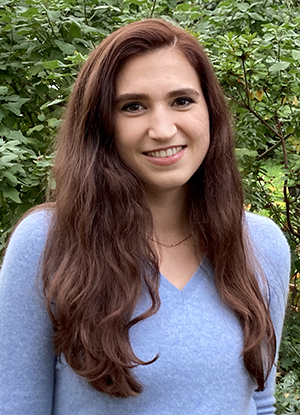 MORGAN SNOW
Morgan grew up in Napa Valley, California, but has called Oregon "home" for the past 4 years while completing her Bachelor of Arts at the University of Oregon. Her research interests include the bridging of intersectional ecofeminism and environmental justice to further study the relationship between human and environmental rights and health disparities. She joined Beyond Toxics in 2020 as an intern and is
happy to step into her new role as Membership and Events Manager. In her free time, Morgan enjoys cooking, relaxing by the Willamette River, and growing her plant collection.
SOPHIA LARABEE
Sophia grew up in Denver, Colorado. She is a third-year student at the University of Oregon double majoring in environmental science and music, with a minor in geography. She is a member of Kappa Alpha Theta sorority, and is a member of Divisi, the womxn identified a capella group at UO. She also works in a laboratory examining tephra samples from various volcanoes. Sophia is passionate about environmental justice and hopes to work with a governmental agency ensuring vulnerable communities are not subjected to environmental harm.
JENNA TRAVERS
Jenna is currently a marine biology major at the University of Oregon and has grown up in fishing and coastal communities across the US since her father was in the Coast Guard. At UO, she works in an environmental humanities lab, researching the impacts of glacier retreat on salmon populations in the PNW and the resulting impacts on small communities, Indigenous communities, and the economy. She joined Beyond Toxics at the start of 2021 to work on water quality research in the Siuslaw and McKenzie watersheds. She is interested in researching and encouraging the use of community-led management techniques that allow small coastal communities and Indigenous communities to have autonomy over the restoration and management of their ecosystems. Jenna likes working on science communication and figuring out how to bridge the gap between scientific research and society. In her free time, Jenna enjoys tidepooling, frisbee golfing, and hammocking at Alton Baker Park.
Read Jenna's first blog, Troubled Waters: Pesticide runoff into the Siuslaw River threatens salmon and the people who rely on them