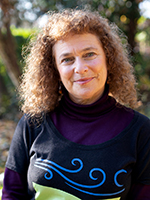 Lisa Arkin, Executive Director Office: 541-465-8860 | Email: larkin (at) beyondtoxics (dot) org
Prior to her work with Beyond Toxics, Lisa spent thirteen years as an educator and associate professor at both Stanford University and University of Oregon.  She has since accumulated deep experience in toxics use reduction advocacy, land use planning, environmental protection and strategic development for non-profit organizations. Lisa has served as Executive Director since 2005. | Read the Summer 2014 LandWatch interview (PDF)
---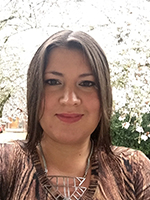 Krystal Abrams, Regenerative Ecosystems and Pesticide Program Manager
Office: 541-465-8860 | Email: kabrams (at) beyondtoxics (dot) org
Krystal was raised in a Cherokee-Muscogee family in northern Florida. After graduating from a community college she embarked on a road trip across America which led her to settle in Eugene and study Environmental Sciences at the University of Oregon. During her time at the UO she collaborated with the McKenzie Watershed Council (MWC) and the McKenzie River Trust (MRT) to monitor and restore critical riparian habitat along the McKenzie River. After graduation, Krystal recruited and managed volunteers for the Walama Restoration Project, leading non-chemical environmental restoration work parties and nature hikes around the Eugene-Springfield Area. When she's not reaching out to advocate for environmental education and conservation, you can find her whipping up some speed on a nearby bike path or hiking and enjoying the great outdoors.
---
Arjorie Arberry-Baribeault, West Eugene Community Organizer
Personal: (541) 321-6140 | Email: aab (at) beyondtoxics (dot) org
Arjorie Arberry-Baribeault was born in Turkey where her father was stationed in the Air Force. She moved to West Eugene in 1993 to raise a family. After having children, Arjorie studied at The College of Cosmetology in Klamath Falls and became a licensed cosmetologist. Arjorie became interested in pollution in her neighborhood after her 13-year old daughter was diagnosed with Hodgkin's Lymphoma in 2019. After researching the air, water, and soils in the West Eugene area, she discovered the work of Beyond Toxics. Arjorie says, "Joining the environmental justice team at Beyond Toxics gives me the ability to help be a voice for West Eugene's community. My passion is to speak up for those individuals who have not been heard. My goal with Beyond Toxics is to help and serve as an example for the West Eugene Community, because I am one of those families harmed by the poor air quality in Eugene."
---
Grace Brahler, Oregon Climate Action Plan & Policy Manager
Email: gbrahler (at) beyondtoxics (dot) org
Grace studied environmental science as an undergraduate and earned a law degree with a concentration in environmental and natural resources from the University of Oregon School of Law. As a law student, Grace served as a co-director for the 2019 Public Interest Environmental Law Conference and worked for Lincoln County, the Oregon Clean Water Action Project, and the Environmental and Natural Resources Law Center. Having recently worked
with the Oregon Water Futures Project under Dr. Alaí Reyes-Santos, Grace focuses on water law and policy with a desire to promote just management and encourage culturally-mindful climate resiliency. When she's not researching and writing about water, you'll find Grace hiking to the nearest water source or throwing a frisbee to her dog Brutus.
---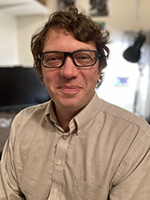 Eric Burdette, Communications Assistant
Email: eburdette (at) beyondtoxics (dot) org
Eric (he/him/his) joined the team at Beyond Toxics after completing his graduate studies at the University of Oregon. Acutely aware of how environmental issues can affect all aspects of daily life after over a decade of living in a developing country in Southeast Asia, Eric was drawn to Beyond Toxics to help advance environmental protections in Oregon and the region. In his free time, Eric can be found outdoors hiking, running, cycling, and relaxing by a river in the summer.
---
Haley Case-Scott, Climate Justice Grassroots Organizer
Office: 541-465-8860 | Email: hcasescott (at) beyondtoxics (dot) org
Haley Case-Scott has been appointed to serve on an advisory committee for the Oregon DEQ's Climate Protection Program. This program was established to reduce greenhouse gas emissions and address the effects of climate change. To achieve these goals, the DEQ has convened an advisory committee to provide diverse perspectives on policy proposals, including fiscal, environmental justice, public health and economic impacts.
Haley was also recently appointed to the Lane County Climate Advisory committee, and was elected as committee chair last week. The purpose of the Climate Action Advisory Committee is to advise the Lane County Board of Commissioners on policy decisions regarding climate change.
Haley Case-Scott is a member of the Confederated Tribes of Siletz Indians, and a descendant of the Klamath Tribes, Yurok Tribe, and the Sakoagan Band of Chippewa Indians. She was born and raised in the Klamath Basin, and moved to Eugene in 2014 to attend the University of Oregon. Four years later, Haley received her Bachelor of Arts Degree in Political Science with a minor in Native American Studies. Prior to working as the Climate Justice Grassroots Organizer, Haley served as a Research Assistant with the Pacific Northwest Tribal Climate Change Project and the United States Forest Service. She is dedicated to ensuring that diverse perspectives are considered and respected in the development of climate policy.
---
Mashal Rahmati Copperman, 2020-2021 Environmental Justice Fellow
Email: mrahmati (at) beyondtoxics (dot) org
Mashal is a first-generation student and Hazara-Afghan immigrant who grew up in Los Angeles. After  receiving a Bachelors of the Arts from University of California, Santa Barbara she pursued her interest in permaculture and organic agriculture working at Lane County farms and nurseries. She is currently a McNair Scholar at the University of Oregon pursuing a Post-Baccalaureate in Environmental Science with PhD aspirations to further research on bioremediation techniques of heavy metal toxins impacting soils in marginalized communities. She aims to bring an intersectional approach to environmental justice, science and quantitative research. Mashal enjoys cycling, bouldering, foraging for edible mushrooms, and growing food.
---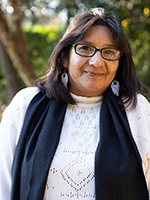 Jennifer Eisele, Pesticide Projects and Education Assistant
Office: 541-465-8860 | Email: jeisele (at) beyondtoxics (dot) org
Jennifer is our new Pesticide Projects Fellow. She brings invaluable experience to our organization based on her previous work on pesticide regulations in the Tribal Environmental Protection Program of the Shoshone Paiute Tribes of Nevada. Jennifer chose to join the Beyond Toxics team thanks to a job placement program administered by the Oregon Siletz Tribes.
---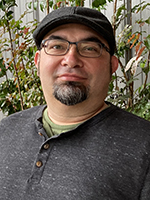 Charles Haller, Development and Events Manager
Office: 541-465-8860 | Email: challer (at) beyondtoxics (dot) org
Charles has extensive experience working for nonprofit organizations, from international youth development in Europe to working for his Tribe, the Confederated Tribes of Grand Ronde. A Kalapuya Tribal member concerned about land and water rights, combined with a past experience working on environmental issues in non-industrialized countries, his passion and dedication for environmental justice brought him to Beyond Toxics. He holds University of Oregon Bachelor's of Arts degree in International Studies and two Masters of Arts degrees, one in Nonprofit Management and one in Public Administration.
---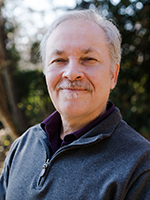 John Jordan-Cascade, Communications Manager
Office: 541-465-8860 | Email: jjcascade (at) beyondtoxics (dot) org
John was hired to serve as the Communications Manager for Beyond Toxics in April 2009. He has an extensive background as a web and graphics designer and video producer. He has also worked on numerous political campaigns, is a long-time activist for the environment and a supporter of a wide variety of peace, social justice and human rights campaigns.
---
Wendy Mintey, Environmental Justice Grassroots Organizer for Southern Oregon
Office: 541-465-8860 ext. 2 | Email: wmintey (at) beyondtoxics (dot) org
As a lifelong resident of the Pacific Northwest, Wendy has focused her education and career on regenerative agriculture and land stewardship. Over the last 15 years, she has dedicated her professional life to serving Oregon communities in a variety of capacities ranging from community relations to agricultural compliance – advocating sustainability for both the land and those that inhabit it at every opportunity. As a founding board member of a local non-profit, relationship manager for a global feminist network and children's garden club instructor, Wendy thrives in empowering those around her through education and connection. When she's not advocating for her community, she can be found playing recreational sports, exploring nearby wildlands or cooking up farm fresh confections.
---
Ana Molina Trejo, Statewide Environmental Justice Manager
Office: 541-465-8860 | Email: amolina (at) beyondtoxics (dot) org
Ana was born in Mexico but grew up in South Lake Tahoe when her family migrated to the US. She is first in her family to graduate from college, and recently graduated from Humboldt State University. Growing up in such a beautiful area gave her an appreciation for the environment that inspired her to pursue a degree in Environmental Science. While in school she became involved in social justice issues on campus and in Humboldt County. Ana began to make the connections of how our social constructs affect our environment leading to environmental racism. She realized that you can't leave out whole communities when it comes to conversations about climate change and the environment when they will be the ones who are affected. Ana has a love for both the environment and people because we are resilient, strong and imaginative and we can come up with solutions when we work collectively. On her down time Ana likes to hike, backpack, read and check out thrift stores.
---
Danny Noonan, Climate Legislative Affairs Consultant
Office: 541-465-8860 | Email: dnoonan (at) beyondtoxics (dot) org
Danny (he/him/his) is an advocate, strategist and campaigner whose early career has been dedicated to solutions to the climate crisis. Danny was a Climate Law Fellow and then Global Program Coordinator at Our Children's Trust from 2017-2020, where he developed and supported human rights-based climate change litigation in the United States, Canada, Mexico and elsewhere, and contributed to the scholarship on the role of litigation in the broader climate movement. Originally from Sydney, Australia, Danny holds a J.D. from Sydney Law School and a Bachelor of International & Global Studies from The University of Sydney. Danny is excited to bring his legal background and experience in national and international climate campaigns to Beyond Toxics' climate justice work in Oregon. In his free time Danny enjoys bicycle touring, swimming, yoga, singing and gardening.
---
Ephraim Payne, Community Narratives and Video Production
Office: 541-465-8860 | Email: epayne (at) beyondtoxics (dot) org
A former environmental reporter and editor of the Veneta, Oregon-based West Lane News, Ephraim brings valuable fundraising and event organizing experience to Beyond Toxics. Most recently the Development and Communications Director for BRING Recycling, Ephraim has worked with and volunteered for local nonprofits ranging from International Stove Solutions (Instove) and the Long Tom Watershed Council (LTWC) to the McKenzie River Trust (MRT). A graduate of the University of Oregon's School of Journalism and Communications, he earned a Graduate Certificate in Nonprofit Management from the UO in 2014. When not out in the community building the personal relationships and community partnerships vital to ensuring environmental protection for all Oregon communities, you might find him exploring the Cascades with his family or at home in his woodshop working on an endless variety of DIY home improvement projects.
---
Xitlali Torres, Environmental Justice Legislative Intern
---
Won't you join us in imagining, and working for, a world beyond toxics?
Beyond Toxics is a 501(c)(3) non-profit organization and all contributions are fully tax-deductible. Please consider giving a gift of a Beyond Toxics membership to a friend or family member!