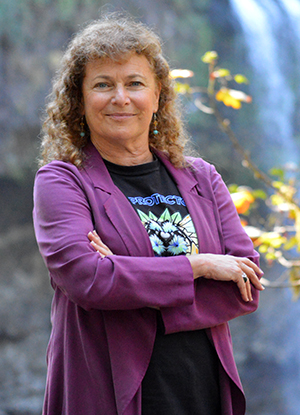 LISA ARKIN
Executive Director
Email: larkin@beyondtoxics.org
Phone: 541-465-8860 x804
Lisa Arkin, the Executive Director of the Beyond Toxics, has provided innovative policy leadership and grassroots organizing for this statewide environmental justice organization since 2006. Under her guidance, Beyond Toxics embraced the principles of diversity and equity, and adopted an anti-racist ethos to become Oregon's first environmental justice organization. Arkin is dedicated to placing human rights, racial and social justice at the forefront of all environmental protection and climate resiliency policies. Beyond Toxics organized the first Oregon Environmental Justice Bus Tour, the first set of regional environmental justice forums and stewarded the adoption of Oregon's Environmental Justice Framework (SCR 17) in the 2021 legislative session. Under her leadership, Beyond Toxics has grown to a staff of eleven and has two offices, including our Willamette Valley headquarters and the Southern Oregon office. She serves as an appointed member of a number of commissions and workgroups on issues such as land use, environmental justice, pesticide reform and air quality. She is a recipient of the Eugene City Club Turtle Award for unique civic leadership and the Roz Slovic Social Justice Award. Lisa serves on the Board of Directors of the Maxville Heritage Interpretive Center, a nonprofit dedicated to uplifting the amazing history of African-American timber workers. Arkin is the granddaughter of Russian-Ukrainian Jewish immigrants who fled pogroms and persecution to pursue their dream of becoming farmers. She dedicates herself to the values of Tikkun Olam, taking action to repair the world.
See Lisa's most recent blog, "Public Pressure Brings Down Polluting Giant" | MORE blogs by Lisa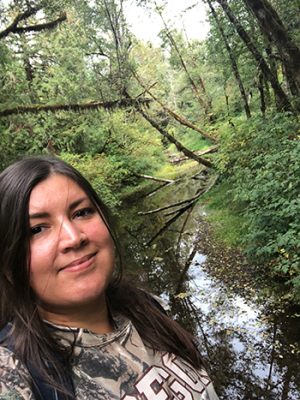 KRYSTAL ABRAMS
Krystal Abrams was raised in a Cherokee-Muscogee family in northern Florida. After graduating from a community college she embarked on a road trip across America which led her to settle in Eugene and study Environmental Sciences at the University of Oregon. During her time at the UO she collaborated with the McKenzie Watershed Council (MWC) and the McKenzie River Trust (MRT) to monitor and restore critical riparian habitat along the McKenzie River. After graduation, Krystal recruited and managed volunteers for the Walama Restoration Project, leading non-chemical environmental restoration work parties and nature hikes around the Eugene-Springfield Area. When she's not reaching out to advocate for environmental education and conservation, you can find her whipping up some speed on a nearby bike path or hiking and enjoying the great outdoors.
Areas of expertise: Regenerative Ecosystems, First Foods, Pollinator Garden, Non Toxic Oregon, Chlorpyrifos/Neonics/ACP/Crossbow
See Krystal's most recent blog (Jennifer Eisele, co-author), First Foods for Spring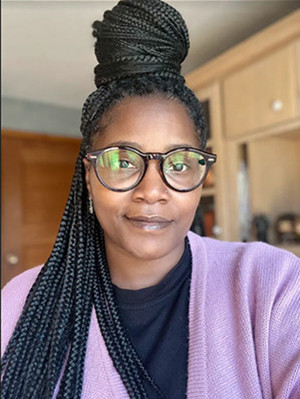 ARJORIE ARBERRY-BARIBEAULT
Arjorie Arberry-Baribeault was born in Turkey where her father was stationed in the Air Force. She moved to West Eugene in 1993 to raise a family. After having children, Arjorie studied at The College of Cosmetology in Klamath Falls and became a licensed cosmetologist. Arjorie became interested in pollution in her neighborhood after her 13-year old daughter was diagnosed with Hodgkin's Lymphoma in 2018. After researching the air, water, and soils in the West Eugene area, she discovered the work of Beyond Toxics. Arjorie says, "Joining the environmental justice team at Beyond Toxics gives me the ability to help be a voice for West Eugene's community. My passion is to speak up for those individuals who have not been heard. My goal with Beyond Toxics is to help and serve as an example for the West Eugene Community, because I am one of those families harmed by the poor air quality in Eugene."

JENNIFER EISELE

PAIGE HOPKINS
Paige Hopkins grew up in Southeastern, Washington. She went on to complete her Bachelors of Science in Environmental Studies at Portland State University. During her time in school, she interned with the Portland Fruit Tree Project to develop a mutual aid program for urban fruit tree produce within the Portland Community. This experience influenced her interest and passion for grassroots-led initiatives applied to environmental and climate justice issues. Paige looks forward to continue working and building connections with local community members and organizations on projects that impact the environment and the health of the community. In her free time, she enjoys hiking, camping, paddleboarding, and spending time outdoors.

JOHN JORDAN-CASCADE
John Jordan-Cascade served as the Communications Manager for Beyond Toxics from April 2009 to June 2021 and transitioned to Web Manager soon after. He has an extensive background as a web and graphics designer and video producer. Prior to his work for Beyond Toxics, John worked on numerous political campaigns, and has worked as an activist for the environment and a supporter of a wide variety of peace, social justice and human rights campaigns.
Read John's blogs: Bees by the Numbers and The economics of exporting coal through Oregon

MASON LEAVITT
Mason Leavitt's younger years were split between grey, flat suburban Denver Colorado and the agricultural tourist town of Hood River, Oregon, situated in the National Scenic Area of the Columbia River Gorge. Entranced by the scenic vistas of mountains, rivers, and temperate rainforests, he has always felt intimately tied to the world's precious ecosystems. Mason is almost finished with his undergraduate degree at the University of Oregon in Geography as well as Spatial Data Science and Technology. He has found much intellectual fascination, passion, and curiosity enmeshed in the science of place, whether that be through the methodologies of the Humanities, qualitative social sciences, or the statistical basis of programming and GIS. While he figures out which one pulls his heart the most for graduate school, he's beyond joyed to bring his entire skillset to Beyond Toxics, and participate in a community advocating for values dear to him.

EMILY MATLOCK
Emily Matlock is a native Oregonian who grew up in Sherwood, near Portland. She came to Eugene to attend the University of Oregon where she studied journalism and Spanish and wrote for the campus newspaper, The Daily Emerald. After graduation, she worked for Early Childhood CARES and then as a journalist for a small Portland-area newspaper before transitioning to the Beyond Toxics team.
She is excited to bring her passion for cross-cultural communication to Beyond Toxics and work with a dedicated staff and community. In addition to her role as membership and communications coordinator, she also serves as an intern and volunteer coordinator, and staff photographer. In her free time, she enjoys hiking, teaching fitness classes, dancing, and doing art.

MEET PANCHAL
Originally from Mumbai, India, Meet Panchal holds a Graduate degree from Tata Institute of Social Sciences in Social Work with a specialization in Livelihoods and Social Entrepreneurship. He discovered his passion to work with marginalized communities who were vulnerable to climate and environmental change. Meet's academic fieldwork focused on livelihood assessments and economic and environmental justice with an emphasis on water equity projects. He served as a CivicSpark Fellow in the San Diego Region helping build the capacity of both local government agencies and community allies by integrating water into their existing land use and climate adaptation plans. Meet is excited to be on the forefront of connecting and communicating with community groups and other nonprofits that represent BIPOC, impacted and historically disadvantaged Oregonians. In his free time, Meet can be found outdoors, biking, hiking and relaxing at any available water bodies.

ALYSSA RUEDA
Alyssa Rueda grew up in Miami and Las Vegas before moving to Eugene to study Marine Biology at the University of Oregon. She fell in love with the ocean as a young child. Everything she's learned about the ocean and the communities around it, has made her passionate about marine ecosystems, as well as the law. She recently graduated from the University of Oregon with a B.S. in Marine Biology and two minors in environmental studies and legal studies. She plans to go back to school for a masters in Marine Biology and a law degree to pursue a career in oceanic research and policy. She is excited to intern with Beyond Toxics to learn as much as she can about the work that goes into policy reform and community outreach.

TERYN YAZDANI
Teryn Yazdani was born in Jackson, Mississippi and raised in a tight-knit multi-generational Iranian-American household. In 2017, she moved to Portland to pursue a career in environmental law after graduating from Tulane University in New Orleans with a B.A. in Anthropology and Environmental Studies. In 2020, Teryn earned her J.D. from Lewis & Clark Law School with a certificate in Environmental and Natural Resource Law. She was named one of the law school's first Diehl Environmental Law Fellow recipients, an honor awarded to only four graduating law students pursuing careers in public interest environmental legal work. After graduation, she joined the Crag Law Center as their 2020-2022 Legal Fellow, gaining experience in federal and state environmental legal issues. In her spare time, she enjoys taking in the beauty of the Pacific Northwest by hiking, camping, and foraging.

DAVION SALANGA
Davion Ray Salanga hails from from Vallejo, California. He is an undergraduate at the University of Oregon, majoring in geography with a minor in Planning, Public Policy, and Management (PPPM). He arrived at Beyond Toxics with an interest in GIS and helping the community around him. In his off-time, he's busy working on his own club called Ducks Martial Arts and participating in Asian and Pacific Islander student meetings.

HANNA NGUYEN
Hanna Nguyen is a senior at the University of Oregon studying Multidisciplinary Science with minors in Ethics and Global Health. She is passionate about finding the intersections between science, philosophy, and social justice, and hopes to work in public health to mitigate health disparities experienced by marginalized communities. Her work experience consists of working for Food for Lane County, the UO Duck Nest Wellness Center, and the Oregon Public Health Corps. She also loves to skateboard, mosh at house shows, and has recently started bouldering!