---
Candidates interested in working with Beyond Toxics should have:
A passion for environmental justice.
A commitment to building a more diverse, equitable and inclusive environment in the office and in the larger community.
An ability to form meaningful working relationships with diverse and sometimes disparate constituencies.
A positive, open, solutions-oriented approach to work and a sense of humor.
Career Opportunities
There are no job openings at this time.

BEYOND TOXICS NON-DISCRIMINATION POLICY
This policy states Beyond Toxics' position on discrimination.
Beyond Toxics values and supports diversity in principle and practice. There shall be no barriers to full and equal participation and/or employment in this organization on the basis of race, creed, color, ethnicity, national origin, religion, sex, sexual orientation, gender expression, age, marital status, physical or mental ability, veteran status, military obligations, national origin or source of legal income.
This policy will be followed by Beyond Toxics' governing board, staff, volunteers, outside vendors, consultants, and contractors and will be applied to members and those served by the organization.
---
Sophia Larabee, former Environmental Justice Intern
Internships
We generally work with interns on a case by case basis. These internships are a collaborative process where we connect with students to learn more about their strengths, skills and interests. During this process, we share our current project needs and together develop a meaningful internship.
Previous internships include:
GIS and Mapping Fellow
Development and Events Assistant
Photography Intern
Spanish Translator
If you are interested in connecting with us to develop an internship, please fill out the form for internships below.
---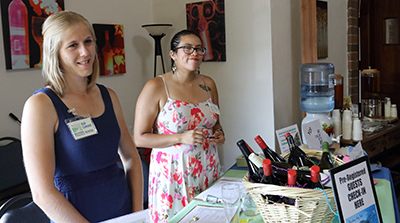 Kali Lamont (L), Summer 2017 Bee Jazzy organizing intern and Ana Molina (R) are ready to greet guests as they arrive.
Volunteer Opportunities
Thank you for your interest in volunteering with Beyond Toxics! Volunteers are welcome to help us at events and around the office with general operations and event management, or casually volunteer when the need arises.
Some examples of areas where we can use volunteer help:
Staffing Events
Office Organizing
Research for Website Updates
Community Projects
Air and Water Testing
Policy Advocacy
Gardening/Landscaping around the Office (Phoenix office location only)
...and much more!
If you have questions please contact us.
---
If you are interested in volunteering with Beyond Toxics, please start the process by filling out the form below. Thanks! We look forward to being in touch!
<
"
Everybody can be great...because anybody can serve. You don't have to have a college degree to serve. You only need a heart full of grace. A soul generated by love.
"