In 2019 Beyond Toxics was one of ten environmental protection nonprofits that worked with Governor Brown to reach an historic agreement to curb aerial herbicide sprays and move Oregon to a new era of riparian protections based on science and precedent in other states.
Last week, representatives from environmental organizations and the timber industry took action to protect fish and wildlife habitat streams on over 10 million acres of forestland in Oregon by reaching a new agreement to overhaul the Oregon Forest Practices Act. Thirteen conservation and fishing groups joined 13 timber representatives to agree on key modernizations to Oregon's outdated forest management practices.
The parties agreed on a framework for:
Riparian buffers for streams, rivers, and bodies of water;
Steep slopes protection to minimize erosion and protect habitat;
An approach moving forward to improve forest roads;
Requirements to include Tribal participation in adopting rules and practices;
And a path forward to make adjustments and adaptation to forest practices in the future
On October 30th, the Governor announced this agreement in a press release. We are hopeful that a strong and collaborative science process will drive future changes that address the damaging effects of climate change and a warming climate that is challenging the survival of Oregon's native flora and fauna.
In a disappointing time of extreme political polarization in our state and our country, Beyond Toxics sees this new, collaborative spirit of this agreement a model to implement the stronger environmental protections in the years ahead.
What We Are Doing
Beyond Toxics provides leadership within statewide coalitions to link forest protections with climate mitigation while pressing for major reforms of forest laws and practices.
Beyond Toxics' history of research and grassroots organizing shaped the state discussion on aerial herbicide spray and public risk, watershed health, slash burning, biomass and other critical issues related to forest management. We advocate for modernizing Oregon's forest practices with underlying values of climate and ecosystem protection, environmental justice and rural community health.
Featured video!
Projects
State forests are highly valued as wildlife habitat, protection of viable watersheds for fish and drinking water, and places to hike, camp, fish, picnic or seek peace and quiet. Yet, the Oregon Department of Forestry manages our public state forests more like industrial timber tracts rather than for healthy ecosystems. Learn more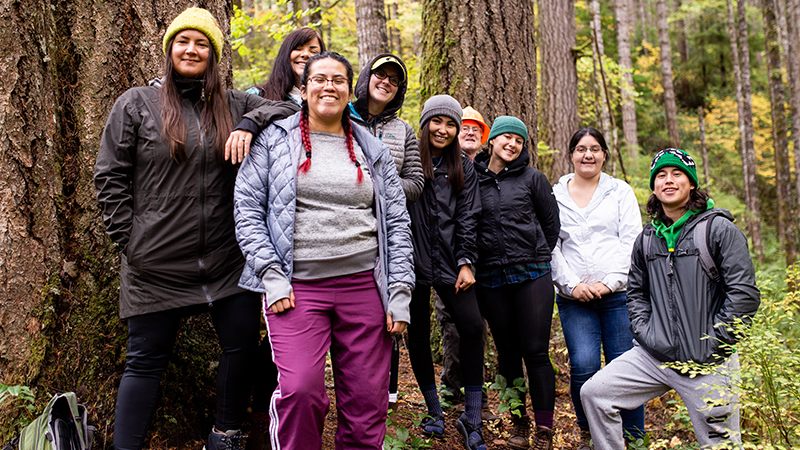 Each year we partner with small forest owners to host guided tours* in biodiverse forests. These projects demonstrate how good forest management can protect drinking water, biodiversity and sequester carbon on the land, all of which are practices that benefit future generations.
See dates and times of our next scheduled tour
SEE VIDEOS ABOUT A FEW OF OREGON'S RESILIENT FORESTS:
Resilient Forestry In Action - Hyla Woods (YouTube)
Shady Creek Natural Resources (YouTube)
Zena Forest (YouTube)
Willow Witt Ranch (YouTube)
* All 2022 tours leave from the east parking lot next to the Mahonia building (where the Beyond Toxics office is located) at 12:00. People needing to carpool should show-up no later than 11:55 AM. People taking their own car will be sent directions to Shady Creek. Plan to arrive by 12:50 for a 1:00 PM start time. Tours end at 4:30 PM and we return to Eugene no later than 5:30 PM. | (google map--look for the parking lot just to the east)
Beyond Toxics published the first comprehensive report on herbicide applications in industrial timber plantations and state forests. We've presented this information to state legislators, agencies and communities during over 50 town hall-style meetings across the state. We've reached out to communities by hosting over 50 town hall-style meetings across the state. We successfully protected old-growth forests by winning a ban on the use of a tree-killing herbicide following the death of 2,000 majestic Ponderosa pines in Central Oregon. And we helped shape the requirements for pesticide spray notification, buffers for drinking water, homes and schools and accurate reporting of individual chemical use as part of the successful SB 1602 (passed in early 2020). Learn more
Climate and Our Forestlands
We are advancing the most effective steps Oregon can take to confront the global threat of climate change by 1) protecting and growing our forests to sequester and store more carbon on the landscape, and 2) reducing greenhouse gas emissions from clearcut logging — a large source of carbon emissions and 3) protecting streams and rivers from chemical trespass to stop algal blooms and habitat loss for aquatic organisms.