The Resilient Forestry Campaign protects forest lands, watersheds and the ecosystems upon which native plants, wildlife and communities depend.
What We Are Doing
Beyond Toxics provides leadership within statewide coalitions to link forest protections with climate mitigation while pressing for major reforms of forest laws and practices.
Beyond Toxics' history of research and grassroots organizing shaped the state discussion on aerial herbicide spray and public risk, watershed health, slash burning, biomass and other critical issues related to forest management. We advocate for modernizing Oregon's forest practices with underlying values of climate and ecosystem protection, environmental justice and rural community health.
Projects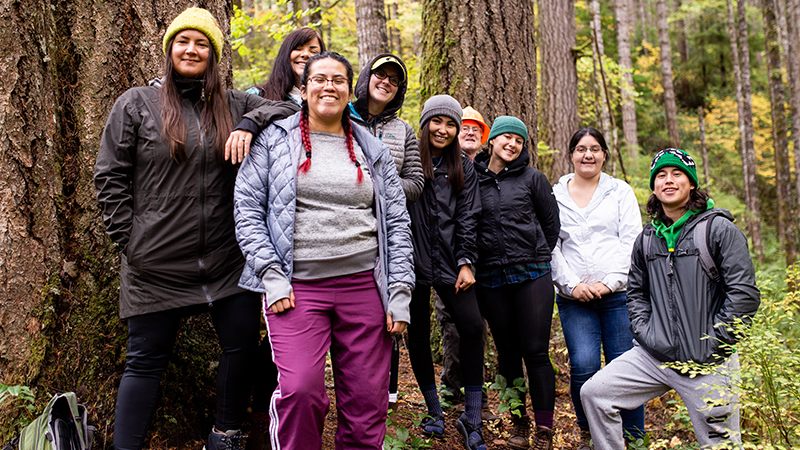 Resilient Forestry Tours
Each year we partner with small forest owners to host guided tours in biodiverse forests. These projects demonstrate how good forest management can protect drinking water, biodiversity and sequester carbon on the land, all of which are practices that benefit future generations.
SEE VIDEOS ABOUT A FEW OF OREGON'S RESILIENT FORESTS:
Shady Creek Natural Resources (YouTube)
Zena Forest (YouTube)
Willow Witt Ranch (YouTube)
Beyond Toxics published the first comprehensive report on herbicide applications in industrial timber plantations and state forests. We've presented this information to state legislators, agencies and communities during over 50 town hall-style meetings across the state. We've reached out to communities by hosting over 50 town hall-style meetings across the state. We successfully protected old-growth forests by winning a ban on the use of a tree-killing herbicide following the death of 2,000 majestic Ponderosa pines in Central Oregon. And we helped shape the requirements for pesticide spray notification, buffers for drinking water, homes and schools and accurate reporting of individual chemical use as part of the successful SB 1602 (passed in early 2020). Learn more
Climate and Our Forestlands
We are advancing the most effective steps Oregon can take to confront the global threat of climate change by 1) protecting and growing our forests to sequester and store more carbon on the landscape, and 2) reducing greenhouse gas emissions from clearcut logging — a large source of carbon emissions and 3) protecting streams and rivers from chemical trespass to stop algal blooms and habitat loss for aquatic organisms.