Natural Climate Solutions
SB 530, Natural Climate Solutions, passed as part of the "Climate Resilience Package!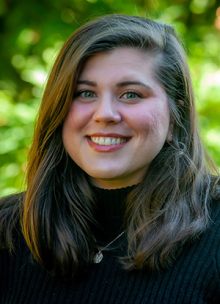 UPDATE: Governor Kotek has signed a crucial group of climate bills and is now the law!
SB 530, Natural Climate Solutions, was signed into law as part of a larger package of climate solution legislation: the "Climate Resilience Package" (HB 3409 & HB 3630)! This comprehensive package brings together and provides $90 million in funding for more than a dozen priority bills related to climate action. SB 530 is one of the many important bills that made it into this Climate Package.
Teryn Yazdani, Staff Attorney and Climate Policy Manager, says, "This is a great win for the climate and for Oregon's natural and working lands, as well as the communities that rely upon them! The ability for Oregon to now leverage tens of millions of dollars in federal funding for climate-smart land management practices to better sequester carbon and increase resilience is monumental."
TALKING POINTS of HB 3409 and HB 3630:
* The policies and programs included in this package were strategically crafted to leverage unprecedented federal funding for climate and clean energy.
* By investing roughly $100 million in crucial climate action and community resilience, the Climate Resilience Package will enable the state to leverage at least 10 times that in federal funding.

* The bipartisan Climate Resilience Package, HB 3409 and HB 3630, will provide essential public services to:
Strengthen the health and resilience of Oregon's communities, lands, and local economies, create and sustain local, family-wage jobs in construction, energy, and agriculture.
Drive down the cost of living through increased energy efficiency and lower energy bills through increased affordable access to renewable energy like solar, storage and microgrids, as well as life-saving cooling technologies like heat pumps to protect Oregonians from extreme heat.
Support Oregon's natural resource economies through healthier crops, improved water quality, increased drought and wildfire resistance, and provide rural communities with resources for emergency preparedness and resilience hubs.
Dave Eisler (left) leads a group of students on a tour of his sustainably-managed resilient forest, Shady Creek Forest. Vist our Resilient Forestry Tours page to find out more.

What will the Natural Climate Solutions bill (SB 530) actually do?

Position the state to leverage federal funding and private investments in natural climate solutions on natural and working lands;
Create a source of state funding for voluntary actions to remove climate pollution from the atmosphere and store it in natural and working lands;
Fund and direct state agencies to provide incentives and technical support to forest owners, farmers, and ranchers to implement natural climate solutions on natural and working lands; and
Invest in a comprehensive Oregon natural and working lands inventory and study opportunities for workforce development and training.
---
What are natural climate solutions?
Activities that protect or enhance the ability of natural and working lands to sequester and store carbon or reduce greenhouse gas emissions while maintaining or increasing climate resilience, water quality and quantity, human well-being, and biodiversity.
Examples of natural climate solutions include:
Urban tree canopy expansion;
Wetland and riparian restoration;
Improved agricultural practices, including: cover crop planting; rotational grazing; no till and reduced tillage;
Protection of drinking watersheds;
Coastal community protection from sea-level rise, storm surge;
Lengthened logging rotations for increased carbon storage and timber yield;
Why should Oregon support natural climate solutions?
These practices offer simple, proven solutions for both reducing the future impacts of climate change and confronting the impacts communities and land managers are already contending with, including drought, heatwaves, flooding, and wildfire.
This legislative session, Beyond Toxics is a part of a coalition advocating for passage of SB 530. SB 530 supports the viability of Oregon's forest owners, farmers, and ranchers by investing in natural climate solutions (NCS).
Benefits of supporting natural climate solutions on Oregon's natural and working lands

Leverage Significant Federal Resources for Oregon's Communities
Federal legislation including the Inflation Reduction Act (IRA), the Infrastructure Investment and Jobs Act (IIJA), upcoming 2023 Farm Bill, and potential passage of Recovering America's Wildlife Act will provide significant federal funding opportunities (1) for natural climate solutions. To fully access these resources, Oregon will need to be ready ahead of funding deadlines with coordinated partnerships and a list of ready projects to initiate natural climate solutions and secure matching funds.
Achieve Oregon's Climate Goals
Oregon is positioned as a national leader in low carbon energy, however it lags other states in implementing natural climate solutions. Carbon sequestration efforts must be scaled up in addition to Oregon's established emissions reductions goals. This bill will support the State of Oregon in achieving the 2035 and 2050 carbon sequestration goals recommended by the Oregon Global Warming Commission.
Support Oregon's Forest, Farming, and Ranching Economies
Oregon's forest owners, farmers, and ranchers support numerous economies across the state. It's time we repaid the favor by giving them the tools they need to confront and fight the threat of climate change.
Ensure Equitable Environmental Outcomes in the Face of Climate Change
This legislation will provide additional resources for communities already experiencing the impacts of climate change firsthand. According to the Environmental Protection Agency, the effects of climate change disproportionately fall on "underserved communities who are least able to prepare for, and recover from drought, heat waves, poor air quality, flooding, and other impacts." Providing additional resources for these communities should be a top priority for state legislators.
Protect and Enhance our Natural Resources
Practices that enhance carbon storage and sequestration, such as cover crops and longer logging rotations can provide numerous additional co-benefits.
Please be sure to thank your legislator for their support of this legislation (cross-check the final House/Senate vote counts to make sure your legislator voted YES on the package*) and especially our climate champions:
Senators: Lieber, Dembrow, Golden and Wagner
Representatives: Marsh, Rayfield, and Fahey

Contact options below...
I'm not sure who my legislators are:
*To see how your legislator voted on the climate resilience package:
1) visit this page
2) scroll down to the date of the final action: 6-24(S) and 6-24(H) the vote in the Senate is the "S" and the vote in the House is the "H"
then
3) press the blue plus button to reveal the voting history for each chamber.
ALSO: Read our 2023 Legislative Agenda page to learn more about the bills we are supporting and how you can take action to help us advocate for their passage!