Public Health Protection Zoning
UPDATE:

VICTORY FOR ENVIRONMENTAL JUSTICE!
The Eugene City Council voted unanimously to direct city planning staff to draft an ordinance to create a public health zoning code that will protect the health of residents and school children from industrial air, water and soil pollution. Councilors agreed: "No more J.H. Baxters in Eugene!" We will be the first Oregon city to embed health into our local land use laws!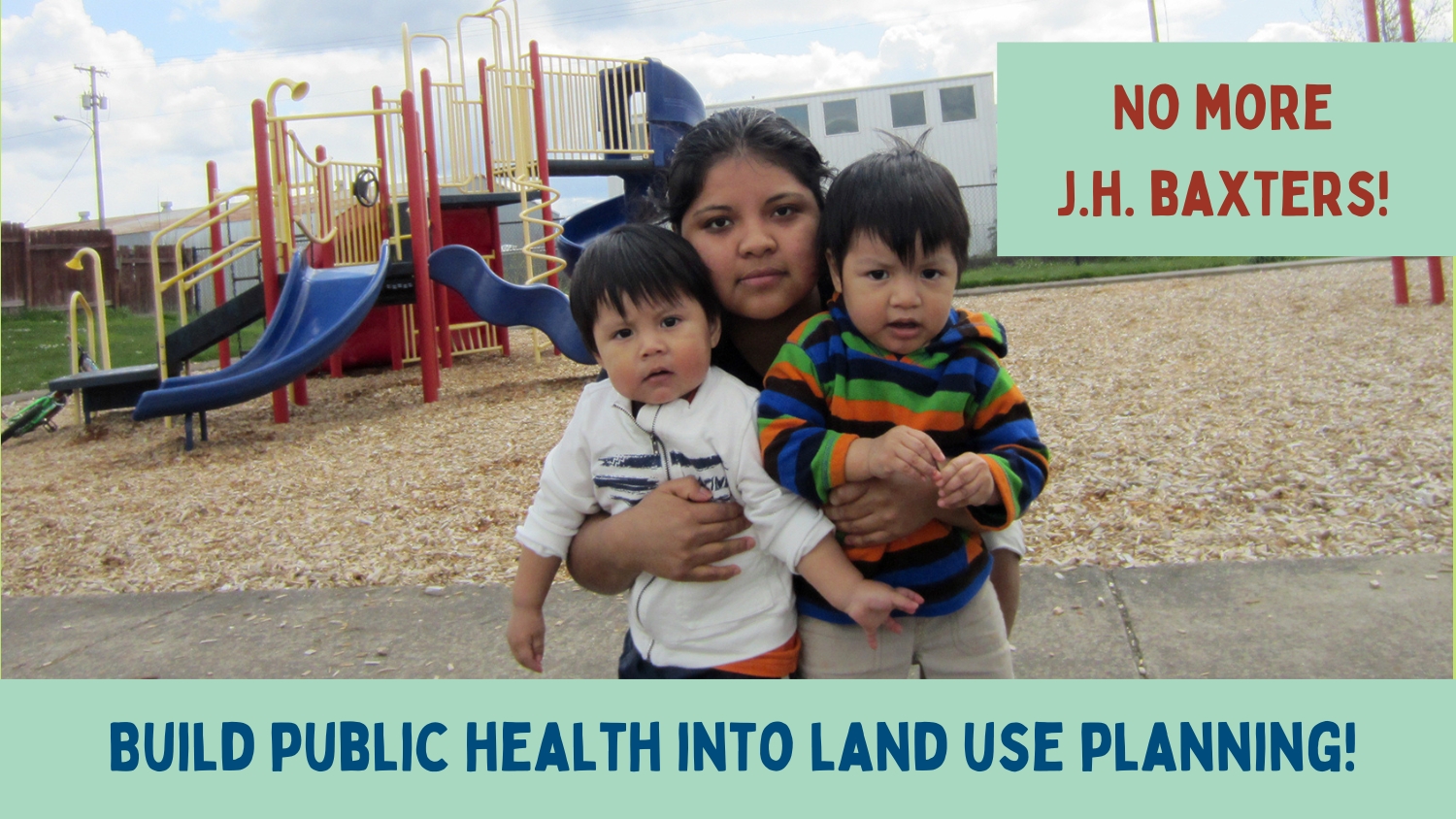 Beyond Toxics is fighting for better air quality!
Beyond Toxics is fighting to get ahead of the pollution problems confronting our neighborhoods. Based on what we have all learned from the debacle of extreme community harm caused by J.H. Baxter, we proposed that the City of Eugene adopt wh at is known as a Public Health Overlay Zone. Your voices showing support for prioritizing public health over increasing industrial emissions inside our urban boundaries finally made a difference!
What are the primary reasons to support the idea of incoporating public health into land use planning?
What does it mean to build public health into land use planning?
A Public Health Overlay Zone is an additional land use zoning code that applies to established residential neighborhoods and industrial zones. These types of zones are designed to ensure that future land development projects promote a healthy environment and improved quality of life for surrounding neighborhoods.
The City of Eugene was the first city in Oregon to adopt a land use concept with environmental and climate justice goals stated as a primary purpose. The ordinance was adopted in 2017 following strong advocacy by Beyond Toxics when the Bethel community learned that the City planned to annex industrial lands to add substantial additional acres for industrial and manufacturing jobs in the Clear Lake Road area in West Eugene. The Clear Lake Overlay Zone was adopted as part of the City's Land Use Codes Chapter 9, Sections 9.4150- 9.4170
As stated by the City, the Clear Lake Overlay Zone was adopted "as a means to ensure future development fulfills the community's desired outcomes for economic prosperity and increased employment opportunities, while addressing environmental justice concerns. The /CL Overlay implements supporting comprehensive plan policies that call for fairness and equity in achieving a healthy environment, vibrant community, and improved quality of life for surrounding neighborhoods." [See Clear Lake Overlay Zone Purpose 9.4150]
What will this do for Eugene communities?
The Public Health Overlay will uphold the community's values around environmental justice, climate change, sustainability, health, and conservation of natural resources. These new rules are designed to reduce pollution and improve public health for the local community going forward.
Why do we need to include public health into land use planning?
Eugene is moving to adopt the concept of a Public Health Overlay Zone.
A Public Health Overlay Zone can protect our community by:
Banning the most toxic potential land uses
Creating 1/4 mile buffer zones between industrial facilities and residential, park, and school zones
Build public health requirements into city code
Why these objectives are important

Most of the large polluters in Eugene are located in or near West Eugene neighborhoods thus leading to the worst pollution problems. West Eugene has large sections of industrial land and freight rail lines adjacent to residential properties and located near schools and parks, including the industrial corridors along Highway 99 and Roosevelt Boulevard. For these reasons, it is clear that West Eugene neighborhoods can greatly benefit from a public health overlay zone!
J.H. Baxter shows the need for the city to take proactive measures to stop bad polluters before they locate near residences. We also need to hold companies accountable if they do not act in the public's interest.
The Clear Lake Overlay Zone is a model that can be used and expanded on to protect the public in other parts of the city where industrial lands are currently close to homes, schools and parks, or may be so designated in the future. The Clear Lake Overlay Zone prohibits some of the worst polluters known to emit chemicals that cause cancer, heart disease and pulmonary disease from operating in our city.
Eugene has the authority to make decisions about how we will deal with new and existing public health threats by building protections into our local land use codes. Authority can be spelled out through updates to the city's land use codes or through an overlay zone.