Oregon's Industrial Forests and Herbicide Use
---
Report: Oregon's Industrial Forests and Herbicide Use: A Case Study of Risk to People, Drinking Water and Salmon
---
Authors:
Laurie Bernstein, US Forest Service Fish Biologist and GIS Specialist, retired
Lisa Arkin, Executive Director, Beyond Toxics
Roberta Lindberg, M.S., J.D.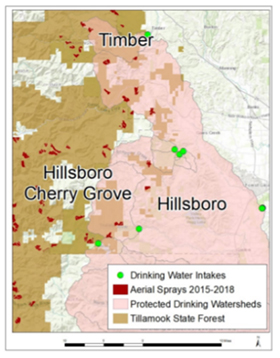 Beyond Toxics Testimony to the Board of Forestry (9/8/21) - PDF
Beyond Toxics used the state's Forest Activity Electronic Reporting and Notifications System (FERNS) to find and analyze all herbicide sprays on state forests from 1/1/2020 through 8/30/2021. We presented our initial findings to the Board of Forestry on September 8th. We found that 34% of all sprays were performed by helicopter as aerial herbicide sprays in those 20 months. We also found that, on average, 4-6 ingredients are combined in one tank mix and applied to state forest lands, despite the lack of research showing that such chemical concoctions are safe to spray in watersheds or wildlife habitat areas. The presentation was accompanied by a request to place a 2-year moratorium on aerial pesticide sprays and initiate a comprehensive analysis of the impacts of aerial pesticide spray to watershed, community, and environmental health. Over 200 Oregonians submitted comments to the Board of Forestry sharing these concerns and supporting our request.