Arjorie Arberry-Baribeault never envisioned herself on the front lines of the fight for clean air in West Eugene, but when her thirteen year-old daughter was diagnosed with Hodgkin's Lymphoma, she started asking questions. Arjorie's search for answers led her to Beyond Toxics.
Arjorie, once a beautician, is now an advocate for clean air and justice! With her leadership, we are proud to see the West Eugene community coming together to work towards a safer environment for all.
Hodgkin's Lymphoma is blood cancer that is linked with exposure to toxic chemicals. For Arjorie and her daughter Zion, a happy teenager excelling in school and looking forward to her next soccer match, the diagnosis of cancer was devastating. What was supposed to be a five-month treatment plan stretched to three years of hospitalizations. Then, shockingly, one of Zion's best friends, Simon, was diagnosed with the same rare cancer. Both families were long-time residents of the Bethel neighborhood in West Eugene's industrial corridor.
These two personal battles with childhood cancer spurred Arjorie to action. She wondered: "What if children were being harmed by toxic chemicals released by nearby industrial polluters? What if their homes, parks and schools had unhealthy levels of pollutants in the air and soil?"
Arjorie now organizes and attends community meetings, mentors neighbors concerned about the high levels of pollution, helps with air quality monitoring projects and gives testimony to local government. She is determined to do everything she can for clean air so that other children won't experience cancer like Zion and Simon endured. We all celebrated this year when Zion was declared cancer-free!
---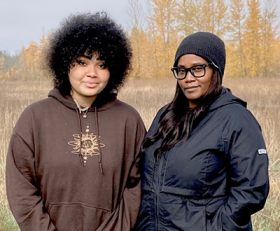 Arjorie Arberry-Baribeault (R) and her daughter, Zion.
"Not everyone gets the opportunity to live and walk in their purpose. Joining with the Beyond Toxics team has opened the door for me to be able to help do something about the pollution in West Eugene."
Eugene Weekly Community Waits on Pollution Fine Enforcement
West Eugene residents report uptick in odors as DEQ talks settlement with JH Baxter
By Cole Sinanian and Clayton Franke
Dec. 2, 2021
--------------------------------
A Solution for Pollution
After dealing with the effects of neighborhood pollution for decades a local coalition investigates causes and solutions
NEWS BY TAYLOR PERSE - Feb. 18, 2021
--------------------------------
Toxic Air in West Eugene is a Problem. Here's How to Help.
Sometimes, people don't consider the air they breathe. In West Eugene, toxic air forces residents to fight for clean air and their lives.
Victoria Ginzburg for Medium - June 6, 2021
--------------------------------
Eugene wood treatment facility J.H. Baxter fined more than $200,000 for repeated environmental violations
By Adam Duvernay, Register-Guard - March 6, 2021
(PDF)
--------------------------------
J.H. Baxter & Co. wants to appeal $223,440 fine for bevy of alleged environmental violations
By Adam Duvernay, Register-Guard - March 26, 2021
(PDF)
--------------------------------
Oregon fines wood treatment facility $223K over environmental violations
By AP staff (AP)
EUGENE, OR - March 5, 2021
--------------------------------
J.H. Baxter Fined For Hazardous Waste and Water Quality Violations
The fines issued by DEQ amount to over $223,000
BY TAYLOR PERSE, Eugene Weekly - 3/04/2021
--------------------------------