Across Oregon, native bees are rapidly disappearing from our landscape. This ecological catastrophe puts our ecosystems and food systems in peril. It is urgent that Oregon take action NOW to save bees from extinction! The Oregon Pollinator Protection Act (co-sponsored by Sen. Prozanski and Rep. Pam Marsh ) ensures that homeowners don't reach for bee-killing pesticides on store shelves, bringing these poisons home. This will make a significant difference in the survival of native bees across the state! The last place for dangerous and persistent poisons is in the yards of Oregon homeowners. – Scroll down to read more…
(click on any of the images above for the PDF version of the Fact Sheet on the bill)
The Oregon Pollinator Protection Act is co-sponsored by Sen. Prozanski and Rep. Pam Marsh
PURPOSE:
Classify Neonicotinoid pesticides, which are linked to the decline of honey bee colonies and native bees, as a Restricted Use Pesticide (RUPs). (Bill number coming soon!)
RUPs have the potential to cause unreasonable adverse effects to the environment and injury to animals, applicators or bystanders without added restrictions. The "Restricted Use" classification restricts a product, or its uses, to use by a certified applicator or someone under the certified applicator's direct supervision. RUPs are not available for purchase or use by the general public.
The Oregon Department of Agriculture has already restricted neonicotinoids: it is illegal in Oregon to apply any product containing dinotefuran, imidacloprid, thiamethoxam, or clothianidin, regardless of application method, to linden trees, basswood trees or other Tilia species.
The proposed legislative concept would require State Department of Agriculture to adopt rules prohibiting the sale and use of pesticide products containing nitro-group neonicotinoids to any person who is not a certified applicator holding a current pesticide applicator license, or a person working under the direct supervision of a certified pesticide applicator, or a licensed veterinarian.
An Act Concerning Neonicotinoid Pesticides – Restrictions on Sales and Use
(Oregon Pollinator Protection Act of 2017 – OAR 603-057)
LC 2973
For the purpose of prohibiting a person from selling at retail sites material, seeds or plants that have been treated with a neonicotinoid pesticide on or after January 1, 2018.
Prohibiting a person from purchasing or using a neonicotinoid pesticide on or after January 1, 2017 unless the person is a certified applicator or a person working under the direct supervision of a certified applicator, a farmer on private agricultural property, or a person working under the direct supervision of a farmer who uses the product for a certain purpose, or a veterinarian to mitigate fleas, ticks, heartworms or other animals that are harmful to the health of domestic animals.
Requires the Oregon Department of Agricultural to define neonicotinoids and list them as a Restricted Use Pesticide.
Neonicotinoid Pesticides means any pesticide containing a chemical belonging to the neonicotinoid class of chemicals, and other like chemicals with the same mode of action as the neonicotinoids including but not limited to:
(1) Imidacloprid
(2) Nithiazine
(3) Acetamiprid
(4) Clothianidin
(5) Dinotefuran
(6) Thiacloprid
(7) Thiamethoxam
(8) Any other chemical designated by the Department as belonging to the neonicotinoid class of chemicals or other chemicals with the same mode of action as the neonicotinoids.
Requires the Department of Agriculture to limit the use of neonicotinoid pesticides to the general public;
Requires the Department of Agriculture to incorporate the RUP classification of neonicotinoid pesticides into the State's Pollinator Protection Plan;
Requires the Department of Agriculture to review pesticide laws and regulations and make recommendations to ensure state laws and regulations are consistent with the protection of pollinators.
Any person who violates any provision of this article is guilty of a misdemeanor. Unless another penalty specifically is provided elsewhere in this article, the person, upon conviction, is subject to a fine not exceeding $1000.
Unless another penalty specifically is provided elsewhere in this article, any person found guilty of a second or subsequent violation of any provision of the same title, is subject to a fine not exceeding $2,000, or imprisonment not exceeding one year, or both, with costs imposed in the discretion of the court. For the purposes of this section, a second or subsequent violation is one which has occurred within two years of any prior violation of this title and which a rises out of a separate set of circumstances.
Like to endorse this bill? Please email: info@beyondtoxics.org.
Oregon Pollinator Protection Act 2017 is endorsed by:
Cascadia Wildlands
Center for Biological Diversity
Defenders of Wildlife
Friends of Family Farmers
Friends of Trees
Hells Canyon Preservation Council
Kalmiopsis Audubon Society
KS Wild
Lane County Audubon
Lomakatsi Restoration Project
Native Plant Society of Oregon – Siskiyou Chapter
Oregon Chapter of the Sierra Club
Oregon Conservation Network
Oregon Environmental Council
Oregon Natural Desert Association
Oregon Wild
Oregon Student Public Interest Research Group (OSPIRG) – Southern Oregon University
OSPIRG – University of Orgeon
OSPIRG – Lane Community College
Our Family Farms
Pacific Rivers Council
Pollinator Parkways
Pollinator Project Rogue Valley
Portland Audubon
Rogue Audubon
Rogue Climate
Southern Oregon Seed Growers Association
Trout Unlimited
Umpqua Watersheds
Walama Restoration Project
Willamette Farm and Food Coalition

Mountain Rose Herbs
Hummingbird Wholesale
Coconut Bliss
Bee Thinking
AVEDA
LUSH
NatureLee Inspired
Klamath-Siskiyou Native Seeds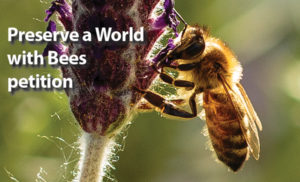 Sign our "Preserve a World with Bees" petition TODAY!
ALSO:
Please sign this new online petition from the Center for Food Safety:
Tell the EPA: Eliminate the use of Bee-Toxic neonic seed coatings!
---

Join in the consumer campaign targeting Ace Hardware and True Value Hardware stores!
Pledge to shop elsewhere this Spring until Ace and True Value Hardware have committed to remove from their shelves products containing neonicotinoid pesticides, including garden plants injected with bee-killing pesticides. | MORE about Campaigns Targeting Retailers–>
Get involved with the latest national consumer action campaign to help eliminate neonicotinoid (bee-killing) pesticides from store shelves. True-Value and Ace, America's BIGGEST hardware stores sell neonicotinoid pesticides! Please call-in today!
Read the Feb. 23 2016 press release (PDF)
Letter to John Venhuizen, CEO of Ace Hardware…
On behalf of the millions of members and supporters of our growing coalition of environmental, consumer and worker groups across the U.S. and Canada, we are writing to follow up on Ace's recent public statement that it is willing to move away from products containing neonicotinoids. We are pleased that Ace is listening to customer concerns and we urge Ace to commit to not sell products containing pesticides harmful to bees, butterflies, birds and other wildlife. This includes pesticide products containing systemic neonicotinoid pesticides, as well as garden plants treated with these chemicals. | Read the entire national coalition's letter to Ace Hardware
Please get involved today! We're teaming up with a national coalition of groups to contact Ace Hardware and True Value Hardware to demand that they remove bee-killing neonicotinoid pesticides from their shelves! We succeeded in getting Home Depot and Lowe's to do the same….Let's continue to work together to stop the horrific bee declines that are ongoing!
—————————————————————————————————
Preparing for Spring gardening?
Read up on the products to avoid – FOE bee-friendly gardening fact sheet (PDF)
————————————————————————————————–
Write your representatives in Congress and ask them to support a national proclamation making August 15th "Native Bees Conservation Awareness Day."
TakePart Pledge Action Campaign: ask your state's governor to declare Aug. 15th as Native Bees Conservation Awareness Day!
Oregon has taken notice of the importance of native and wild bees. Governor Kate Brown has just signed the proclamation we requested of her. Now is the time to get other states to do the same: ask your governor to declare Aug. 15th as Native Bees Conservation Awareness Day!
——————————————————————————————–
MORE online petitions…
"Sign the Petition to Protect Monarch Butterflies under the Endangered Species Act!" (TakePart)
Tell Bayer to stop making bee-killing pesticides! (Friends of The Earth)
———————————————————————–
What you can do to support campaigns to save bees everywhere:
---
Facts about the Importance of a Neonicotinoid Ban
Bee Kills Demonstrate the Need to Take Action
In Oregon, seven neonicotinoid insecticide applications in the summers of 2013 and 2014 caused the death of nearly a 100,000 bumble bees representing hundreds of colonies. Poisoning incidents occurred in Beaverton, Eugene, Portland, Wilsonville and other cities. High-profile investigations by the Oregon Department of Agriculture implicated dinotefuran in two of the kills and a closely related pesticide, imidacloprid, in the others. These insecticides, along with clothianidin and thiamethoxam, are neonicotinoids, the most widely used group of insecticides in the world. They are highly toxic to honey bees, as well as many native pollinators, including bumble bees.
Scientific Community Confirmation of Neonicotinoid Toxicity
Neonicotinoids were recently evaluated by a large panel of experts chartered under the International Union for the Conservation of Nature (IUCN), known as the Task Force on Systemic Pesticides. This panel assessed effects of systemic insecticides on an ecosystem level, reviewing approximately 800 peer-reviewed articles on neonicotinoids, and another systemic insecticide fipronil.
Their report, entitled the "Worldwide Integrated Assessment on Systemic Pesticides," is being published serially in Environmental Science and Pollution Research. Key findings include:[1]
Neonicotinoids are present in the environment "at levels that are known to cause lethal and sublethal effects on a wide range of terrestrial (including soil) and aquatic microorganisms, invertebrates and vertebrates."
The active ingredients persist, particularly in soils, with half-lives of months and, in some cases, years.
The metabolites of neonicotinoids can be as toxic or more toxic than the active ingredients.
Standard methods used to assess the toxicity of a pesticide (e.g. short-term lab toxicity results) fail to identify the subtle, yet severe impacts of neonicotinoids.
The most affected group of species include insect pollinators. Furthermore, harm to pollinators has been demonstrated at field relevant levels.
Concerns for aquatic insects
All neonicotinoids exhibit high water solubility (e.g. Gervais et al. 2010), and accordingly, have the potential to move into surface water or leach into ground water.
Extremely low concentrations, regularly found in surface water are linked with harmful effects to a wide range of insects. The effects of neonicotinoids also appear to be near irreversible. That means that their effects are cumulative over time.
Mayflies and stoneflies, important food source for trout species, are especially sensitive to neonictinoids. Some studies have found that neonicotinoids are highly persistent in water, sometimes lasting more than five years.  The result is cascading ecosystem impacts that can significantly reduce this important food source for fish and birds.
Researchers concluded that:
"Existing information presented here suggests that stricter regulations and use of neonicotinoid insecticides are warranted to protect aquatic ecosystems and the broader biodiversity they support. (Morrissey, C. et al. 2014)
A prohibition on neonicotinoids fits well within an Integrated Pest Management program
The Portland Parks department practices Integrated Pest Management. The increasingly widespread preemptive application of neonicotinoids represents a fundamental shift away from IPM. A key component of IPM is monitoring for pests and responding accordingly. Yet, neonicotinoids are often used prophylactically — prior to pest damage and in the absence of pest abundance data to demonstrate a need for control.
Furthermore, IPM uses a variety of methods to address pest problems. In many IPM programs pesticide use is only when other methods are ineffective or not feasible. And then the most narrowly focused, least toxic products are selected and used in the most targeted manner possible. When neonics came on the market many were considered reduced risk. Unfortunately, due to their persistence in plants, soil and water, their high toxicity to beneficial insects it is becoming increasingly apparent that their use is harmful.
For Portland to remove highly toxic, long-lived, broad spectrum insecticides is compatible with IPM and shows how the city is able to adapt as new science comes available.
The new rules by the Oregon Department of Agriculture do not address many of the risks associated with neonicotinoids.
The Oregon Department of Agriculture banned the application of neonicotinoids on one species of tree in 2015. ODA's new rules are specifically designed to stop incidents of bumblebee mortality from acute exposure. The rule only applies to one species of pollinator attractive tree. Independent, peer-reviewed, published research has documented numerous hazards to native and managed bees from low level, field realistic chronic exposures to neonicotinoids. For example, bumble bees can suffer reduced reproductive success after low-dose field realistic neonicotinoid exposure. Researchers have also measured a reduction in both honey bee and bumble bee's foraging ability after very low, field realistic exposures. These subtle effects can severely compromise population fitness and growth.
More broadly, a recent analysis was conducted by a task force of 29 independent scientists from around the world. The task force evaluated more than 800 peer-reviewed studies on neonicotinoids and another systemic insecticide fipronil. Their findings, also peer-reviewed and published, conclude that present day legal use of these compounds is likely to cause a wide variety of negative impacts on pollinators, other beneficial invertebrates and the broader environment.
Human Health Concerns
A major increase has occurred over the last two decades in human consumption of neonicotinoids via their incorporation in fresh and processed foods and beverages, as well as human consumption of meat and poultry from animals fed with neonicotinoid-treated feed. Many uncertainties exist as to whether consuming neonicotinoids in food or beverages, including water, may adversely affect human health, with recent concerns focused on harm to the developing brain via in utero exposure.
Several analyses have focused on neonicotinoid residues in tea, with one study in particular focusing on potential neurotoxic symptoms that may have resulted from consuming high amounts of contaminated tea.
According to the 2012 USDA Pesticide Data Program, imidacloprid was the most commonly detected neonicotinoid found on foods sampled, with 13 of the 20 varieties of fruit and vegetable tested containing imidacloprid residues. The highest levels were found in cauliflower (30.1%), sweet bell peppers (26.3%), summer squash (22.6%), cherry tomatoes (22%) and winter squash (17.4%).
The second most commonly detected neonicotinoid was acetamiprid, prevalent in baby foods and apple juice, in addition to sweet bell peppers.
Research exists to suggest that the "allowed tolerance" levels of pesticide residues is flawed in general, and specifically flawed when applied to infants and children, whose immune systems are not fully developed, However, in most cases, the neonic residues reported by the USDA do not exceed the FDA's tolerance levels.
Currently, there is inadequate data and numerous uncertainties regarding risks to humans from eating and drinking higher levels of neonicotinoids. Until further research is conducted, EPA's current assessments cannot reasonably determine whether tolerances for neonicotinoids will or will not have unreasonable adverse effects on human health. When in doubt about acute and chronic effects of pesticides on human health, we must err on the side of caution and do what is necessary to eliminate the presence of systemic pesticides in our food, water and soils.
[1] Van der Sluijs J.P., et al. 2014. Conclusions of the Worldwide Integrated Assessment on the risks of neonicotinoids and fipronil to biodiversity and ecosystem functioning. Environ Sci Pollut Res, doi:10.1007/s11356-014-3229-5.
Read more about our Save Oregon's Bees project
---
2014 work…
Gardeners Beware 2014 Report
(download and read the report – PDF)
See the Gardeners Beware 2014 video from Friends of The Earth below…(Beyond Toxics was a participant in gathering plant samples)
Also, read Lisa Arkin's latest blog, "Heartbreaking Day for Bees in Eugene during National Pollinator Week"
AS PART OF OUR FEBRUARY 2014 EUGENE BEE SWARM, we're encouraging people to contact Home Depot and Lowe's to demand that they remove products containing neonicotinoids from their store shelves…
MAIL IN YOUR cards and letters directly:
1) Frank Blake, CEO, Home Depot
2455 Paces Ferry Road | Atlanta, GA 30339
2) Robert A. Niblock, CEO, Lowe's
1000 Lowe's Blvd. | Mooresville, NC 28117
Best call in numbers:
Home Depot: 1-800-466-3337
Lowe's: 1-800-445-6937
Other pre-written letters you can use to print out and send in to both Home Depot and Lowe's (provided by Friends of The Earth)
---
Other actions you can take…
1) Sign the online petition to demand that Home Depot and Lowe's STOP selling bee-killing pesticides to unsuspecting consumers.
2) Read Gardeners Beware, a NEW report by Friends of The Earth revealing bee-killing pesticides hiding in supposedly "bee-friendly" garden plants in America's major retailers.
3) Show your support by signing our pledge and become a friend of Save Oregon's Bees…
3) Call on Oregon businesses to stop using dinotefuran and other neonicotinoid insecticides that we know are lethal to our bees. We know Oregon's businesses can do better, and we're asking them to start using safer alternatives. | Sponsored by Oregon League of Conservation Voters
4) In Congress, a great deal of interest and support has been generated around a bill introduced by Oregon's Rep. Earl Blumenauer. Demand that the U.S.Congress act now to pass Rep. Blumenauer's "Save America's Pollinators Act" (H.R. 2692). | Read more about the Save America's Pollinators Act.
5) Pesticide Action Network petition: Tell EPA's leader: Step up & protect bees!
---
---
Contribute
Please help us save Oregon's bees! Become a member of Beyond Toxics TODAY!
Won't you join us in imagining, and working for, a world beyond toxics?
Beyond Toxics is a 501(c)(3) non-profit organization and all contributions are fully tax-deductible. Please consider giving a gift of a Beyond Toxics membership to a friend or family member!
---
 Beyond Toxics is a 501(c)(3) non-profit organization and all contributions are fully tax-deductible. Please consider giving a gift of a Beyond Toxics membership to a friend or family member!
---
Bee Pledge names:
Zoe Cohen

Deborah Strochlic

Thelma Soderquist

Jill Davidson

Ann Kneeland

Maria Santos

Christina Allan

Gwyneth Iredale

Lindsay Earthsong

Rene Kane

Mirranda Willette

CJ Blaney

Susanne Giordano

Marsha Barr

Suzanne Gascoyne

Madeline Smith

Tricia Clark-McDowell

Diana Abernathey

Dee Tvedt

Christine Zeller-Powell

Lorraine Kerwood

Daniel Johnston

Darrell Jones

Kathy Ging

Lucia Hardy

Rodolfo De Oliveira

Ariel Wills

Susan Forester

Rusty and Annie Olsen

Dianne Ensign

Kathy Arbuckle

David Saul

Adrianne Elsey

Laura Ohanian

Eliza Mclntyre

Donald Gudehus

Michael Sanchez

Sabena Stark

Roxanne Ericson

Sabrina Siegel

Barbara Sklar

Bonnie Nedrow

Jon Davis

Mark Ryzin

Menina Newman

Caroline Skinner

Bill Bezuk

Gary and Kimie Paulson

Liz Veazey

John and Michelle Fletcher

Alice Warner

Phyllis Fischer

Chris Shipp

Lorna Baldwin

Vicki Levine

Patty Kincaid

Judith

Leslie Oldenburg

Lisa Arkin

Eliza McIntyre

John Jordan-Cascade

Felicia Rheaume

Sherry Tester

Linda Page

Camille Leinbach

Olivia Sotelo

Jennifer Harris

Diana Power

Rachel Smith

Heidi Cox

Kimberly Seymour

Irene Wolansky

Jenny Ulum

Arica Duhrkoop-Galas

Sarah Johnson

Mark Wachs

Mark Van Ryzin

David Cummings

Chuck Mitchell

Steven Medlin

Marilyn Lowe

Mackenzie Rivers

Becky McCoy

Nicole Hansen

Rosana Costello

Ron Castro

Keu Ashley

Heiko Koester

Bonnie Richman

Robert Pitrey

Julian Barnowske

Neil Hucter

Tom Hayward

Jane Schneider

Tami Pierson

Kate Hamer

Heidi Tafjord

April Jordan

Dale Kegley

Alison Halderman

Megan Perres

Anne O'Brien

Renee Benton

Barbara Boctlnovic

Daniel Williams-Huston

Holly Tripp

Rachel Nelson

Teresa Kaminski

Babara Framm

Heather Bennett

Oregon Sustainable Beekeepers

Nan Muir

Terry Steiner

Nora Fandino

Joellen Niedich

Dorra Kelleman

Heather Bennett

Winston Maxwell

Alice Warner

Sheila Decker

Jasmine Olson

Lucy White

Tailia Reimel

Lynne Michelle

Erica Mitchell

Patricia Stockwell

Tiffany Smith

Richard Harlan

Charlotte Sahnow

G. Keith Walker

Michelle D'Amico  

Matt Nelson

Diane Garcia 

Linda Reeves

Maggie Cline

Irene Squizzato

April Paulson

Ashish Naik

Tom Woxell

Susan Marston

James Hershiser

Laura Hofer

Donald Hausmann

Jasmine Samples

Tammy Goughnour

Paula Thibaudeau

Phelena Cramer

Autumn Buss

Summer Brown

Gena Kennedy

Elizabeth Grainger

Steph Lawson

Reva Bishop

Catherine Fresia

Susan Harlan

April Lovejoy

Stephanie Humanic

Lori Bonicelli

Phil Warner

Siri Michel

Vanessa Kennedy

Jane Foxglove

Jan Fryer

Laura Jabri

Jacqueline Boissonneau

Melissa Newman

Angie Delisle

Nancy R

Jeanice Deering

Gina Cubbage

Shannon Buck

Andrea McCluskey

Heather Jackson

Tamara Fairbanks-Ishmael

Elizabeth Baumwirt

Rachel Lewis

Linda Hoyt

Kathy Jenkins

Melanie Gamble

M. McCann

Janelle Hopper

Sandra Gray

Debra Nord

Debbra Euston

Stacie Chandler

Emily Copeland

Tom Kerns

Ann Meister

Tyler Knapp

Kalra Anderson

Heather Tucker

Mary Damiani-Cornelius

Elizabeth Kluvers

Misty Skeen

Chiara Reese

Elizabeth Hernandez

Laura Abadie

Cindy O'Connor

Melissa Mutterspaugh

Tracy Kelley

Nicole Badgley

Kimberly Smith

Denise Ruch

Shawn Donnille

Susanne Schroeder

Netti Garner

Jenn and Dave Disciascio

Ingrid Edstrom

Jana Switzer

Charlotte Sahnow

Paris Conwell

Jacque Wardle

Nora Holley

Melody Carr

Angelina Swanson

Charlotte Kreitlow

Shirl Trowbridge

Laura Stice

Barb Oppen

Mary Wall

Stephanie Tidwell

Aimee Young

Gerry Wilson

Gary Rondeau

Jim Luzzi

Steve Stoneburg

Sandra Juliano

Bertie Stringer

Carolyn Breece

Patty Driscoll

Judy Hinson

Kelley Wilson

Robin

Rhonda

Eileen

Tami

Anna Alkin

Heather Goodwin

Romney Taylor

Madalyn Patterson

Thea Albright

Elizabeth Berggren

Janet Nash

Kathy Black

Mysti Frost

Ben Dechter

Susan Lichtenwalt

Martina Miles

Heather McGill

Robert Gillespie

Ken Mullins

Kelly Lyon

Roxanne Neumann

Julia Green

Pat McConnell

Alison Behrends

Shannon Salmon

Anita Engiles

Carrera Ramirez

Linda Resuirs

Ian Holt

Alyson Wade

Bill Gilbert/ Paula Naas

Douglas Wiltshire

Bonnie King

Julie Kirk

Katherine Knoules

Linda Clash

Sarah Nyburg 

Judy Collins 

Amary Taylor 

Amy Carpenter

Kathleen Allgood

Margaret McGinnis

Alison Applebee

Brandi Miss

Lee Zucker

Lisa Bianco-Davis

Will Doolittle

Jyoti Naik

Aimee Mulaner

Russell Pierson

Debra Levinson

Mark Stevens

Marler McGinnis

Brian Kitching

Corrie Coston