Legislative/Policy Victories in 2014
Read the Beyond Toxics News Release on the two Winter 2014 Legislative Victories: "Eugene City Council bans neonicotinoids and Oregon Governor signs bee protection legislation: Both policies are first to pass in the nation!"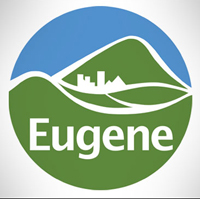 Feb. 28, 2014 At the request of Beyond Toxics, Eugene's City Council Wednesday night (2/26/14) voted to ban the use of neonicotinoid pesticides on city property. The Council Resolution, "Enhancing Current Integrated Pest Management in Parks," also expands the current Pesticide-Free Parks program and requires all city departments to adopt the same IPM standards and protocols as the City's Parks and Open Space Division.
The Eugene City Council resolution, the first one of its kind in the nation, passed by unanimous consent in a council work session. The language of the resolution specifically includes a strong concern for children's health as well as protecting bees and a host of other pollinators in Eugene's environment. (Read the Feb. 28th Press Release)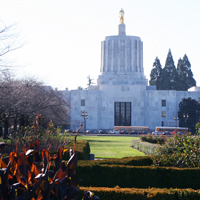 Thursday, March 6, 2014: Today Governor Kitzhaber signed into law the Save Oregon's Pollinators Act (HB4139-A). | RELATED: Read more about the Save America's Pollinators Act.
This is the nation's first statewide legislation passed with the intent to better protect pollinators from the highly toxic class of pesticides called neonicotinoids. The compromise bill passed both the House and Senate with overwhelming bipartisan support.
The bill requires all pesticide applicators to receive training on ways to protect pollinators from pesticide exposure. The pollinator protection information will also be included in applicator licensing exams. The bill also establishes a task force required to study additional bee-protection measures and to work towards offering the 2015 legislature a proposal to protect Oregon's vitally important pollinators.  More details about the bill.
-----------------------
On Nov. 21, 2013: Executive Director, Lisa Arkin, delivered nearly 12,000 signatures of Oregonians who want to save our bees to the Oregon Department of Agriculture's Bruce Pokarney, Director of Communications.
---
Demonstrations/Events
The 2014 Bee-Fest Celebration was a HUGE success! (May 31, 2014 at Washington Park Community Center in Eugene). We celebrated the passage of the City Council resolution that banned the use of neonics on city property: the first such ban in the nation!
-------------------------------------
AS PART OF OUR FEBRUARY 15, 2014 EUGENE BEE SWARM ON EUGENE'S HOME DEPOT, we're encouraging people to contact Home Depot and Lowe's to demand that they remove products containing neonicotinoids from their store shelves…
Read more on our Take Action page | See the best photos from the event
Our Bee Swarm was listed as one of seven sites in the nation by Friends of The Earth and other national coalition members. See the Friends of The Earth Flickr collection of photos from around the nation. See photos from the Bay Area Bee Love Action.
What Home Depot has said in response to the national February 2014 Bee Swarm protest:
This is an issue that is important to us. Our environmental team is deeply engaged in understanding the relationship of the use of certain insecticides on our plants and the decline in the honey-bee population. They've been in communication with the EPA, insecticide industry and our suppliers for many months to understand the science and monitor the research.
That being said, we're more than happy to provide customers with alternative products for their insecticide needs and are actively working with our nursery suppliers to find alternative insecticides for protecting live goods and the bees.
---
Consumer Awareness/Education
Consumers across the country are still unwittingly buying potted plants for their home and garden that contain pesticides that are especially deadly for bees. Read about the important new report published by Friends of The Earth, "Gardeners Beware," detailing how common it is for retailers like Home Depot to stock potted plants containing neonic pesticides while labeled as bee-friendly. Please sign our petition to Home Depot and Lowe's demanding that they STOP selling bee-killing pesticides. (Co-sponsored by Philip Smith of Oregon Sustainable Beekeepers and Beyond Toxics)
Last year's "Imaging A World Beyond Toxics" photo contest was phenomenally successful (over 70 entries). The top 15 photographs were displayed ("Beauty of the Bee" Photography Exhibit) in a number of venues around the state, including Townshend's Eugene Tea House and the State Capitol in Salem. | See the winners of our photo contest. | NEW: you now can enter the 2014 "Imaging A World Beyond Toxics" photo contest!
Oregon Sustainable Beekeepers have worked hard to get Jerry's and Bi-Mart to do something about neonics. These two businesses have agreed to put out fact sheets and better labeling (a Not Bee Friendly sticker). - Read the brochure from Jerry's (PDF)
---
Contribute
There's an important way to help our work to save Oregon's bees! Become a member of Beyond Toxics TODAY!
After you click on the green button (below), simply choose "Save Oregon's Bees." from the "I want my donation to be designated toward" drop-down option. We need and very much appreciate your support for this important work!
---
Beyond Toxics is a 501(c)(3) non-profit organization and all contributions are fully tax-deductible. Please consider giving a gift of a Beyond Toxics membership to a friend or family member!