Oregon has jumped into the lead in the search to find creative solutions to the bee decline crisis in America. Policy decisions to protect bees at both the state and local levels are creating a great deal of buzz in the Twittersphere and on Facebook. These affirmative actions put Oregon in the forefront of national efforts to address the growing threat to bees--and therefore agriculture --posed by the widespread use of a highly toxic class of pesticides called neonicotinoids. | Read the Beyond Toxics Press Release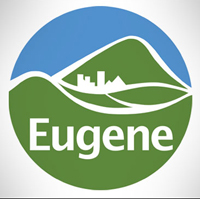 on February 26, 2014, at the request of Beyond Toxics, Eugene's City Council voted  to ban the use of neonicotinoid pesticides on city property. The Council Resolution, "Enhancing Current Integrated Pest Management in Parks," also expands the current Pesticide-Free Parks program and requires all city departments to adopt the same IPM standards and protocols as the City's Parks and Open Space Division.
The Eugene City Council resolution, the only one of its kind in the nation, passed by unanimous consent in a council work session. The language of the resolution specifically includes a strong concern for children's health as well as protecting bees and a host of other pollinators in Eugene's environment.
Hear Storm Kennedy's KUGN interview with Lisa Arkin and City Counselor Claire Syrett (mp3).
The resolution notes that "children and infants may be especially sensitive to health risks posed by pesticides for several reasons: (a) their internal organs are still developing and maturing; (b) in relation to their body weight, infants and children eat and drink more than adults, possibly increasing their exposure to pesticides in food and water; and (c) certain behaviors, such as playing on floors or lawns or putting objects in their mouths, increase a child's exposure to pesticides used in homes and yards." On neonicotinoids, the resolution refers to recent research suggesting a possible link between pesticides that contain neonicotinoids and the die-off of plant pollinators, including honey bees, native bees, butterflies, moths, and other insects.
Background
In 2003, the City of Eugene adopted and implemented an 'environmental policy' cementing the City's commitment to protecting, preserving, and restoring the natural environment. To that end, the City's decision-making is to be guided by the goals of increasing environmental benefits and reducing or eliminating negative environmental impacts in all aspects of the City's activities, while maintaining the City's fiscal integrity and the community's economic vitality. Soon after in 2006, the City initiated a Pesticide-Free Parks Program to maintain City parks without the use of registered pesticides unless there is a threat to public health or safety. Currently, there are nine parks in the Pesticide-Free Parks Program, which include Awbrey Park, Berkeley Park, Brewer Park, Friendly Park, Gilbert Park, Rosetta Park, Scobert Gardens Park, Shadow Wood Park, and Washington Park.
---
Contribute
There's an important way to help our work to save Oregon's bees! Become a member of Beyond Toxics TODAY!
After you click on the green button (below), simply choose "Save Oregon's Bees" from the "I want my donation to be designated toward" drop-down option. We need and very much appreciate your support for this project!
---
 Beyond Toxics is a 501(c)(3) non-profit organization and all contributions are fully tax-deductible. Please consider giving a gift of a Beyond Toxics membership to a friend or family member!