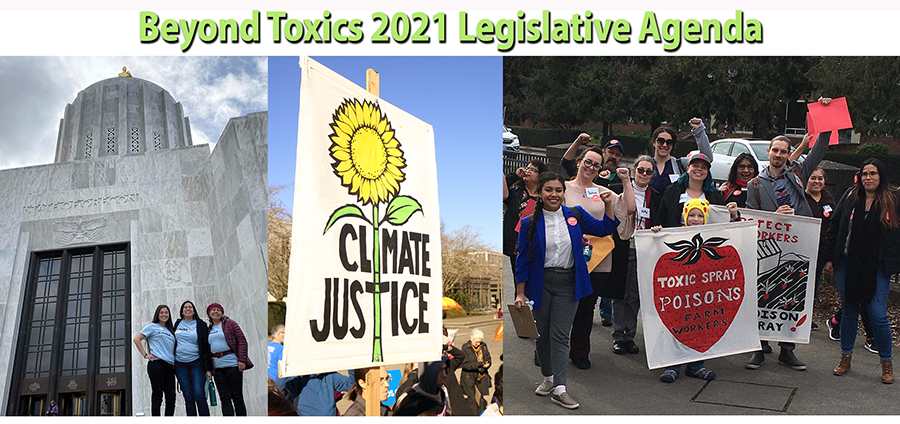 Beyond Toxics, NAACP Eugene/Springfield and NAACP PDX are taking immediate action to address environmental equity and climate impacts. Together we are introducing two transformational pieces of Environmental and Climate Justice legislation that will support our most impacted communities across the state of Oregon. | Summary of our Environmental Justice Legislative Priorities (PDF)
1) ENVIRONMENTAL JUSTICE
BILL NUMBER: SCR 17
BILL TITLE: Environmental Justice for Oregon: A Joint Resolution
DESCRIPTION: This joint resolution establishes principles, builds a framework of shared values, and lays the path forward for future policies and practices based on the right to ethical, balanced, healthy and responsible uses of land and renewable resources for future generations.
One-page summary of SCR 17 (PDF)
SPONSORS:
Co-sponsors include: Senator Dembrow (Chief Sponsor), Senator Manning, Senator Frederick, Senator Golden, Representative Power (Chief Sponsor), Representative Helm, Representative Schouten, Representative Lively, Representative Reardon, Representative Wilde
WHY IS THIS IMPORTANT?
As Oregon takes on the monumental challenge of addressing the climate crisis, we need to ensure that we do not repeat the mistakes of the past, and that BIPOC and other historically underserved communities are centered and meaningfully consulted every step of the way. 

and
BILL NUMBER: HB 2488 
BILL TITLE: Equity and Climate in Land Use
DESCRIPTION: Requires Land Conservation and Development Commission to make changes to statewide land use planning goals by December 31, 2026, to address climate justice by addressing climate change adaptation and mitigation and environmental justice for disadvantaged communities. | One-page summary of HB 2488 (PDF)
SPONSORS:
Chief Sponsors: Representative Power, Helm; Senators Golden and Dembrow
Regular Sponsors: Representatives Holvey, Wilde; Senators Frederick and Prozanski

WHY IS THIS IMPORTANT?
Our statewide land use planning goals were written and adopted nearly 50 years ago, and lack standards for meaningful and equitable public participation, for achieving environmental justice, and for addressing the impacts of climate change. HB 2488, Equity and Climate in Land Use, addresses these gaps in our land use system – putting Oregon on a path towards land use decisions that plan for a just and climate-resilient future.
FIND OUT MORE ABOUT HB 2488->>
---
2) PESTICIDE REFORM
BILL NUMBER: HB 2406
BILL TITLE: Toxics Free Schools 2021
DESCRIPTION: Expands types of pesticide that may not be included in school list of low-impact pesticides for use in integrated pest management plan. | HB 2406 Overview (PDF)
SPONSORS:
Chief Sponsor: Representative Neron
Regular Sponsors: Representatives Alonso Leon, Dexter, Nosse, Pham, Reardon

WHY IS THIS IMPORTANT?
Oregon's 10-year old law (School Integrated Pest Management Act passed in 2009) still allows highly toxic pesticides that are known or suspected carcinogens and/or linked to reproductive and/or developmental harm. It is time to update Oregon's law to protect children where they go to learn and grow. HB 2406 will modernize Oregon's School Integrated Pest Management law to require that school plans emphasize least-toxic pest management products and eliminate the use of the most highly toxic pesticides. 

Learn more about the current Oregon State IPM Law
---
3) BILLS WE SUPPORT…
There is other legislation we strongly support in the 2021 Oregon Legislative session, including:
BILL NUMBER: HB 2409
BILL TITLE: Relating to pesticide application within planned communities
DESCRIPTION: HB 2409, introduced by Rep. Neron, prohibits homeowners associations from requiring application of pesticide on owner's property. If passed, this bill will help protect pregnant women, infants and children, elders and pets from inadvertent pesticide exposure on lawns and walkways near homes.
SPONSORS:
Chief Sponsors: Representatives Neron, Hudson
Regular Sponsors: Representatives Grayber, Wilde, Senator Gelser, Riley
WHY IS THIS IMPORTANT?
This bill creates an opt-out policy in home owner associations giving people more say-so in preventing unwanted pesticide sprays where they live and play. Passing HB 2409 will start the important conversation about alternatives to harmful pesticides in our home and natural environments.
FIND OUT MORE about the bills we support in the 2021 legislative session->>
---
GET INVOLVED