Oregon's Medical Waste Incineration Act - SB 488
The Oregon State Senate and House both passed Senate Bill 488!
Read more
VICTORY!
SB 488, a bill to cap and monitor toxic emissions from waste incineration, passed both the Senate and House. The bill now moves to the Governor's desk to be signed into law. Beyond Toxics, an Oregon environmental justice organization, is the primary advocate, leading a coalition of groups concerned about waste incineration for more than four years.
SB 488 will require Covanta Marion, a large municipal waste incinerator located northeast of Salem, to deploy continuous emissions monitoring for the most hazardous chemicals known to harm human health and the environment. In addition, medical waste incineration, which produces the most dioxin, will be capped at 18,000 tons/year.
With the passage of SB 488, Oregon leads the nation in promoting increased understanding, monitoring and regulating of the highly hazardous pollution created when plastics, petroleum products, industrial waste and other materials are burned.
"The passage of SB 488 is a David and Goliath victory," observed Lisa Arkin, Executive Director. "It is also a tremendous win for environmental justice because the incinerator's pollution primarily impacts communities of color living near NE Salem, Woodburn and Brooks. Everyone deserves to breathe clean air and to be assured that their communities are not polluted with dioxin and heavy metals."
We're sending a BIG THANK YOU to SB 488 chief bill sponsors: State Senator Deb Patterson, Representative Courtney Neron, Senator James I. Manning Jr., and Senator Aaron Woods. SPECIAL THANKS to all the legislators that fought for SB 488 every step of the way: Representative Khanh Pham, State Senator Michael Dembrow, Oregon State Senator Janeen Sollman, Senator Rob Wagner. From the Coalition in support of the Medical Waste Incineration Regulations bill, SB 488, we owe a huge debt of gratitude to you for your leadership to get this vital air quality and environmental justice legislation across the finish line.
Read Oregon's Legislature passes nation's strictest incinerator monitoring bill by Tracy Loew, Salem Statesman Journal
also: Oregon becomes first state to require higher standard of continuous emissions monitoring at incinerators by Jacob Wallace, Editor, Waste Dive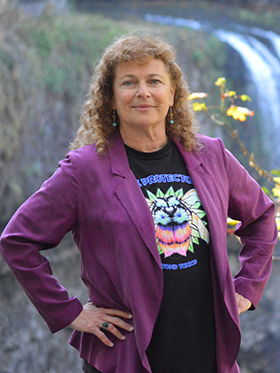 Lisa Arkin, Executive Director
---
Chief Co-Sponsors: Senators Patterson and Manning Jr. and Rep. Neron
Regular Sponsors: Senators Campos, Gelser Blouin, Golden, Taylor
---


---
Medical waste incineration is outdated and unnecessary!
Oregon's Medical Waste Incineration Act (SB 488A) closes the regulatory loophole in Oregon's air quality laws that allows a municipal waste incinerator to burn large amounts of medical and industrial waste without being held to stricter medical waste incinerator emissions limits. This would include waste trucked in from out-of-state.
The passage of Oregon's Medical Waste Incineration Act, SB 488A is critical to achieving clean air for the people of Oregon, particularly those living in the mid-Willamette Valley. The large amounts of air toxics emitted from Covanta's stack has impacted human and environmental health around Marion county for over 30 years.
Burning a greater volume means more toxic pollutants
Each year, Covanta Marion, Oregon's municipal waste incinerator, burns more than 176,000 tons of municipal, medical and industrial waste. In recent years, the Covanta Marion incinerator has steadily increased the amount of out-of-state hospital and medical waste they burn. Burning medical waste, which is often plastics such as PVC, is known to emit more toxic pollutants than most municipal waste due to the complex nature of medical waste. As medical waste incineration increases, emissions of dioxin compounds and other dangerous chemicals also increase.
The issue of Environmental Justice
Trash dumps and waste incineration are, and have always been, an environmental justice issue because these polluting facilities are routinely placed close to areas with lower-income residents and communities of color. SB 488 will close loopholes in the law that will reduce emissions from waste incinerators and provide a much-needed update to Oregon clean air laws. The result will be improved air quality for communities around waste incinerators.
As outlined below, burning medical waste in a trash incinerator is only viable because of a federal loophole that allows weaker standards.
Medical Waste Incineration Act (SB 488A) 2-page Overview (PDF)
Waste Incineration is a source of highly toxic air emissions and climate pollutants
Incineration converts trash into toxic air, water and soil pollutants which disperse across communities.
Waste incineration is a large source of greenhouse gas, lead, ammonia, arsenic, beryllium, cadmium, chromium (VI), hydrochloric acid, mercury, nitrogen oxides, particulate matter (PM10), fine particulate matter (PM2.5), and sulfur dioxide emissions.
Facilities that burn solid waste pollute soils, rivers, and the air with heavy metals and toxic chemicals where they can harm human health and wildlife. Heavy metal ingestion by children causes learning disabilities, lowered IQ, hyperactivity, and attention deficit. 1, 2
Incineration of solid waste also creates new compounds like dioxins and furans, the most toxic class of chemicals known.
Dioxins are formed when organic materials (e.g., wood and paper) are burned in the presence of chloride products (e.g., PVCs from medical waste plastics). Dioxins are carcinogenic, cause birth defects, disrupt endocrine systems, suppress the immune system, and decrease fertility. 3
Does Oregon have a solid waste incinerator and what do we know about it?
Yes. The Covanta Marion incinerator is located in Marion County between the cities of Salem and Woodburn. The facility became operational in 1986. Now over 36 years old, Covanta Marion is older than the average useful life of most incinerators. A few facts:
Each year the incinerator burns more than 176,000 tons of municipal, medical and industrial waste.
Covanta Marion burns approximately 14,000 tons of in-state and out-of-state medical waste on an annual basis. This waste is a significant contribution to the toxic air emissions that are many times over the amount that the U.S. EPA allows for a large new medical waste incinerator.
A contract with Marion County allows the Covanta incinerator to burn up to 18,000 tons of out-of-state medical waste.
Covanta's emissions levels exceed limits for large new medical waste incinerators. 4 | See the Covanta Marion table
Covanta Marion's Municipal versus medical waste incineration: the regulatory loophole
Federal regulations for medical waste incinerators are far stricter than those for municipal waste (trash) incinerators. However, a loophole in EPA regulations allows an incinerator classified as a "municipal waste incinerator" to burn significant amounts of medical waste without being held to the much stricter medical waste incinerator emissions limits. Burning medical waste, which is often plastics such as PVC, is known to emit more toxic pollutants than most municipal waste. This regulatory loophole allows the Oregon's waste incinerator to be regulated under the weaker regulations governing municipal waste incinerator.
As a result, Covanta Marion can burn thousands of tons of imported medical waste while taking advantage of weaker municipal trash incinerator regulations. This makes Oregon a dumping ground for the toxic pollution that other states don't want.
UPDATE
SB 488 has passed out of the Senate Committee On Energy and Environment! Referred to the Joint Ways and Means Committee.
We recommend taking these steps TODAY!
1) Read about the bill (above)
2) Use our FAST Response form that will message State Senators in Salem! You will have a chance to add a brief, personalized comment of your own.
3) Write to your own own legislators asking them to support SB 488, the Medical Waste Incineration Act. We each have one State Senator and one House Representative whose job it is to represent you.
Read for inspiration:
Talking Points
Click on the link above to read the key points you can include in your testimony
Covanta Marion is currently regulated under emissions standards for municipal waste (i.e., city trash) incinerators, rather than the more stringent standards for large medical waste incinerators.
Medical waste incineration is more toxic than municipal waste, due to a higher percentage of plastics, and because the plastics in medical waste contain more polyvinyl chlorides (PVCs), leading to higher levels of toxic air emissions, particularly dioxin and lead.
Communities that are impacted by Covanta's dirty air emissions are environmental justice communities in the Northeast Salem and Woodburn areas.
The US EPA guidelines provide for greater control technology and lower emissions limits for medical waste.
---
Use our FAST Response form that will message State Senators in Salem! You will have a chance to add a brief, personalized comment of your own.
I'm not sure who my legislators are:
---
Resources
To learn more about what we are doing to address and reduce the harmful air toxics emitted from Covanta, review below a selection of our research, environmental monitoring reports, blogs and public testimony submitted to the Department of Environmental Quality.