Covanta Marion Garbage, Industrial and Medical Waste Incinerator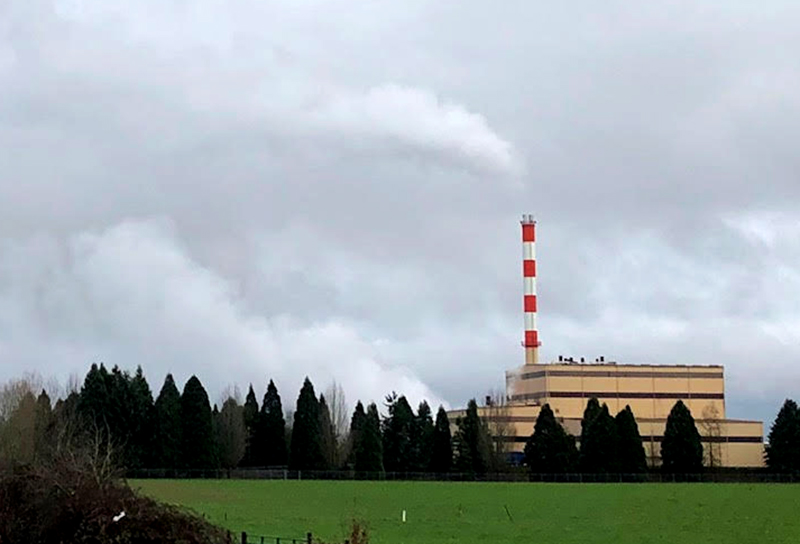 Covanta Marion waste incinerator in Brooks, Oregon.
What is Covanta Marion?
Covanta Marion may be Oregon's only garbage incinerator, but Covanta is an international corporation with approximately 40 incinerators in other parts of the United States, the United Kingdom, Canada and Europe. The incinerator in Oregon, built in 1986, is one of the oldest, most out-of-date and polluting facilities. It burns an assortment of waste products to produce 13 megawatts of electricity. Covanta is among Oregon's most dangerous polluters. The incinerator produces highly toxic air emissions from its stacks and toxic-laden ash that is hauled away and dumped on land. The Oregon Department of Environmental Quality determined that high levels of mercury in the Willamette River are associated with the waste water that Covanta Marion discharges directly into the river.
Burning much more than a city's garbage!
Covanta burns municipal garbage from Marion County. However, the facility increases their profits by importing medical waste and industrial waste from other states, sometimes as far away as Georgia. In June 2021, the Salem Statesman-Journal reported that Covanta Marion burns unexpected waste streams like body parts, vinyl plastic, toner cartridges, oily solids, HVAC filters, polyurethane foam and Styrofoam peanuts, empty hazardous waste containers and pharmaceutical waste. These inputs, when burned, create dioxins (the hazardous contaminant in Agent Orange), heavy metals such as lead, cadmium and mercury, as well as hydrogen chloride. Covanta Marion is the 19th single largest source of greenhouse gases in Oregon.
Medical waste incineration is outdated and unnecessary - what can you do?
The passage of the Medical Waste Incineration Act (SB 488) currently being considered in the 2023 Oregon legislature) is critical to achieving clean air for the people of Oregon, particularly those living in the mid-Willamette Valley. The large amounts of air toxics emitted from Covanta's stack has impacted human and environmental health around Marion county for over 30 years.
SB 488 will close a regulatory loophole in Oregon's air quality laws that allows a municipal waste (trash) incinerator to burn large amounts of medical and industrial waste, including waste trucked in from out-of-state.
Our History of Clean Air Advocacy
Covanta Marion and its pollution has been our focus since 2018. Currently, the facility is required to get an air pollution discharge permit under the Cleaner Air Oregon regulatory program. In our role as clean air watchdog, Beyond Toxics advocates for policies and regulations that will protect downwind communities from Covanta Marion's high level of toxic pollution and require upgrades to their outdated equipment. The first is regulating Covanta Marion as a Large Hospital and Medical Waste Incinerator due to the large volume of medical waste it burns. This would require Covanta to install more protective emission controls. We also advocate for a more restrictive permit under Cleaner Air Oregon, Oregon's air quality regulatory program, to reduce community exposure to dioxins, heavy metals and other toxic chemicals. We work with the downwind community and Clean Air Now, a community-based coalition. Environmental monitoring and public education are central to our work. We published the first moss study of heavy metal pollution near Covanta. Beyond Toxics was also instrumental in stopping SB 451, a 2019 bill introduced at the request of Covanta to increase their profits by trying to sell electricity at a higher rate as a "renewable" energy facility.