---
Thanks to all the folks who showed up to the Dec. 4, 2019 meeting
(see KDRV-TV report) – Find out what you can do to help!
Phoenix Talent School Board just passed a moratorium on the use of glyphosate and 2-4D, and a policy that prioritizes organic pesticides as a last resort.
The School Board responded to the concerns of parents as well as the strong scientific record about the danger of low-level pesticide exposures in children. No longer should our children be exposed to cancer-causing and hormone disrupting pesticides on school playgrounds and sports fields. Congratulations to Rachel Hough and the team of parents who showed up and advocated for the Non Toxic Southern Oregon initiative.
Follow Non Toxic Southern Oregon on Facebook!
NEW! Roadside Herbicide Spray Record Data for Jackson County, Oregon (April 2018 to April 2019): A report from the Non Toxic Roadsides Campaign of Non Toxic Southern Oregon — updated December 2019
Non Toxic Southern Oregon is an initiative shared with Pollinator Project Rogue Valley. Our goal is for everyone in Southern Oregon to be able to enjoy safe, toxic-free public spaces: at schools, in parks, on city properties, and even along county roads.
Non Toxic Roadsides / Natural Areas
We are currently working on the issue of finding alternatives to the pesticides used along roadsides in both Jackson and Josephine County! See info. about the latest Jackson County Commissioner meetings above and JOIN US!
---
Please read the Guest Opinion published in the Mail Tribune about pesticides used along roadways, written by Dr. Ray Seidler. We hope this editorial will begin a conversation that will lead to change in Jackson County, and throughout Southern Oregon!
---
TAKE ACTION
Let's tell our County Commissioners … Protect the Rogue Valley! No more toxic pesticides on county roads!
1. Add your name to our growing list of supporters! We will share this list with our County Commissioners, Jackson County Roads, and Josephine County Public Works.
2. Contact your County Commissioners directly via email (see names and email addresses below) and request that they transition to a non-toxic vegetation management plan for roadsides.
3. Speak at a weekly Commissioner's meeting during the public comment period. Please refer to these suggested Talking Points.
Jackson County:
Join us each Wednesday for the Jackson County Board of Commissioner's meeting.
9:30 am (Sign in by 9:15am)
Jackson County Courthouse
10 S. Oakdale Ave, Room 214
Medford
---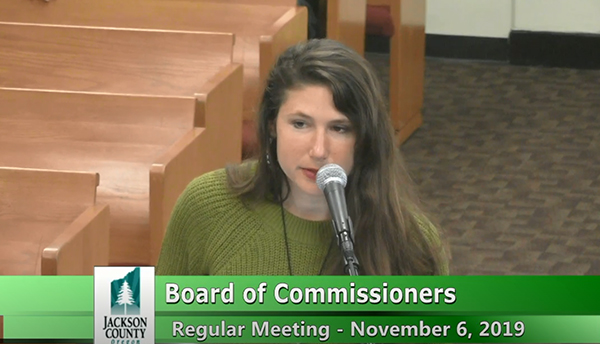 Jackson Co. Board of Commissioners Meeting – November 6, 2019 – Features testimony from supporters of the Non Toxic Roadsides campaign of Non Toxic Southern Oregon (including Bianca Ballará, Beyond Toxics organizer and Kristina Lefever, Beyond Toxics board member and others)
Bianca's testimony starts at 16:50
Kristina's testimony starts at 29:14
---
Names and email addresses:
Jackson County Commissioners:
Rick Dyer, Commissioner
Email: DyerRR@jacksoncounty.org
Bob Strosser, Commissioner
Email: StrossRJ@jacksoncounty.org
Colleen Roberts, Commissioner
Email: RobertsCL@jacksoncounty.org
Josephine County Commissioners:
Lily Morgan, Commissioner
E-mail: lmorgan@co.josephine.or.us
Darin Fowler, Commissioner
E-mail: dfowler@co.josephine.or.us
Dan DeYoung, Commissioner
E-mail: ddeyoung@co.josephine.or.us
---
Sign up to be on the no-spray list and tell your neighbors to do the same!
Get on the Jackson County Roads No Spray list
Get on the Josephine County Roads No Spray list
Download the No Spray Request List flyer (PDF)
Non Toxic Cities
We are currently working with Talent and Jacksonville – is your city next?
City and county governments everywhere are beginning to reconsider the use of toxic chemicals which have been used for decades, and are now finding safer, less toxic solutions to landscape care. It is possible to have a beautiful and healthy landscape that is safe for people, pets, and pollinators!
Non Toxic Talent
The conversation between residents and city leaders about the quantities and kinds of pesticides used on city and schools properties began in 2015. With our help, beginning in May 2018, the City of Talent successfully wrote and approved an 'organic-first' Integrated Pest Management plan for city property! As of December 2018, Talent is implementing safer practices and products for landscape care to safeguard the health, safety, and welfare of people, pollinators, pets, and the environment. Their IPM plan calls for an elimination of synthetic pesticides in city parks and properties within three years. We are very excited to have been part of this change!
Contact: City Councilor Stephanie Dolan
Non Toxic Jacksonville
Residents want to know that their children and pets are safe from toxic pesticides when playing in public parks and green spaces. Spray records have been requested from the City, and a study session with Chip Osborne of Osborne Organics, Bob Johnson of Non Toxic Neighborhoods, and Rhianna Simes of Verdant Phoenix in April 2019 convinced the City to stop using synthetic pesticides on Doc Griffin Park! The community organizes periodic weeding parties at the Park to show the City that they are serious about keeping the park pesticide free. Would you like to be part of the team?
Contact: Lauren Kemple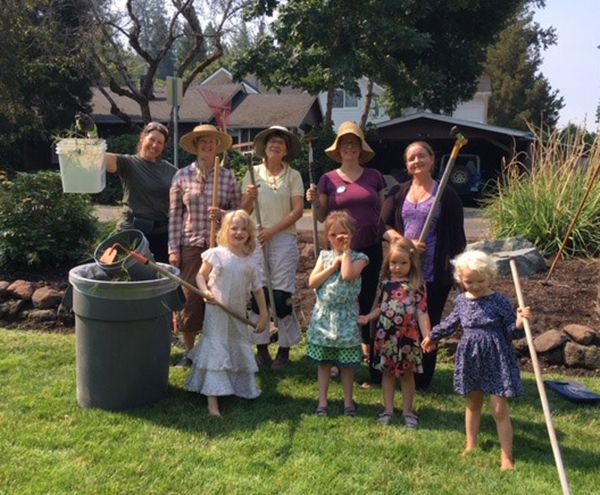 ---
Pets
Concerned about the impact lawn pesticides have on dogs and other pets? Have you considered that pets can pick up pesticides on their paws and in their coats and bring them inside to expose your family?
This short and engaging Facebook video really brings the message home: Neighbor vs. Dog, by Planet Paws (Dr. Karen Becker) This is a great video to share!
Do you know a veterinarian and/or dog groomer who would like to share information about the impacts pesticides have on the health and lifespan of dogs and cats? Let us know!
Actions you can take:
Get on Jackson County Vector Control District No-Spray List
Get on the Jackson County Roads No Spray list
Get on the Josephine County Roads No Spray list
Pollinator Project Rogue Valley's list of local nurseries that (mostly) do not sell plants with neonicotinoids
Looking for safer solutions to toxic pesticides?
Check out our list of resources->>
Like to learn more?
Many of your questions will be answered in this document:
Non Toxic Oregon Guide To Building a Campaign to Protect Children's Health (PDF)
Please contact us to find out how we can help!
Contact: Kristina Lefever: 458-214-0508 and Bianca Ballará: email

Like and Follow Non Toxic Southern Oregon on Facebook!
Visit us:  The Pollination Place, 312 N. Main St., Phoenix OR 97535
---
Back to Non Toxic Oregon home page
Resources