Beyond Toxics members have brought to our attention the fact that a pro-chemical industry lobby group is running a targeted effort to block community-supported No Herbicide Spray projects. They are trying to kill projects such as Lane County's No Spray Roadside Maintenance Policy, the Community Highway 36 No Spray project and the Hwy 101 Community No Spray project (these last two partnerships with ODOT to pull invasive weeds so that no spray is used).
Oregonians for Food and Shelter, a pro-Monsanto and pro-Dow Chemical lobbying group is distributing a letter to farmers in Western Lane County to encourage them to attend a Lane County Commissioner's meeting and demand an end to the current "no spray" policy for county roadways. This meeting has been scheduled for Tuesday, Sept. 9th at 9:00 am at Harris Hall.
This means WE who enjoy having our roads and streams free of the threat of pesticide sprays need to attend this meeting and SPEAK UP to keep the current No-Spray policy alive to protect rural residents.
You can chime in right away via email to let all Lane County Commissioners know of your support for the current No-Spray policy, send your comments to: lcbcccom@co.lane.or.us.
If possible, please plan to attend the September 9th meeting and give public comment about how the current management plan, without chemicals, is PROTECTING you, your children, your drinking water and vital salmon runs. (Key talking points.)
Doors open at 8:45 and the public comment sign-up sheet is near the entrance door. Speakers are allowed up to three minutes each.
Please forward this to others who farm organically, bike or have homes along county roads and LIKE our poison-free roadside policy!
WHAT: A meeting of the Lane County Board of Commissioners; your chance to speak in favor of the current "No Spray" policy for county roadways.
WHERE: Lane County government building: 125 E 8th Ave., Eugene, OR 97401 (google map)
WHEN: Tuesday, September 9, 2014 – 9:00 AM
Thanks for your support!
Coalition Talking Points for Making Comments on Lane County Roadside Spray
--------------------------------------------------------------------
LANE COUNTY GOVERNMENT
County taking another look at herbicides
By Saul Hubbard, The Register-Guard
Response from a supporter of the Lane County roadside No-Spray policy (Lisa Arkin gave a thorough presentation to a public meeting with Lane Co. Commissioners yesterday):
"Great Job. This presentation was amazing.Thank you so much! I did email the commissioners and told them I was just in Norway and showed them a picture I took of landscape workers on their hands and knees hand picking weeds. I was impressed with this so much." ~ Bekki Bruckner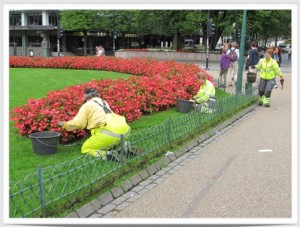 --------------------
County Commission Pondering Roadside Pesticides
BY CAMILLA MORTENSEN, Eugene Weekly