Dorris Ranch Hazelnut Orchard Transition to Organic
VICTORY!
Willamalane to end use of most toxic pesticides at Dorris Ranch orchards (By Adam Duvernay, Register-Guard, Dec. 10, 2021)
"The Willamalane Parks and Recreation District Board of Directors voted Wednesday to stop using its most potent forms of pest and disease management at the historic filbert orchards on Dorris Ranch in Springfield. The move follows a summer of concerns about pesticide use there and a committee's recommendation to switch to organic practices." (PDF of R-G article)
THANK THE BOARD OF DIRECTORS!
If you have a chance, please contact the Willamalane Parks and Recreation District Board of Directors via email and thank them for supporting this important transition to organic management practices for Dorris Ranch and the hazelnut orchard. This will benefit the health and safety of all visitors and nearby neighbors:
Jo Schutte, Executive Assistant to the Superintendent email: jo.schutte@willamalane.org
Background
Dorris Ranch (wikipedia page) is a highly prized and popular community asset. It is a public park used for recreation, rest and introspection, summer day camps, public tours, photography shoots and botany study.
However, Dorris Ranch is unique because it is not only a public park, large sections with hazelnut trees are also managed privately as a commercial orchard. But to the public user, there is no physical differentiation between the public parts and the agricultural sections that are managed with conventional pest management, including the use of harsh pesticides, fungicides and herbicides.
Willamalane Parks and Recreation District established an Ad Hoc Advisory Committee in August when park visitors and neighbors living along Inland Drive and Harbor Drive (google map link) experienced repeated air blast pesticide applications in the orchard. Some sprays are within 100 ft. of neighboring backyards.
Orchard Airblast application along trails. Photo courtesy of Oregon Department of Agriculture.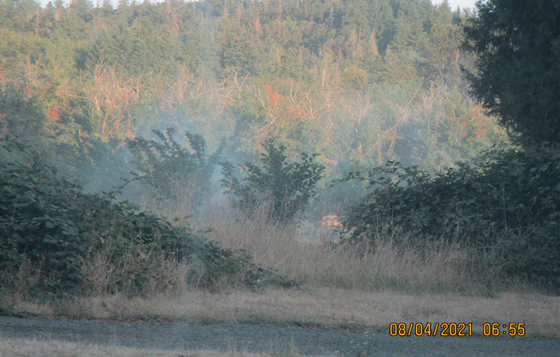 Orchard Airblast results in fine droplets of pesticide that move away from the orchard. Photo courtesy of Oregon Department of Agriculture.
See the record of pesticide applications on Dorris Ranch for 2020-2021 (PDF)
The neighborhood is primarily mobile homes and low-income and working class families, many of whom rely on growing food on their residential property.
Many neighbors of Dorris Ranch are elderly AND/OR speak English as a second language, and have limited internet access. These groups are considered the most vulnerable to exposure to toxic chemicals.
In August an orchardist applied a routine restricted-use pesticide (*Asana XL) to prevent filbert worms. At the time, there was an extreme heatwave and people were preparing and consuming food and drink in their backyards. The evening after this pesticide application, we collected vegetation samples from a neighbor's garden and sent them to a certified laboratory in Seattle, which showed evidence of drift onto vegetation along Inland Drive.
We discovered that the orchardist routinely sprays scheduled pesticides from March through August. 18 separate applications, including multiple pesticides, occurred during this 6 month period.
Beyond Toxics and the staff at Willamalane worked together to ensure that visible signage was placed along entryways to the park and the paths, that a minimum of 100' buffer zones between sprays and nearby homes was observed and that there was better communication about planning upcoming pesticide applications.
Growing community concern about harsh chemicals in the orchard and the surrounding homes, paths, trails prompted the formation of a Dorris Ranch Ad Hoc Advisory committee. This committee reviewed various aspects of the Dorris Ranch hazelnut orchard management, the history of the orchard and its historic importance, and the contract with the private orchardist.
Dorris Ranch does not operate with an integrated pest management plan that would reduce pesticide exposure for children, pets, neighbors and park visitors. We interviewed a highly skilled local organic hazelnut farmer and learned that the Dorris Ranch orchard can and should transition to an organic management system to better protect human and environmental health in public parks and recreation spaces.
Local organic growers have also expressed interest in working with Willamalane to manage the orchard using organic methods and add further distinction to Dorris Ranch as a model public asset.
------------------------------------
[* Asana XL is a Restricted Use Pesticide and highly toxic to fish, bees and other pollinators. It is harmful if inhaled.]
---
Dorris Ranch and Beyond Toxics Advocacy In The News