In 2021 Beyond Toxics, NAACP Eugene/Springfield and NAACP PDX took bold action to address environmental equity and climate impacts. Together we are introducing two transformational pieces of Environmental and Climate Justice legislation that will support our most impacted communities across the state of Oregon.
To follow future developments on any of the bills we support during legislative sessions, be sure to sign-up for email alerts or follow us on Facebook to stay up-to-date!
1) ENVIRONMENTAL JUSTICE
RESOLUTION NUMBER: SCR 17
BILL TITLE: Environmental Justice for Oregon: A Joint Resolution
DESCRIPTION: This joint resolution establishes principles, builds a framework of shared values, and lays the path forward for future policies and practices based on the right to ethical, balanced, healthy and responsible uses of land and renewable resources for future generations.
One-page summary of SCR 17 (PDF)
SPONSORS:
Co-sponsors include: Senator Dembrow (Chief Sponsor), Senator Manning, Senator Frederick, Senator Golden, Representative Power (Chief Sponsor), Representative Helm, Representative Schouten, Representative Lively, Representative Reardon, Representative Wilde
WHY IS THIS IMPORTANT?
As Oregon takes on the monumental challenge of addressing the climate crisis, we need to ensure that we do not repeat the mistakes of the past, and that BIPOC and other historically underserved communities are centered and meaningfully consulted every step of the way.
ALSO: Guest Opinion: Environmental justice on the floor of Legislature by Robert W. Collin (Read the PDF)
NEWS FLASH:
SCR 17 successfully passed into law in the 2021 legislative session!
SCR 17, our resolution to establish an environmental justice framework of principles for the State of Oregon, passed UNANIMOUSLY in the House Committee on Energy and Environment on Wednesday, May 26th! Committee Chair, Rep. Marsh, stated that it was the last item to be voted on by the Committee this session and, as such, exemplified many of the issues and values around justice, climate and environment that were brought forward this session. She also pointed out that the work on SCR 17 illustrated the ways the committee members collaborated for the good of all.
and
BILL NUMBER: HB 2488-A Engrossed
BILL TITLE: Equity and Climate in Land Use
DESCRIPTION: Requires Land Conservation and Development Commission to make changes to statewide land use planning goals by December 31, 2026, to address climate justice by addressing climate change adaptation and mitigation and environmental justice for disadvantaged communities.
Read our One-page summary of HB 2488-A Engrossed (PDF)
SPONSORS:
Chief Sponsors: Representative Power, Helm; Senators Golden and Dembrow
Regular Sponsors: Representatives Holvey, Wilde; Senators Frederick and Prozanski
WHY IS THIS IMPORTANT?
Our statewide land use planning goals were written and adopted nearly 50 years ago, and lack standards for meaningful and equitable public participation, for achieving environmental justice, and for addressing the impacts of climate change. HB 2488, Equity and Climate in Land Use, addresses these gaps in our land use system – putting Oregon on a path towards land use decisions that plan for a just and climate-resilient future.
Read the Guest Opinion in the April 9th edition of the Statesman-Journal: HB 2488-3 address equity in land use by Phil Carver and Roberta Cade
See also, Lay of the Land (Use), a new blog from Lisa Arkin
---
2) PESTICIDE USE REFORM
BILL NUMBER: HB 2409-A (engrossed)
BILL TITLE: Relating to pesticide application within planned communities
DESCRIPTION: HB 2409-A, introduced by Rep. Neron, prohibits homeowners associations from requiring application of pesticide on owner's property. This bill, which passed in the legislature and is on its way to the Governor's desk for signing, will help protect pregnant women, infants and children, elders and pets from inadvertent pesticide exposure on lawns and walkways near homes within Homeowners Associations.
SPONSORS:
Chief Sponsors: Representatives Neron, Hudson
Regular Sponsors: Representatives Grayber, Wilde, Senator Gelser, Riley
Key Proponent: Beyond Toxics
WHY IS THIS IMPORTANT?
This bill creates an opt-out policy in homeowner associations giving people more say-so in preventing unwanted pesticide sprays where they live and play. Passing HB 2409 highlights the important conversation about alternatives to harmful pesticides in our home and natural environments.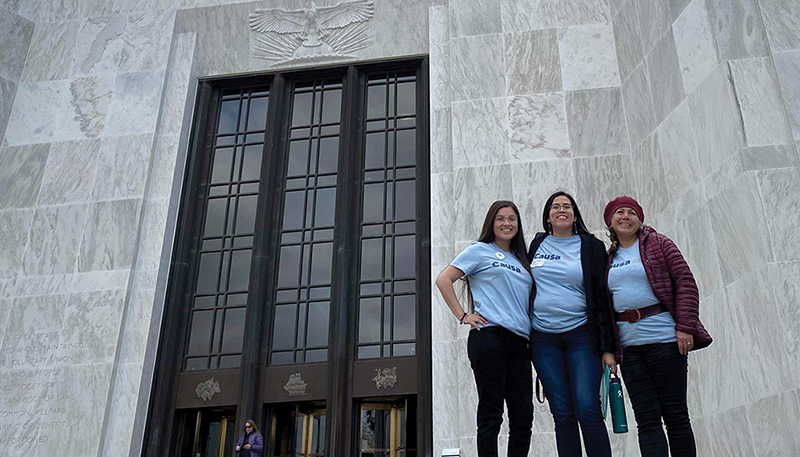 There was other legislation we strongly supported in the 2021 Oregon Legislative session, including:
BILL NUMBER: HB 2021
BILL TITLE: 100% Clean Energy For All
SPONSORS: Representatives Power, Marsh, Pham
DESCRIPTION: Create good, well-paying, local jobs in the renewable energy sector that incentivize local projects that are good for communities and reduce pollution by achieving 100% clean energy as soon as possible.
WHY IS THIS IMPORTANT?
Amidst the COVID-19 pandemic, wildfires, and widespread lost income, there's never been a more important time for energy policy that helps us all recover and build back–especially those who have been hit hardest by these crises. Clean energy can create opportunities in every community across Oregon. New projects can create good jobs and local economic and resiliency benefits. The potential for clean energy projects has not been fully realized or felt equally across the state.
For more information: https://cleanenergyoregon.org/
or contact: Ana Molina: amolina@beyondtoxics.org
ALSO:
BILL NUMBER: HB 3372 A
BILL TITLE: Relating to air quality and polluter compliance
SPONSORS:
Chief Sponsors: House Speaker Tina Kotek
Regular Sponsors: Representatives Grayber, Dexter. Campos, Holvey, Nosse and Power
DESCRIPTION: Authorizes Department of Environmental Quality to require certain information related to history of compliance with environmental quality laws from applicant for an air quality or asbestos abatement license or permit. Authorizes department to refuse to issue or renew permits to applicants that are or include chronic violators.
WHY IS THIS IMPORTANT?
This bill expands the authority of the Department of Environmental Quality to require information from pollution permit applicants reasonably sufficient for the department to evaluate the applicant's history of compliance with environmental quality laws during the 10-year period prior to the application date. This authority includes determining if an applicant has a demonstrated practice of taking actions found to be intentional, frequent and reckless in regards to toxic releases to residential and natural environments. In Oregon there are well-known examples of hazardous, repeat polluters such as NW Metals in Portland and J.H. Baxter in Eugene.
ALSO:
BILL NUMBER: HB 2357
BILL TITLE: OFRI Funding
SPONSORS: Representatives Salinas, Holvey, Golden, Pham, Wilde
DESCRIPTION: Eliminates funding for Oregon Forest Resources Institute Fund (OFRI) and directs equivalent moneys to a newly established Sound Forestry Practices Sub-account of State Forestry Department Account. Requires that revenue from levy of additional privilege tax under forest products harvest tax be credited to Sound Forestry Practices Subaccount. Directs use of moneys in account. Board of Forestry sets future rates.
MORE:
If passed, HB 2357 would end government funding the Oregon Forest Research Industry (OFRI), which is an industry PR organization. OFRI has used taxpayer dollars for decades to promote industrial timber clear-cuts in the media and as school curriculum to convince the public that clearcuts are good for Oregon.
HB 2357 requires that some tax revenue under forest products harvest tax be credited to State Forestry Department Account for deposit in Sound Forestry Practices Subaccount. These tax payer dollars need to be redirected to science-based forest management, not slick commercials covering up environmental harm from corporate timber.
ALSO:
BILL NUMBER: SB 404
BILL TITLE: Bill Title: Relating to organic food production.
SPONSORS:
Chief Sponsors: Senator Prozanski
Regular Sponsors: Senator Golden
SUMMARY: Instructs Oregon State University Extension Service to establish certain new positions related to organic production and maintain certain existing position related to organic production.
Sample Testimony from Beyond Toxics staff (PDF)
ALSO:
BILL NUMBER: HB 2842
BILL TITLE: Healthy Homes Bill
SPONSORS:
Chief Sponsors: Representatives Marsh, Power, Pham
Regular Sponsors: Representatives Campos, Kropf, Nosse, Wilde, Williams, Zika
DESCRIPTION: The Healthy Homes Bill (HB 2842) would create a Healthy Homes program to invest in life-changing home energy upgrades and support critical home improvements for low-income families.
WHY IS THIS IMPORTANT?
In 2020, it became even more clear that living in a healthy home is essential. Fifty-four percent of Oregonians live in housing built before 1978. This housing is energy inefficient and in need of repairs. Low-income families are at the highest risk. People living in energy inefficient homes experience sick days and hospital visits caused by mold, cold weather, and an inability to take refuge from bad outdoor air quality. This is even more dangerous during a respiratory pandemic: research shows that people who breathe polluted air are at greater risk of severe cases of COVID-19.
ALSO:
BILL NUMBER: HB 2475
BILL TITLE: The Oregon Energy Affordability Act
SPONSORS: Representative Power, Pham
DESCRIPTION: Decrease utility costs for families already struggling in the economic recession by establishing a Low-Income Utility Rate Class.
WHY IS THIS IMPORTANT?
During the pandemic, Oregonians struggle to make ends meet and spend more time at home. Energy burden, the share of someone's income that goes toward energy bills, is increasing as people use more energy and sources of income dry up. People are falling behind on their bills, making tough budget decisions, and need relief. At the same time, utilities need tools to help manage mounting past-due bills. The legislature must act to allow for flexible rate structures that relieve energy burden and protect all ratepayers long-term from widespread cost increases.
ALSO:
BILL NUMBER: SB 286
(at the request of Governor Kate Brown for Office of the Governor)
BILL TITLE: Relating to environmental justice; prescribing an effective date.
SPONSORS:
Printed pursuant to Senate Interim Rule 213.28 by order of the President of the Senate in conformance with presession filing rules, indicating neither advocacy nor opposition on the part of the President.
DESCRIPTION: Renames Environmental Justice Task Force as Environmental Justice Council.
---
GET INVOLVED
---
LET'S MAKE 2021 THE YEAR OF ENVIRONMENTAL JUSTICE IN OREGON!
SEE THE RECORDING OF OUR JAN. 14TH PRESS CONFERENCE
Speakers: Senator James Manning, Representative Karin Power, Sharon Gary-Smith, President of the Portland Chapter of the NAACP Portland and Eric Richardson of the Lane County chapter of the NAACP, and others.