CONTEST CLOSED
Please visit our contest winners page to see who won the
"Imagining A World Beyond Toxics" Photo Contest!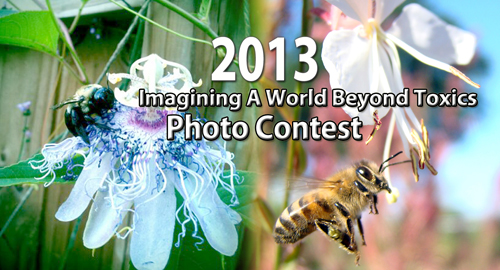 If you've been following the news and our work to save bees this year, you know that bees and concern for their survival are very much on everyone's mind these days. Send us your favorite original photo of bees in any setting, whether in the wild or your own backyard. We will display the entries on our Facebook page.*
PRIZES:
1st Place Winner: Display of your photo on BOTH the Beyond Toxics Facebook page and the home page of this web site AND a Beyond Toxics organic cotton canvas bag AND a Pesticides Suck travel coffee mug.
2nd Place Winner: your photo displayed on the Beyond Toxics Facebook page AND a Pesticides Suck travel coffee mug.
3rd Place Winner: your photo displayed on the Beyond Toxics Facebook page AND receive a "Pesticides Suck !" travel coffee mug.
Honorable Mentions: Beyond Toxics will pick and announce photographs earning an Honorable Mention.
All winners will be featured in our "The Beauty of the Bee" photo display.
Deadline: Deadline has been extended until midnight, October 9th.
We want this contest to generate support for our CREDO online petition asking Oregon Department of Agriculture Director Katy Coba to ban all bee-killing pesticides in Oregon...so we'd love to hear why you think it's so important to save our bees (in the form below). We will pass along your messages and photos when we deliver the 11,000 signatures to Director Coba at the end of the contest...your photos could help convince her to listen to the voice of the people and save the bees we all care about.
----------------------------------------------------------------------------
Please visit our Facebook page and "like" us and your favorite bee photos as they come in. We will be factoring in those likes as part of our judging. Judges voting will be based on quality of the image as well as originality.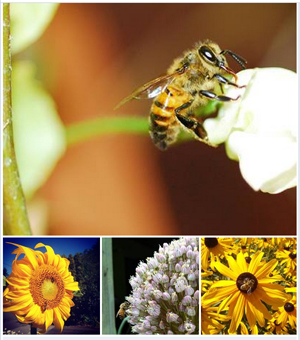 The winning photos will be announced (and featured) on the home page of this web site and on our Facebook page! Past winners have been featured in articles in the Eugene Weekly and the Register-Guard.
---
* If you haven't "liked" us on Facebook yet, why delay? Do so TODAY!  If you're not on Facebook, but would like to see the entries to be able to vote, see the entries on our web site (coming soon).
** RULES: Winners will be decided soon after the deadline by Beyond Toxics staff and professional photographer, Katherine Harnedy, based on seven aesthetic criteria determined by our judges. Vote tallies on Facebook will be used to help break ties and to determine the runners up awards. Please do not submit photos that have been submitted to our contest last year or that have been manipulated by special filters in photo manipulation software (contrast and color adjustments are acceptable). Staff and Board Members of Beyond Toxics and judges are not eligible to enter photos.
ALL JUDGING DECISIONS ARE FINAL AND BEYOND TOXICS RESERVES THE RIGHT TO REJECT ANY ENTRIES FOR INAPPROPRIATE CONTENT.
------------------------------------------------------
If you'd like to be kept informed about our plans for our Save Oregon's Bees project and you're not yet on our Action Alert email list, sign up below today!
---
CONGRATULATIONS TO OUR 2012 WINNERS! The competition was fierce. There were LOADS of wonderful photos from great photographers and we had great fun getting votes on Facebook and 3 different events in the community. Thanks to all who participated: entrants and voters! (See the entire collection of photos.)
TOP Winners in Category 1: bees n' flowers:
TOP Winners in Category 2: flowers/bee-friendly gardens: