2022 Beauty of the Bee Photo Contest Winners
Congratulations to our spectacular winners! And thanks to all the photographers who entered the contest this year. We are so glad to have your involvement and wonderful contribution.
Congratulations to our TOP WINNERS (see below): Mark Keating, Barb Rumer, and Rachel Barloon! Congratulations also to our amazing Honorable Mentions (see below): Patricia Edmonds, and Altine Roberts! Director's Choice: Giovanna Amico-Tessmer; Most Appreciated on Facebook: Linda Cousino.
---
1) Mark Keating, "Bee Positive"
Tell our leaders "Why is it so important to protect bees now?"
One of every three bites of food we take worldwide depends on pollinators, and bees are at the top of that list. Not only do we depend on them for food, but bees are great role models for social cooperation, climate change, and biodiversity.
2) SECOND PLACE: Barb Rumer, No Title
Tell our leaders Why is it so important to protect bees now?
All insects are declining, Bees are the keystone species. If we are protecting them, we are protecting habitat, ecosystems, diversity and the majority of our food sources. Their beauty draws us in. Our task is to develop our emotional response to them into the emotional response in protecting our world and our habitat and our fragile world.
3) Rachel Barloon "Blue Bee"
Tell our leaders "Why is it so important to protect bees now?"
It's incredibly important to protect the bees because they are prolific pollinators, and without them, life on earth as we know it would be incredibly different. We as a society can improve our efforts to educate the community and provide outreach to increase the bee population now, while we still have a chance!
Honorable Mentions
Honorable Mention 1: Patricia Edmonds "In Lieu of Monarchs"
Tell our leaders why it's so important to save bees now.
"I am particularly fond of bumble bees. They are in the flowers in front of my house. The neighbor kids--eye level to the flowers--stop and watch the bumbles and other pollinators work. I only see the bees in their summer lives, in the flowers and the sun. I am not sure exactly where their nests are, but they are close by. Come winter, the new queens will sleep and wait for next year's sunny days. They will be close by too, in some messy little patch of wild left in my yard. We need to keep some messy little patches of wild in the years to come."
Honorable Mention 2: Altine Roberts, "Love of Oregano Blooms - Stay Away from my Flower"
Tell our leaders Why is it so important to protect bees now?
Bees are critical to all life on earth. They are not only essential for much agricultural polination, they are essential for wild plants. Therefore, all animal life and the lives of animals that eat plant-eating species are also dependent on bees for their lives. On a slightly smaller scale, I have one word: honey. This golden nectar of the bee gods is crazy tasty and amazing. My 12 year-old child loves honey in any form, but especially when part of a peanut butter and honey sandwich. Honey also has medical applications and its antimicrobial properties are being utilized in mainstream medicine in the form of commercially available and evidence-based honey-impregnated wound dressings.
Director's Choice: Giovanna Amico-Tessmer, "Green Eyed Beauty"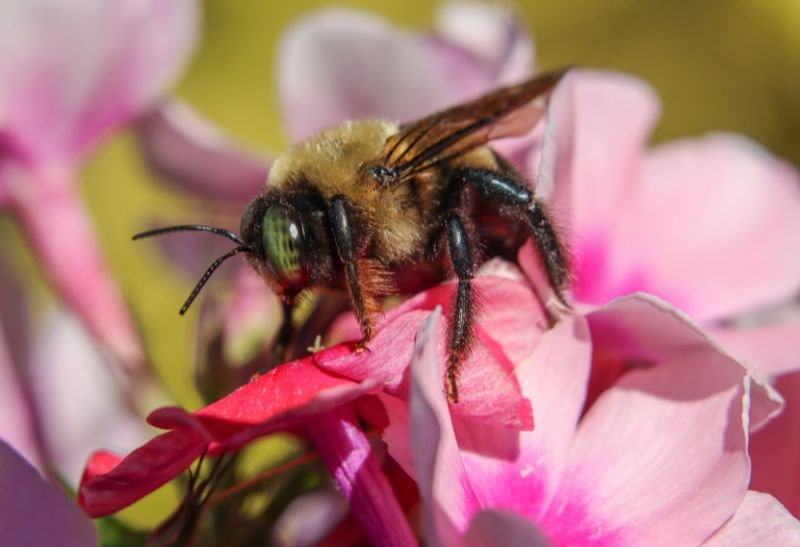 Tell our leaders Why is it so important to protect bees now?
This beauty with the amazing green eyes, was a punctual visitor each day. She seemed most interested in collecting nectar and pollen from my Dahlias & Phlox so she was easy to pick out from the dozens of other bees busy at work. I take pride in creating a safe haven for bees and other pollinators starting with my forty year old flowering crab in the spring (the tree provides a lulling hum from thousands of bees that descend upon it) to the chemical free perennial blooms of summer and fall. We need to be good advocates and stewards for our bee colonies. I hope that sharing my photos of bees help others not only appreciate their beauty but also understand that we can safely share the same space and encourage bees to our yards no matter how small. I hope to recruit other good stewards of bees because our food chain, as well as other animals, are dependent on them. With the climate crisis and use of more and more chemicals, our bees are facing devastation as are we to the likes that can't be imagined. So, when friends comment on the bountiful harvest from their gardens, going to the apple orchard in fall, or bringing a freshly baked fruit pie to an event, I climb onto my soapbox and always ask the question, "what are you doing for the bees that will continue to help provide these sources of food now and in the future?"
WINNER OF MOST APPRECIATED ON FACEBOOK
Linda Cousino, "Flight of the Bumblebee"
Tell our leaders Why is it so important to protect bees now?
Bees need to be protected now because they play a primary role in our food security and the well-being of our environment. We should never underestimate the power of their pollination.
Other plants featured: Blue False Indigo